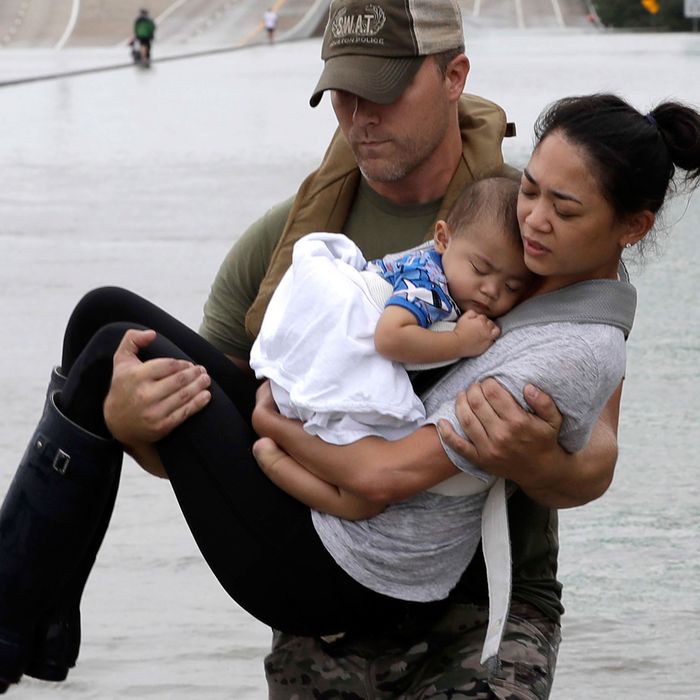 The image from Matt Walsh's viral tweet.
Photo: David J. Phillip/AP
As Houston grappled with catastrophic flooding from Tropical Storm Harvey, conservative columnist Matt Walsh took to Twitter on Monday to use the natural disaster to promote traditional gender roles and slam gender studies professors. In response, one professor explained why Walsh's viral tweet was so incredibly inaccurate — basically, because women traditionally hold the role of caregiver.
Walsh, who writes for the Blaze, posted a picture of a man carrying a woman, who is also carrying a child, through the floodwaters, writing "Woman cradles and protects child. Man carries and protects both. This is how it ought to be, despite what your gender studies professor says." But on Tuesday, University of Notre Dame gender studies and political science professor Christina Wolbrecht decided to debunk the claim on Twitter.
"Care work (for children, infirm, elderly) is necessary for human flourishing & has been traditionally performed by women for free, which … contributes to women's lesser financial & politics power," Wolbrecht wrote. "As care work has moved into the market, it remains poorly paid & overwhelmingly … female, which again makes women more vulnerable."
The professor went on to say that society loves to laud a woman who cradles her child, and yet refuses to offer her adequate paid maternal leave, support quality child care, or offer decent pay or benefits for child-care workers. She also noted that men are reluctant to take jobs in the expanding care sector, as the positions are traditionally thought of as "female" and are low paying.
"IN SUM your rigid and illogical sexual division of labor, & related hierarchy of value, hurts both … women & men, the US economy, & the flourishing of society as a whole," she concluded.
At least we'll always have the memes.