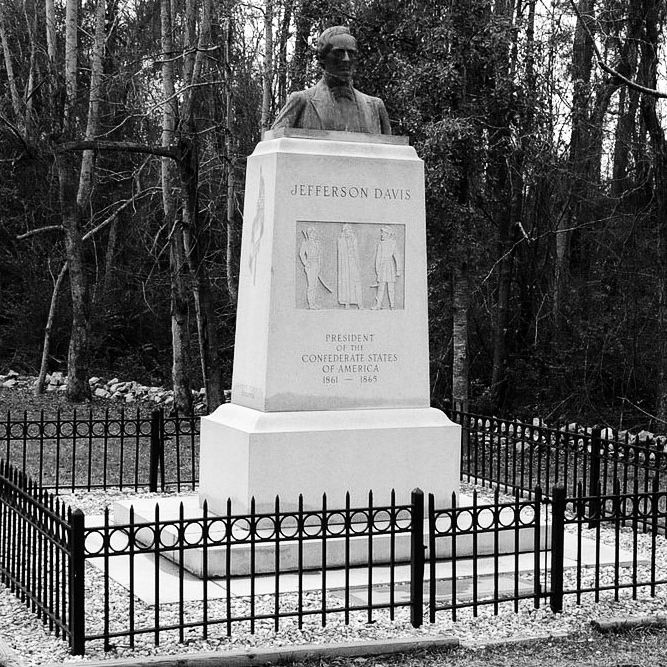 A monument to Jefferson Davis in Georgia.
Photo: Courtesy of CC/Wikimedia/Jerrye & Roy Klotz MD
On Tuesday, a Georgia state representative warned his former Democratic colleague that talk of removing Confederate monuments in the state might be "met with torches but something a lot more definitive," the Atlanta Journal-Constitution reports. Republican representative Jason Spencer posted a photo of himself at the Jefferson Davis Memorial (Davis was the first and only president of the Confederate States). "This is Georgia's history. #DealWithIt," he wrote.
Former Georgia state representative LaDawn Jones commented on the photo, saying it was only a matter of time before the monument was torn down. In response, Spencer wrote that she should visit South Georgia (Jones is from Atlanta). "It will not be pleasant," he wrote. "The truth. Not a warning. These folks won't put up with it."
In later comments, he added, "I can guarantee that you won't be met with torches but something a lot more definitive … people in South Georgia are people of action, not drama."
"They will go missing in the Okefenokee," he added in reference to people who continued to call for the monuments' removal. "Too many necks … are red around here. Don't say I didn't warn you about 'em."
When asked about the interaction, Spencer said he was "just trying to keep her safe if she decided to come down and raise hell about the memorial in the back yards of folks who will see this as an unwelcome aggression from the left." He also asked that the Journal-Constitution include a photo of him standing in front of a monument of Martin Luther King Jr., which was unveiled at the Georgia capitol Monday.
For her part, Jones said she and Spencer "had a unique relationship in the Georgia Legislature" and didn't see his comments as a threat. But "if that's representative of what people in south Georgia think, then yikes."
Calls to remove Confederate monuments around the country have accelerated since protests in Charlottesville, Virginia, with many cities opting to take them down overnight to minimize controversy. The trend has some conservative lawmakers, including the president, worried about "erasing history." "Robert E Lee, Stonewall Jackson — who's next, Washington, Jefferson?" Trump tweeted. "So foolish!" Not even Christopher Columbus, the founder of our nation, is safe.