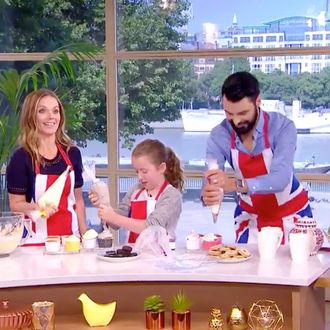 Ginger Spice, Bluebell Spice, Rylan Clark Spice.
Photo: Courtesy of Twitter/thismorning
In today's installment of "where are they now?" we're checking in on Geri Horner, better known as Geri Halliwell, and best known as Ginger Spice. On Monday, she appeared on British daytime show This Morning, during which she made cupcakes and also got roasted by her daughter, Bluebell.
Bluebell, 11, owns the segment from the beginning, but steps it up when she informs her mother, "Mummy you piped it onto the wrong one. That's a custard cream one … oh no." When Geri replies with "I don't know what to say to that," she moves on quickly to the next frosting tip, like a seasoned TV pro.
Bluebell for Great British Baking Show host, stat.