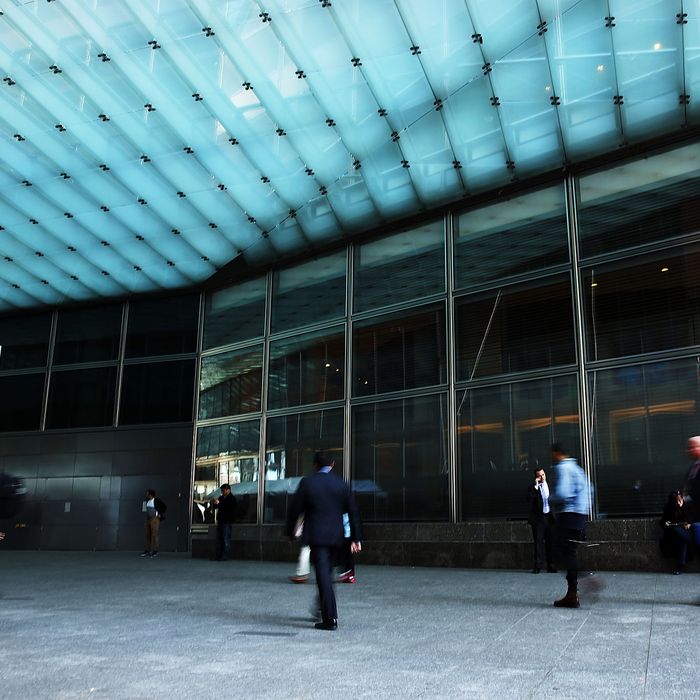 Goldman Sachs.
Photo: Spencer Platt/Getty Images
A wealth manager at Goldman Sachs filed a lawsuit against the bank on Wednesday, alleging that she was discriminated against because of her race and religion. The lawsuit claims that 32-year-old Rebecca Allen, a vice-president in the wealth-management division, was passed over for opportunities because she is black.
Allen's suit asserts that black employees at Goldman Sachs are treated differently and less fairly at the workplace. (According to Bloomberg, as of 2016, only 2.6 percent of executives in the U.S. company's workforce are black.) A Bloomberg report gives more details on Allen's allegations:
"The bank has prohibited her from covering certain clients because of the color of her skin," the lawyers said in an email. "This discriminatory mentality starts at the top."




Allen said in the complaint that she has been assigned fewer and less valuable clients than her male colleagues and hasn't received proper credit for her work. In one instance, she said a client was taken away from her "for explicitly racist reasons." 
A Goldman Sachs spokesperson denied any wrongdoing in a statement: "Our success depends on our ability to maintain a diverse employee base and we are focused on recruiting, retaining and promoting diverse professionals at all levels." Allen also claims a partner in the investment-banking division used anti-Semitic remarks to explain why she'd been removed from a client relationship.
Earlier this month, in response to the numerous incidents of harassment and discrimination in tech that have come to light lately, Anita Hill wrote an op-ed encouraging more women to sue their companies for sex discrimination. Allen's allegations could be a sign of many more lawsuits to come.