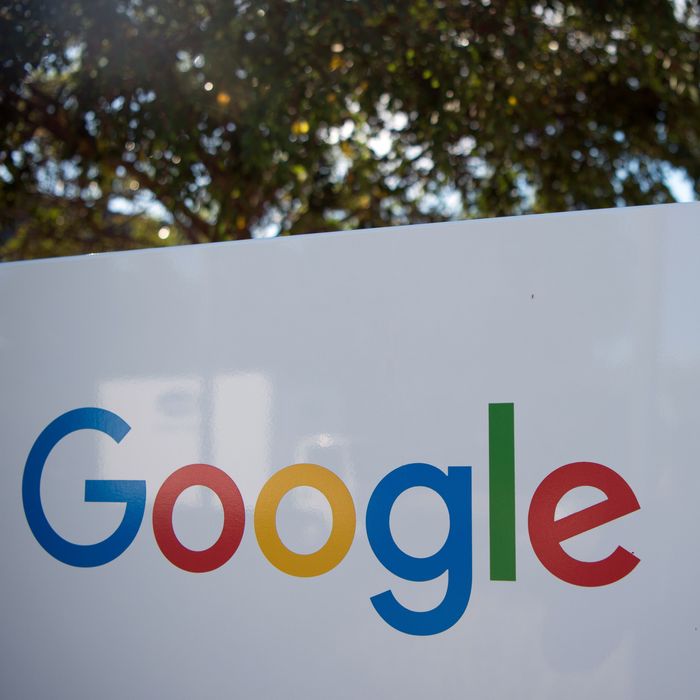 Googleplex, Menlo Park.
Photo: JOSH EDELSON/AFP/Getty Images
Google's underpaid hens are coming home to roost. Just a few days after one of its (now former) employee's internal memo leaked and went viral for its assertion that the gender gap in tech is the result of women not being biologically suited for leadership positions, The Guardian reports that over 60 current and former Google employees are looking at bringing a class-action gender-discrimination lawsuit against the tech giant for sexism and pay disparities.
The suit would build on an ongoing investigation by the Department of Labor, which has found "systemic compensation disparities against women" across the company.
James Finberg, the civil-rights attorney working with the women, around half of whom still work at Google, says that many have struggled to overcome a "culture that is hostile to women," and several reported earning as much as $40,000 a year less than men in similar positions. According to The Guardian:
One former senior manager who recently left Google told the Guardian she repeatedly learned of men at the same level as her earning tens of thousands of dollars more than her, and in one case, she said she had a male employee join her team with a higher salary despite the fact that she was his superior.




"It's demoralizing," said the worker, who requested anonymity for fear of retribution. "There's something subconsciously that happens where you do start to question the value that you're adding to the company."
Google vehemently denies these allegations.
The potential suit follows a series of scandals that have brought Silicon Valley's toxic, sexist culture to light. The situation has become so dire that in an op-ed for the New York Times on August 8, Anita Hill argued that large-scale legal action was the only solution.
"We can't afford to wait for the tech industry to police itself — and there are few indications that it will ever do so," she wrote, "[…] Instead, women in the industry should collectively consider their legal options. Top among these would be class-action discrimination cases against employers."