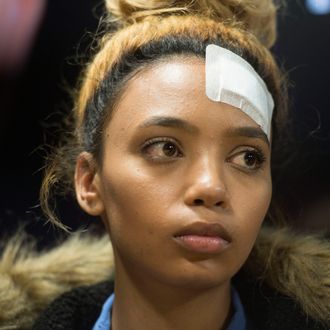 Gabriella Engels.
Photo: Foto24/Getty Images
Zimbabwe's First Lady, Grace Mugabe, is accused of assaulting a young model in South Africa with an electrical extension cord last Sunday night — and likely will get out of the legal situation with diplomatic immunity.
Twenty-year-old model Gabriella Engels alleges that the incident occurred on Sunday night in the Capital 20 West hotel in Johannesburg, where she and friends were going to meet up with one of Mugabe's sons. Per The Guardian, Engels told local media the following:
We were chilling in a hotel room, and [the sons] were in the room next door. She came in and started hitting us. She flipped and just kept beating me with the plug, over and over … I had to crawl out of the room before I could run away.
South African police initially said that they put up a "red alert" at the borders to prevent Mugabe — wife of 93-year-old Zimbabwean president Robert Mugabe — from leaving the country. However, Mugabe has not turned herself into police and Zimbabwe authorities are seeking diplomatic immunity for the First Lady, claiming that she was in South Africa at the time for a regional summit. Reporter Peter Granitz told NPR that "the victim's lawyers said she was in the country for personal reasons, including shopping and medical treatment, and that means she would not qualify for the immunity."
According to what government sources told Reuters, Mugabe is expected to receive immunity in the case, in the interest of maintaining diplomatic relations between the two countries.
In 2009, a photographer in Hong Kong also claimed that Mugabe beat him.
Engels, meanwhile has hired Oscar Pistorius's attorney, Gerrie Nel, and is "prepared to fight this in the highest court."