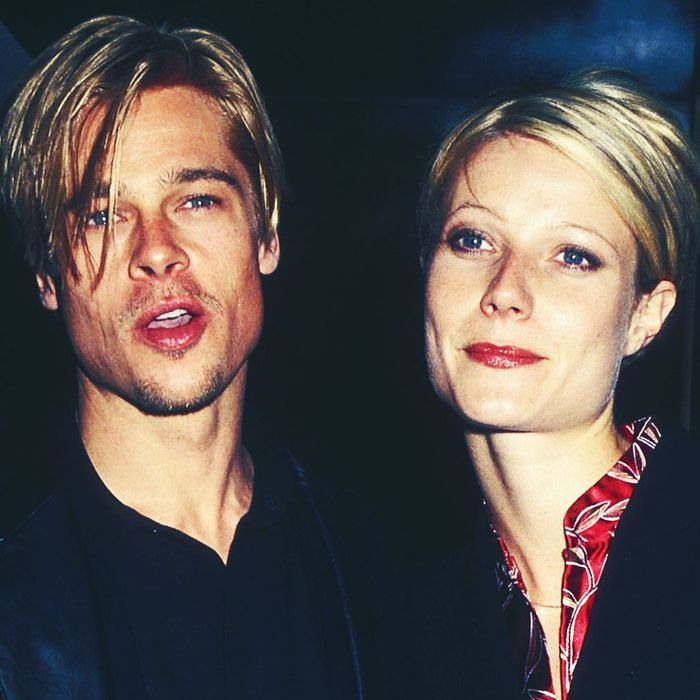 Brad Pitt and Gwyneth Paltrow in 1997.
Photo: Ron Galella, Ltd./WireImage/Getty
Gwyneth Paltrow may have "consciously uncoupled" with her ex-husband Chris Martin, but the Goop founder knows she didn't necessarily handle her other breakups so well. In a new interview, the seven-week cleanse survivor admits she's "fucked up" so many relationships — including the one with Brad Pitt.
If you'll recall, Brad Pitt and Gwyneth Paltrow dated for three years before breaking up in 1997. The couple was so serious that they seemingly had matching haircuts at one point. Alas, as Paltrow told Sophia Amoruso in a new episode of the Girlboss podcast, she ultimately blames herself for the relationship's demise.
"Oh my God, I've f–ked up so many relationships. I'm a pretty good friend and sister and daughter, but I am at my potentially most vulnerable and f–ked up in the romantic slice of the pie," Paltrow said, per "Page Six." She then added, "I f–ked that up, Brad!"
This isn't the first time Paltrow has alluded to making mistakes during her breakup with Pitt. Back in 2015, she told Howard Stern, "I was such a kid, I was 22 when we met. It's taken me until 40 to get my head out of my ass. You can't make that decision when you're 22 years old … I wasn't ready, and he was too good for me."
Well, at least Brad has found love again (with sculpture).