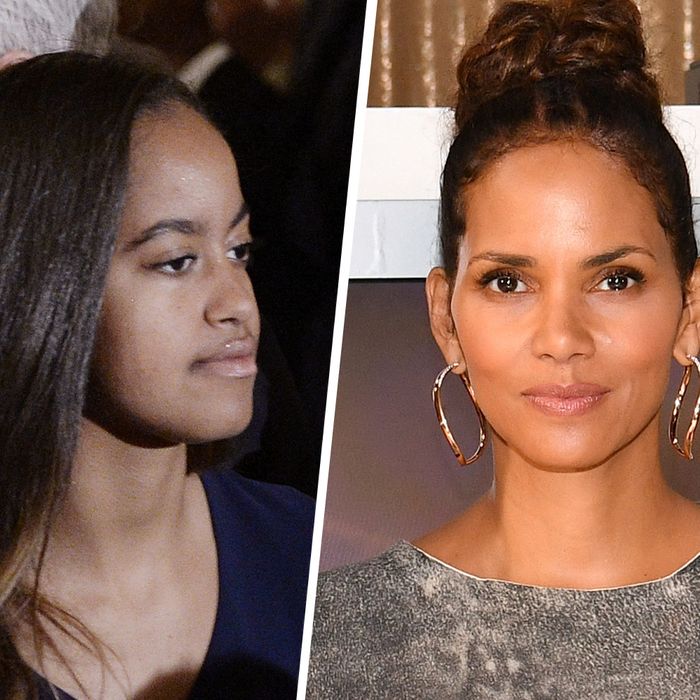 Malia Obama (left), Halle Berry (right).
Photo: Getty Images
During a Thursday appearance on Watch What Happens Live, Halle Berry opened up about what it was like having America's coolest teen Malia Obama as an intern on her former TV show Extant a few years ago — and to no one's surprise, the future Harvard student was apparently "amazing."
"She was fantastic, she was amazing," Berry told WWHL host Andy Cohen. "She is such a smart, beautiful young woman. Look at who her mother and her father are, so duh, it was amazing."
Obama interned for the show in 2014, while her father was still the president. Cohen inquired whether Berry had to ask Obama to go on coffee runs, like she would any other intern. But instead, Berry joked she was more inclined to ask, "Can we call your dad or your mom?" However, the actress added that it was hard for the show's staff members to see the then–First Daughter as just a regular production assistant.
"She was down to do whatever a PA is asked to do, and I had wild respect for her for that. Everybody couldn't really see her as a PA, although she tried and tried to be one. We just couldn't really see her as one, but to her credit, she tried very hard to be one," she explained.
Looks like being good at your job is the true sign of a cool teen.