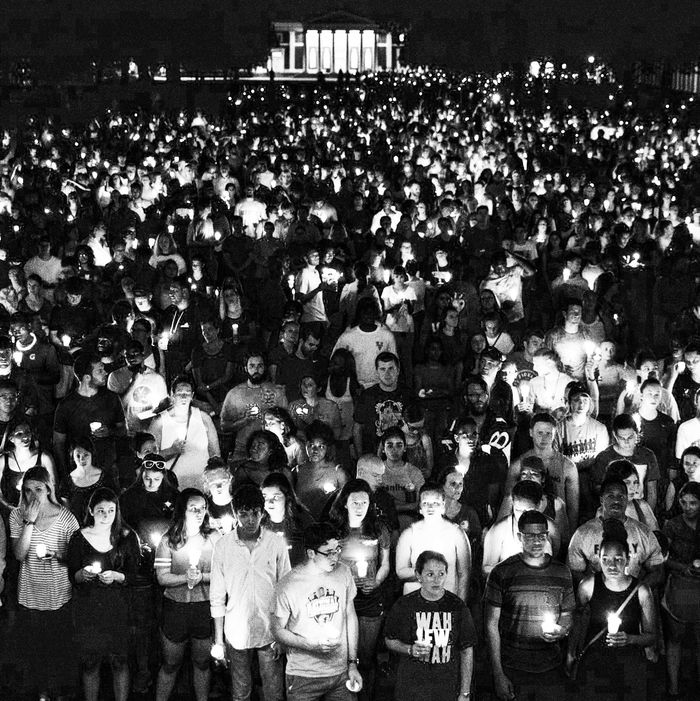 Thousands of people held a candlelight vigil for Heather Heyer.
Photo: Samuel Corum/Anadolu Agency/Getty Images
In the wake of Heather Heyer's death, her family is taking up her cause. Last week her mother, Susan Bro, encouraged hundreds gathered at her memorial service to address racism head on — and said publicly that she would not be speaking with President Trump, whose statements about the white nationalist rally Heyer was in Charlottesville to confront have been … controversial. And on Monday, Heyer's cousin, Diana Ratcliff, wrote an op-ed for CNN examining her family's white privilege.
After Heather's death, Ratcliff said she attended a vigil to show solidarity with counterprotesters in Charlottesville. "The moment that will forever be burnt in my memory was when a speaker asked the uncomfortable question," she writes. "While she hailed Heather's courage, she asked something to this effect: 'Why does a white woman have to get killed for you all to become outraged?'"
Ratcliff says Heather would have asked a similar question: "All I could think was, 'Heather is sitting in heaven right now, shaking her head in agreement.'"
"My family — we are not the kind of family that is targeted by hate crimes," she continues. "We have never had to be afraid that someone would target us or lynch us because of the color of our skin." She goes on to speak out against complacence when it comes to racism:
How did America go from a black President to white supremacist neo-Nazis marching in the street? That is the question we need to be asking ourselves. And if we take a long hard look at ourselves, we'll find out that it's because we went into denial. We elected a black person, we made friends with some minorities, and we patted ourselves on our backs, saying, "Well done self, we have eliminated racism." Clearly, we have not. 
Like Bro, Ratcliff concludes that Heather's death won't be in vain if others take a stand against racism in her name. "If you truly believe all lives are equally important," she says, "then make your life matter."