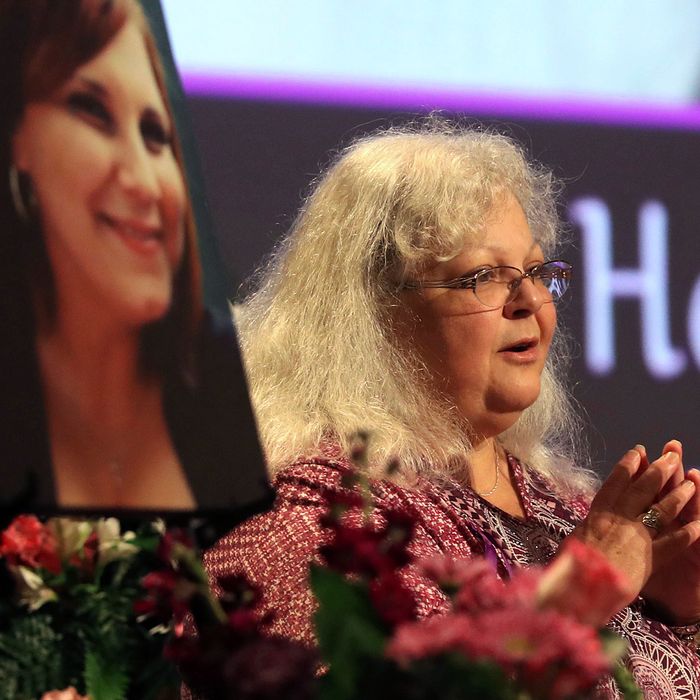 Susan Bro spoke at her daughter's memorial service.
Photo: Pool/Getty Images
Over the weekend, 32-year-old Heather Heyer was killed in Charlottesville, Virginia, when a self-identified white nationalist drove his car into her. James Alex Fields was arrested and charged with second-degree murder, and on Wednesday, hundreds gathered at a Charlottesville movie theater for Heyer's memorial service.
Heyer's mother, Susan Bro, who previously told the Huffington Post that her daughter "always had a very strong sense of right and wrong," gave a moving speech, telling those in attendance that Heather's death should be a catalyst for progress.
"They tried to kill my child to shut her up," Bro said. "Well, guess what? You just magnified her." She went on, "I want you to pay attention, find what's wrong … and say to yourself, what can I do to make a difference? And that's how you're going to make my child's death worthwhile."
"I'd rather have my child," she added, "but by golly, if I've got to give her up, we're going to make it count."
Heyer had been working as a paralegal at Miller Law Group in Virginia, and friends and co-workers said she was passionate about equality. According to CNN, one of the last conversations she had before her death was about the rally. "Heather said, 'I want to go so badly but I don't want to get shot,'" the friend — Victoria Jackson — recalled. "'I don't want to die.'"
The ceremony to honor Heyer comes as President Trump continues to blame "both sides" for the violence in Charlottesville, drawing sharp rebukes from almost everywhere else.