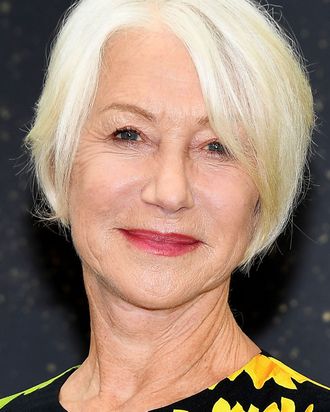 Helen Mirren.
Photo: Pascal Le Segretain/Getty Images
Although Dame Helen Mirren may have life figured out, she'll be the first to admit she doesn't know if the moisturizer she uses actually does that much for her skin. But that doesn't stop the Fate of the Furious star from using it each night.
As the Telegraph reports, the L'Oréal ambassador was speaking on a panel for the brand in the South of France recently, when she opened up about her beauty routine. "I'm an eternal optimist — I know that when I put my moisturizer on it probably does fuck all, but it just makes me feel better," Mirren told the crowd. "I've always said to L'Oréal as well that I will only do what makes me feel better."
The Donald Trump foe went on to say she's been a lifelong fan of the brand, and that she's been glad to see how beauty advertisements have changed over the years. "It used to drive me crazy that the ads promoting skin products were using pictures of 15- and 16-year-old girls," Mirren said. "As a 30-year-old, I used to look at that and think, what the fuck are you talking about? It was ridiculous. Pissed me off majorly. Advertisers are only just coming out of that, and it's taken them a long time."
Well, whatever she's doing to her skin seems to be working just fine.