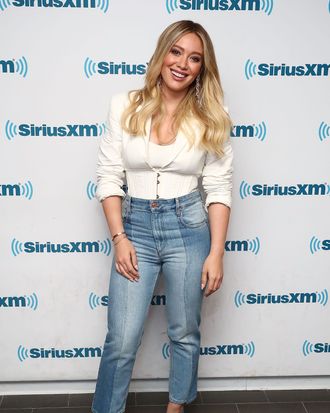 Hilary Duff.
Photo: Astrid Stawiarz/Getty Images for SiriusXM
Hilary Duff is the latest female celebrity to shame body-shamers via Instagram.
In a recent post to her account, the star uploaded a shot of herself holding her son, Luca, on vacation in Hawaii. In the photo, taken by a paparazzi photographer, Duff has her butt to the camera, and is wearing a black-and-white gingham bathing suit.
Similar photos from her Hawaii trip were posted across the web, but Duff proactively shared one of the less-flattering images.
"I am posting this on behalf of young girls, women, and mothers of all ages," she writes in the caption. "Since websites and magazines love to share 'celeb flaws' — well I have them!"
Duff doesn't say in the post what she sees as her flaws. But she has said she was once "obsessed" with her weight, and too "unhealthy," and "too thin" as a teenager. "That was not a healthy place for me," she told People in 2015. "I was so unhappy. I remember my hands cramping because I wasn't getting enough nutrients."
But Duff appears to be feeling much better. In February, she posted a celebration of her legs on Instagram, writing: "I didn't always love my legs, but as I've grown, I've learned to love and celebrate myself, just as I am." In her latest post, she writes: "My body has given me the greatest gift of my life: Luca, 5 years ago. I'm turning 30 in September and my body is healthy and gets me where I need to go."
She also encourages her fans to stop wasting time obsessing over imperfections. She writes in the caption:  "Ladies, let's be proud of what we've got and stop wasting precious time in the day wishing we were different, better, and unflawed. You guys (you know who you are!) already know how to ruin a good time, and now you are body shamers as well, #kissmyass."