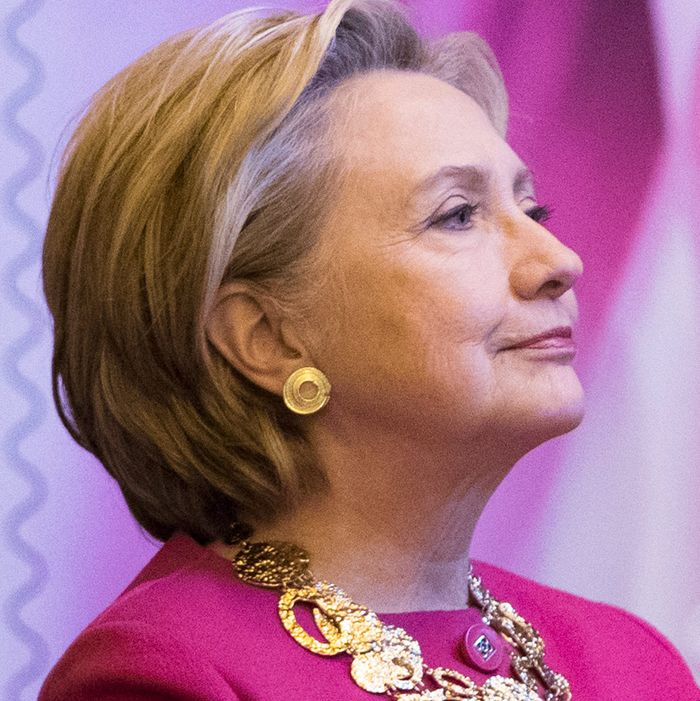 Hillary Clinton, coming to a city near you.
Photo: Drew Angerer/Getty Images
In the first few excerpts from Hillary Clinton's upcoming memoir, What Happened, she describes how she felt during the presidential debate when Donald Trump followed her around the stage. "It was incredibly uncomfortable," she wrote. "He was literally breathing down my neck. My skin crawled."
Now the book's publisher, Simon & Schuster, is promising an even more unfiltered version of Clinton — on a cross-country promotional tour. According to a press release on the publisher's website, Clinton will travel to dozens of states and "[let] loose about her experience as a woman in politics, and other topics, in a way she never has before."
"What you'll see will be her story — live," it continues. "Her story of resilience, how to get back up after a loss, and how we can all look ahead." Tickets to appearances in a handful of cities are on sale Monday, and tickets for the rest of the tour will be made available at a later date.
The book has been billed as a tell-all in which Clinton "lets her guard down" to tell everyone what was running through her mind over the course of the 2016 election. It's no Dancing With the Stars gig, but hey, we're sure it's the best she can do.