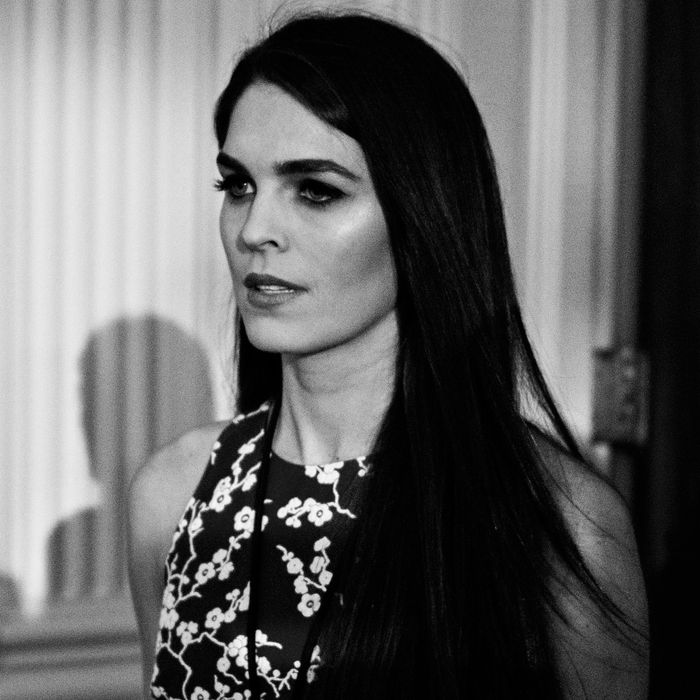 Hope Hicks has a new role in the White House.
Photo: Pool/Getty Images
After the unceremonious ouster of Anthony Scaramucci, the White House is on the hunt for a new director of communications … preferably one who doesn't go on on-the-record profanity-filled rants to reporters. But until they find one, the New York Times reports that Trump aide Hope Hicks will fill the role.
Hicks, whose current title is director of strategic communications, has long served as a spokesperson for Trump, and reportedly has the final say over which media outlets are granted access to him. A former PR rep for Ivanka Trump's fashion line, she was rather unexpectedly roped into Donald's campaign as press secretary, and made up most of her role on the fly.
According to a profile of Hicks in GQ, she wasn't expecting to be press secretary for long — but months went by, and Trump made no move to replace her. Indeed, he seemed pleased with her work:
"If you see her phone going" — he raised both hands and mimicked Hicks answering several devices — "'This is Hope. This is Hope. This is Hope.'" He hung up the make-believe phones. "She gets a call a minute, probably."
As interim communications director, one of Hicks's primary jobs will be helping to find someone to fill the position permanently; the Times' Maggie Haberman reports she's not expected to take on the job's official title, or to move desks. Temporary though her role may be, there's no denying she has a lot to live up to.