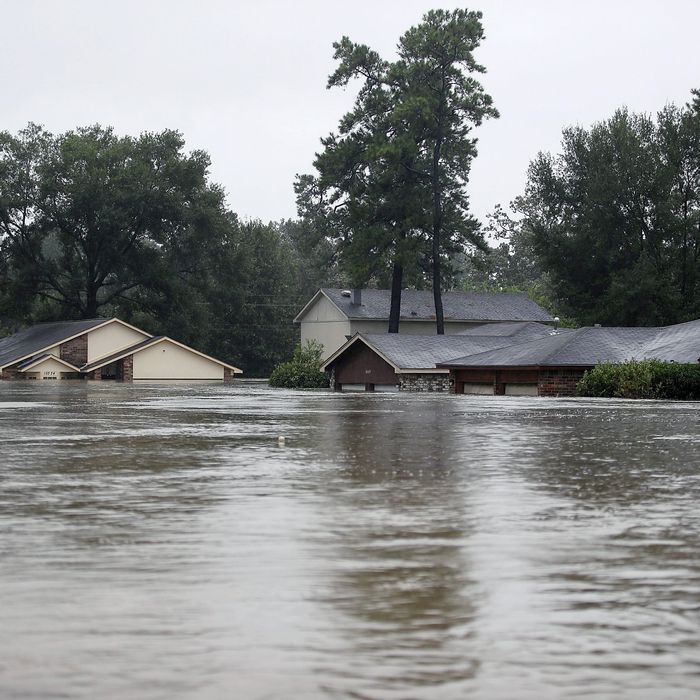 Tropical Storm Harvey flooding in Houston.
Photo: Joe Raedle/Getty Images
A woman in Houston went into labor on Sunday as Tropical Storm Harvey raged — and she was able to safely deliver her baby at a hospital after neighbors formed a human chain to help her get through the rising floodwaters outside her apartment.
People reports Andrea Smith and her husband, Greg, are both doctors who moved to Houston in late July for advanced training in their specialties. "We're very new to Houston — and new to hurricanes," Greg told People. Yet, the couple felt prepared for Tropical Storm Harvey, even deciding they'd go to the hospital early to ensure mother and baby's safety, as they only expected "five or six inches" of rain.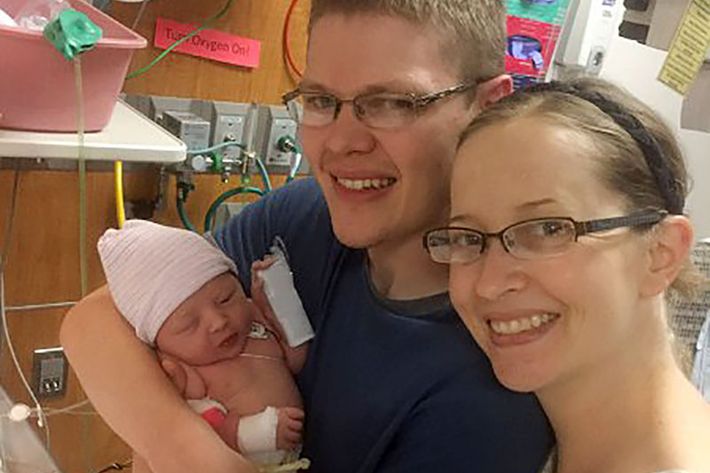 But when the couple woke up on Sunday morning, they were surrounded by "two or three feet" of water. Andrea had been experiencing contractions for a few weeks, and that morning, they realized the baby was coming. Greg told People he tried to contact 911 repeatedly — but kept getting kicked off the line. He also reached out to the Coast Guard and local hospitals for help, to no avail. So, the couple started boiling water and preparing for a home birth. Per People:
As it happens, the apartment complex is home to many medical professionals who work at the nearby Texas Medical Center. A neighbor sent out a call for help on a community message board. In short order, doctors, nurses and EMTs arrived at the door with sutures, scissors and other supplies.
Neighbors scrambled to help the couple, eventually deciding to move the impromptu delivery room to an apartment on a higher floor to avoid the floodwaters. But luckily, someone reached out to a fire station — and the rescuers stopped by on "what appeared to be a large garbage truck." The Smiths' neighbors then formed a human chain to help Annie wade through the water — which at that point was waist-high — to get to the truck, and the firefighters were able to escort her to the hospital, where she gave birth to baby Adrielle at 1:59 a.m. on Monday morning.
Adrielle was born healthy, according to People, but is currently in the intensive care unit because of "some issues." Greg said, "If she were born at home, that wouldn't have been the best place for her. I'm so glad she is in the hospital."