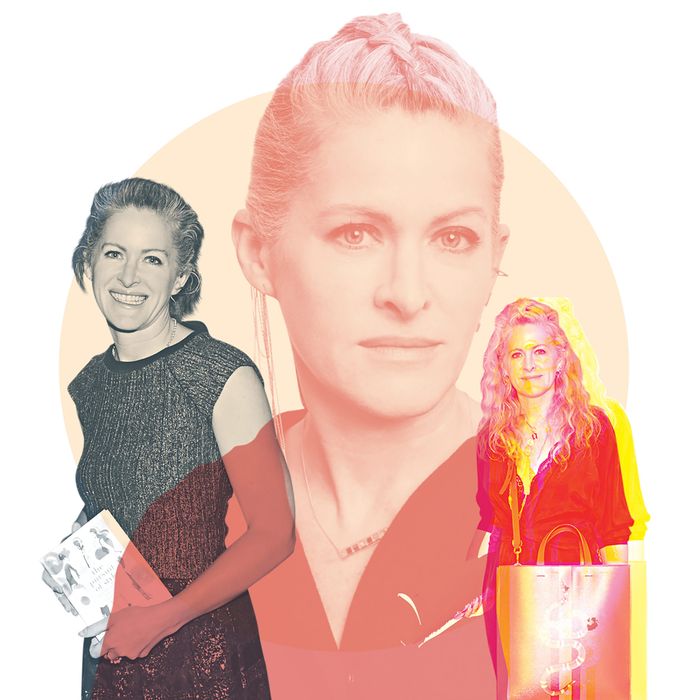 Photo-Illustration: Stevie Remsberg
Beth Bugdaycay co-founded the fashion brand Rebecca Taylor at the age of 23. After 20 years as CEO, she quit in 2015 to launch Foundrae, a fine-jewelry line of what she calls "modern heirlooms." Her designs have been worn by Kristen Stewart, Sofia Vergara, and Alexa Chung.
Bugdaycay grew up in Brownsville, Texas, went to college to study consumer economics, and then got an associate's degree in design from FIT. Here, the mother of two talks about changing lanes in her career and cultivating friendships amid commerce. Here's how she gets it done.
On a typical day in her life: I wake up at 6:45 a.m. and the first thing I do is make crêpes for the kids — Isla, 6, and Gem, 13 — and drink tea. I really do make crêpes every single day. It's quite fast and easy as long as you have the batter premixed in the refrigerator.
Murat and I take Isla to school on the subway at 7:50 a.m. Her school is Quaker and very supportive of individuality — she currently has hot-pink highlights. After we drop off Isla, we walk the 40 minutes back home, taking a different route each day. Today we went through Union Square and they were having a market, so we bought some fresh, long-stemmed tulips.
I work from my den at home. It's been freeing not to have high overheads. I'm very old-school, I can't think on a computer screen, so I'll always have my Smythson notepad with me. I wear multiple hats, from accounting to designing, and I have four or five meetings a day, with private clients, or my PR team. In the afternoon, I'll head to the jewelry district and look at a custom medallion we're making.
On co-founding Rebecca Taylor at 23: Rebecca and I had been working together for another designer for about four years, and we felt like we made a great team. We had $40,000 in capital invested by her family and my boyfriend (now husband), and we made the first 12-piece collection ourselves. We had no employees for at least the first six months, so we split up the workload between the two of us. We never once questioned whether or not we would succeed, which we both now see in retrospect as a bit foolhardy. We just put one foot in front of the other each day and steadily made progress.
On leaving a booming business to launch a start-up: I think it's very important to keep on growing as an individual. In the role of CEO, I had developed one aspect of how I define myself, but felt that other equally important parts were atrophying. I wanted to be more "whole."
I left Rebecca Taylor in January 2015 and launched Foundrae that August, with a collection of cigar bands. Foundrae refers to something "found" — the idea that it was the new with the old, the dirty with the polished — and "Rae" is the name of my grandmother. For the enameling we use a technique called chameplevé, a technique used during the Byzantine era.
I wouldn't have been capable of starting this in my 20s; I couldn't be doing Foundrae if we hadn't built Rebecca Taylor into what it was. This is me finally becoming comfortable in my own skin. We only have ten stockists (we don't want mass) and I only have one full-time employee, but we sold out on Net-a-Porter in two weeks and I'm currently working on a bespoke collection for Moda Operandi. Kristen Stewart bought a necklace and a ring soon after we launched and wore it for three days straight at Cannes.
But I don't feel like I've made it; I feel like a work in progress. I think the expression "made it" implies a finishing line. A hard stop. I really would rather think of Foundrae as a long winding path in front of me. I'm still a working mom, but I am a lot more relaxed and fulfilled now. My kids think I've retired, though, because I work from home — that bothers me.
On the most important thing she learned as CEO: Setting rhythms and goals. Every aspect of the business has its own cadence. Time and experience give you the ability to recognize when the cadence is off.
And on what she learned from Rebecca: Creatively, Rebecca was always true to her own voice and didn't yield to market trends when everyone else was doing "androgynous" or "edgy".
On her current team: We are a tiny-but-mighty team of four. But like all endeavors, it does take a village. We work with many different skilled artisans and freelance contractors. The beauty of NYC is that there are many small workshops that each specialize in a particular aspect of the process, so one individual does the wax carving for our pieces, another workshop does the chains, another one does the casting, yet another just does the enameling, and then each piece has to go to the finishing workshop for setting and polishing. I think that everyone involved appreciates the fact that not one of these individuals is capable of making any of the pieces by themselves. It really is a collective effort.
On her personal style: Day to day, I wear around 20 pieces of my own 18-carat gold jewelry. My style has changed so dramatically since I was CEO of Rebecca Taylor, it's not even funny. Back then, I wore heels every day for 20 years. Now I wear them once every two weeks.
On how she met her husband: I was just in NYC for six months and one of my closest girlfriends introduced us at his restaurant, Stingy Lulu's. I had already been going to Stingy's quite a bit with friends; it was a real iconic East Village scene. We immediately started dating quite seriously and within a year he had given me not just the money to start Rebecca Taylor, but more importantly, the encouragement — just as he encouraged me to follow my heart and start Foundrae. I'd say he's the one that really taught me, "If not now then when," which we just recently inscribed on one of our rings.
On cultivating friendships through work: I didn't embrace social media at first, but then I realized that it's a way to speak directly with women. Shortly after we launched, Hanya Yanagihara, the editor of T magazine, emailed me and said, "I just published a book and I'd like to commemorate the occasion with a piece of custom jewelry by you." And I said, "Of course. Come to my apartment on Lispenard Street. And by the way, what's the name of your book?" That evening, I downloaded A Little Life on my Kindle. And of course, Jude's story is set on Lispenard Street. Hanya and I have become friends. I don't believe in coincidences — I believe in spiritual connections. I think we were meant to meet and Lispenard was just a part of it.
On appearing Zen when you're not: The other day someone said to me, "She's really laid-back, like you are." I wouldn't say that's 100 percent accurate. Stress comes to me in waves, but a lot of it is very internal — I'm a Virgo. To relax, I read, or I play tennis in Grand Central Station once a week — there is just one court there. And I love a cocktail with ginger in it, or a Margarita. I worship and do committee work for the Quaker church and I also do a lot of stuff for my kids' school. It's important to contribute to other people's passions. Otherwise you can get a little self-involved.