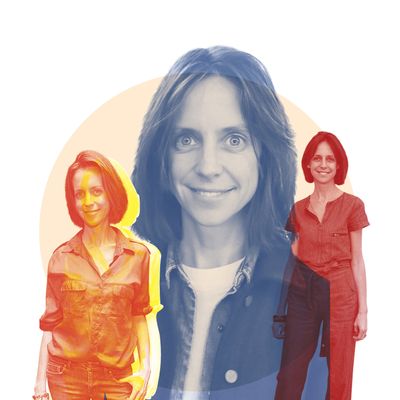 Photo-Illustration: Stevie Remsberg
Denim is practically coded into the DNA of M.i.h Jeans founder Chloe Lonsdale. Her father Tony was one of the biggest importers of jeans to London in the '70s and founded the infamous Jean Machine boutique, so it's no surprise that Lonsdale wound up building a brand around oh-so-cool, worn-in, vintage-style jeans. Between running a business, getting a few hundred emails a day, and raising four kids under the age of 8, Lonsdale has her plate full. Here, she shares with the Cut how she gets it all done.
On her family legacy:
When my father was in his early 20s, he started taking old British cars like Rolls Royces and Bentleys over to California to make a living. On his third visit, he saw this huge opportunity in the market — everyone in California was wearing denim. In London, no one was wearing jeans, so Dad bet all his profits on a haul of denim and brought it back to London. He took a store and called it Jean Machine and he ended up becoming the primary, initial importer of denim in the U.K.
Very early on, one of his best friends, my godfather, was developing the first stonewashed and stretch denim called Made in Heaven. It was a time where there was a lot more emphasis on the power of the people and a democratic way of dressing. When I graduated from Central Saint Martins, I was pretty clear that I wanted to take something from their legacy. We created something that captured the spirit and the energy of what they did. Some of my original M.i.h fits were the fits my mom and dad wore in the '70s.
On living in the city and the country at the same time:
I moved out of London to the country a couple years ago because I have four kids. Usually, the kids wake me up around six and it's chaos getting them off to school, but two days a week I have beautiful, peaceful nights in London in a flat on Portobello Road. I can wake up on my own time in this little space that is mine, and it's super creative. My day in London is actually magic in a way because it feels selfish — I get to be completely independent in my choices throughout the day.
On a day in the life:
I wake up around 7:30 a.m., and my husband — we run the business together — and I get up and go to our café next door, Lowry & Baker, which is really wonderful. I go into the office with toast in hand. I spend the first hour of the morning doing emails. I have anywhere from 400 to 500 in the morning and then I go through 100 or 200 of them.
Then I will have hourly meetings between about 9:30 and 1:30, and again between 2:30 and 4:30 before I go home. We have an in-house art director in the art department and they run past me the pages that we're going to be launching on the website. This is an area I still get to sign off, not because the people are not better than me, but because ultimately they always want to make sure that it's in line with my point of view.
On her favorite kind of meeting:
Recently, we did a line launch for summer '18. It's almost an internal launch fair, where we create a whole world in the showroom with a new collection and we present it to all our sales teams, commercial teams, marketing teams. We'll have models come in and do an informal runway presentation. It's just an amazing point four times a year where the world all crystallizes and comes together — it's my favorite. There's always huge nerves.
On the end of the day:
After my meetings, I'll shoot off back to the countryside, which is an hour and a half drive, to pick my children up from school.
Our house is on a tidal estuary, the water comes up to our front door twice a day, so on days when the water's up, we go crabbing or kayaking or they just play in the garden while I'm cooking dinner. Then, I tuck them into bed, and my husband and I have dinner together.
On continue to work after hours:
I've always got an extra project. Until recently, I was renovating the apartment that we have on Portobello Road. I will spend an hour or so in the evening working to plan an image board. I have this sort of deep sense of guilt because I never do any work apart from focused and managed time during the day.
On relaxing:
I like to have "me" time in the evenings, when the house is quiet and the kids are asleep. On an evening at home, I always have a hot bath, read whatever book I have on the go — currently it is Rebecca by Daphne du Maurier — and occasionally watch a movie with my husband. I also use it as a time to catch up on social media or news as I try not to get distracted by this during the day.
On organization:
Me and my husband are the most organized disorganized people on the earth. We manage to get everywhere just about in time, but we never really have time for anything else.
On communication:
Text is great for asking somebody if they can pick one of the kids up or let someone know that you're five minutes late, but if I need to have a discussion with someone or a negotiation with someone, I try to meet them face-to-face. I'm much better at real face time (not computer FaceTime) than I am on the phone. I do have sisters that live all over the place and we do short calls.
On travel:
I go to New York and L.A. a couple times a year, and we have loads of different countries and sellers around the world, which means visiting our agents and also traveling for research. I'm away for one week every couple of months. It's enough; I couldn't do any more with young kids. If I leave the house with a bag, passport, and a credit card I feel comfortable.
Luckily when I travel, I'm normally with the collection, so I can wear everything from the collection if I need a change of clothes. It's denim, so I don't need to travel with hangers and things like that. It's literally my world. It's super low-fi and easy.
On living a plugged-in life:
I can't leave and do a school run or drive to London without my phone, because when you've got four young kids and they're all under 7, you always need to be available. I love the idea of being disconnected from my phone and not relying on it, but I have four little people to take care of. If I receive a call from the school saying one of them knelt on a bee, or a call from someone saying they can't pick them up because their car's broken down or they're vomiting so they have to come home, you need to be compatible. I should add that I travel with a charger because I am notoriously terrible at having a phone with battery.
On the hardest part of her job:
I set the bar for myself incredibly high. And when you set your expectation and you come short of it, you're creating a sense of failure yourself, really. I think that it creates an insurmountable amount of pressure. I can cope with pressure, but it's not always fun. You've tried so hard to get somewhere, it obviously brings with it that kind of stress level.
On what she would change about her current work life:
I would possibly make the office a lot closer to my house or my house a lot closer to the office, but I wanted to live on the sea and the office lives and breathes in London.
On what makes her happiest about her job:
My job is not really a job; it's an extension of my life. I'm just designing jeans and clothes that feel like an extension of me, my memories, my inspiration. It's really hard to see it as a job — my office has always been an extension of my home space. I love the energy. I love learning off an incredible community of creators, bright, talented people. I like feeling like I'm creating something every day, like we're building on something, we're improving something, we're doing something that makes a lot of people happy.