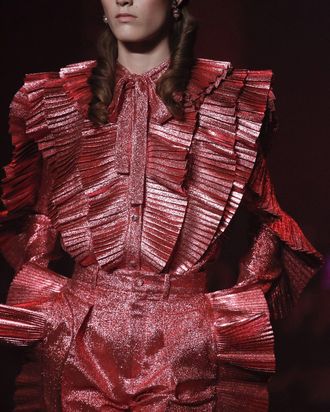 Once in a while, a trend appears on the runway, trickles down to your local mall, and then lodges itself firmly inside your brain. Now Trending is our weekly roundup of where to buy that look that's been haunting you.
Ever since Alessandro Michele took over Gucci in 2015, the brand has been over-the-top romantic. But although his runway shows feel like a fever dream, if you look closely, you'll find plenty of ideas that work in real life. Like his blouses. Michele definitely has a thing for blouses, and he's particularly enamored of intricate detailing — ruffles, beading, cutouts, and plenty of sheer fabrics.
To transpose the look to your own closet, try searching for the elaborate silhouettes that Michele loves so much. Instead of going for a simple collared sheer blouse, live a little — find a blouse with some shoulder ruffles, or even one in a surprisingly bright color. Then add a pair of dark jeans to contrast the sheerness of the top, and you're set. Scroll ahead for ideas on how to get in on the trend at every price point.
The Best Affordable Version
Most cheap sheer blouses are unlined, so it's a pleasant surprise to find one with an attached camisole, not to mention trendy bell sleeves.
The Best Gucci Dupe Under $100
An ASOS version for those who simply must have a Gucci-esque bib and ruffles. Bonus: extended sizing!
The chances of you finding another carefree-yet-elegant Chloé blouse like this for under $200 are slim to none, so pounce on it while you can.
Original Price: $375
Just because it's sheer and has ruffles doesn't mean it has to look girlish.
The Beyoncé Option (Also Known As the Rihanna Option)
The Investment Top That's on Sale
This vibrant Givenchy blouse might seem pricey, but consider this: Before it went on sale, it was $1,790.
Original Price: $1790
If You Want the Real Deal
At $1,400, you could buy all the other blouses on this list and still not spend as much, but you have to admit how cool this Gucci blouse is. It's 100 percent silk, it's embellished with pearl buttons and a signature Gucci ribbon, and it's utterly glorious.
If you buy something through our links, New York may earn an affiliate commission.