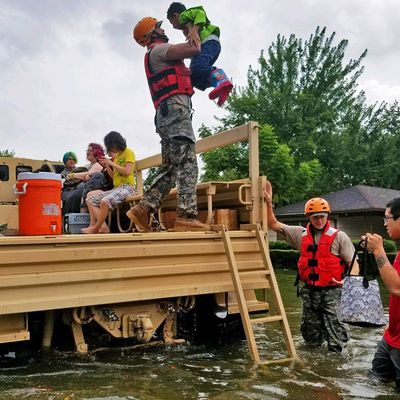 Hurricane Harvey rescue operations in Houston.
Photo: Getty Images
Hurricane Harvey has wreaked havoc in Texas since making landfall on Friday, with torrential rain causing the Houston area to experience one of the worst flooding disasters in U.S. history. Homes have been destroyed, hospitals are underwater, and as of Monday, at least eight people have died.
Many people across the country have watched the storm's assault on the region through social media and television, feeling powerless as we've seen haunting images of Harvey's catastrophic impact. However, even those of us who aren't along the Texas coast can provide assistance to those affected by the storm.
Here are some ways you can help Hurricane Harvey survivors.
Donate money. One of the easiest and most effective ways to help Hurricane Harvey survivors is to donate money to one of the many organizations providing on-the-ground relief. The Center for International Disaster Information notes that "monetary contributions to established relief agencies" are always the best way to help in situations like this, since "unsolicited household donations can clog supply chains, take space required to stage life-saving relief supplies for distribution, and divert relief workers' time."
The website Charity Navigator currently has a list of local and national organizations providing on-the-ground relief. Locally, you could donate to high-rated organizations including Houston Food Bank and the Food Bank of Corpus Christi. Houston mayor Sylvester Turner has also established the Hurricane Harvey Relief Fund to accept tax-deductible relief donations. There are also a number of national groups providing medical support and aid to Harvey survivors, such as the Salvation Army, Americares, International Relief Teams, and Direct Relief.
Donate blood. The AABB Interorganizational Task Force on Domestic Disasters and Acts of Terrorism — which helps maintain blood donation efforts during times of domestic disasters — is urging eligible blood donors across the country (particularly those who are type O-positive) to give blood as soon as possible. You can always donate blood through the Red Cross, but there are also a number of other, lesser-known organizations in need of blood. The South Texas Blood & Tissue Center is accepting blood donations and Carter BloodCare are both accepting blood donations in Texas. To find a local blood bank near you, check out the America's Blood Centers website.
Donate diapers. The Texas Diaper Bank in San Antonio is accepting donations to help provide diapers to babies, the underprivileged, and seniors, as well as relief kits to mothers and families. You can donate money to the group, and they'll in turn use it to buy the supplies.
Help provide shelter. Thousands of people are currently displaced across Texas because of Harvey, and are in need of shelter. Airbnb has waived its fee during Harvey relief efforts through its urgent accommodations website, where you can offer a place for Harvey survivors to stay for free. You could also make donations to the Houston Coalition for the Homeless, as well as Trusted World, an organization that is helping provide shelter and goods to evacuees staying in Dallas County.
Animals need your help, too. Pets in Texas are in need of shelter and donations as well. The group Austin Pets Alive! has already transported more than 235 pets from affected areas to its shelter (and is also accepting donations). The SPCA of Texas has also been transferring animals out of flood zones, including 123 cats from Corpus Christi alone. The group has also put out a call for as many people as possible to foster animals affected by the storm. The Houston SPCA branch has also been rescuing hundreds of animals the past few days, and is looking for donations. Furthermore, the Humane Society of Houston is working to help animals (with limited staffing), as is the San Antonio Humane Society.