The Cook Children's team evacuating NICU infants in Corpus Christi.
Photo: Courtesy of Cook Children's
Around lunchtime on Thursday, the team at Cook Children's Hospital in Fort Worth got the call they'd been preparing for ever since Hurricane Harvey's massive scale had been announced. A hospital in Corpus Christi needed their help transporting ten critically ill newborns out of the path of the storm.
Debbie Boudreaux, director of the transportation team and a neonatal nurse at Cook Children's, sprang into action, scrambling to get planes to transport the infants 400 miles north to Fort Worth. (With one exception, their parents would have to drive separately.) "The last plane lifted off there at 4:15 a.m., and I waited and waited for them," Boudreaux told the Cut. "When I knew that they were all safely on the ground here in Fort Worth, then that was it. I was so happy and relieved that we'd done our job, completed our mission, and got them out of there."
Hurricane Harvey arrived just north of Corpus Christi as category four storm on Friday night — hours after the babies safely arrived in Fort Worth. The storm ravaged South Texas with 130 mile winds, catastrophic flooding, and record-breaking rainfall on its first night. As Harvey — which dropped down to a tropical storm — continued to wage throughout the weekend, it inundated the Texas coast with up to 50 inches of rainfall. Haunting video and images of the storm's damage — annihilated homes, people risking their own lives to save others, massive flooding in Houston — show the danger it posed to the most vulnerable in its path: infants dependent on medical equipment and electricity for survival.
"We had already been ramping up for it, because you could watch the news and see the storm was forming out in the gulf," Boudreaux said. "We had done this before with Hurricane Katrina and Hurricane Rita, so we kind of have that in the back of our mind all the time."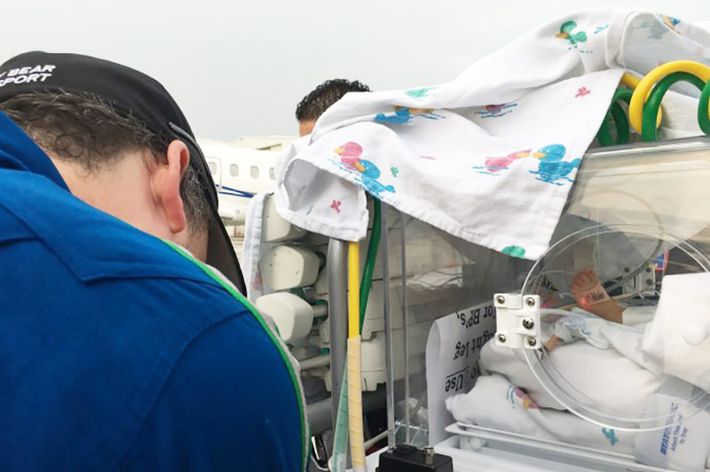 Transporting kids from dangerous situations is merely part of the job for the team at Cook Children's. They generally move around 3,800 children each year from across the country, ranging from high-risk deliveries to those at referral centers who simply can't handle their medical needs. Most of  the highly-specialized transport staff members are seasoned medical professionals (nurses, respiratory therapists, and paramedics) who have been part of the team for 15 to 20 years. "Even as we were doing the hurricane evacuation, we were still transporting other patients from around Texas and outside of our borders," Boudreaux explained.
The neonatal nurse immediately reached out to two other air medical providers in Fort Worth to ask for their assistance escorting the infants from Driscoll Children's Hospital — they ended up letting Cook Children's use some of their aircrafts — and quickly got her team together. "I didn't call in extra people. I didn't bring anyone else in," she said. "Not that I didn't have any shortage of people who wanted to volunteer, but I had people who were already there and capable of going to do that. It was business as usual at home."
The teams made it to Corpus Christi in under an hour but spent time on the ground after they arrived due to limited ambulance availability. "They would have to drop one team off at the airport and then pick another one up and drop them back," Boudreaux said.
The private planes used during the evacuation only had room for one or two babies at a time, as each infant came with an entourage of three medical professionals and had to travel in a large neonatal incubator known as an isolette. You've likely seen isolettes in medical TV dramas — they're large, clear plastic chambers complete with portholes and equipment to monitor the infants' heart rates and assist with breathing, while also providing controlled heat, oxygen and humidity for premature and low birth-weight babies. "They had a lot of equipment, a lot of medical technology needed to support those infants, so that was the biggest reason we needed to get them out of Corpus," the transport director said.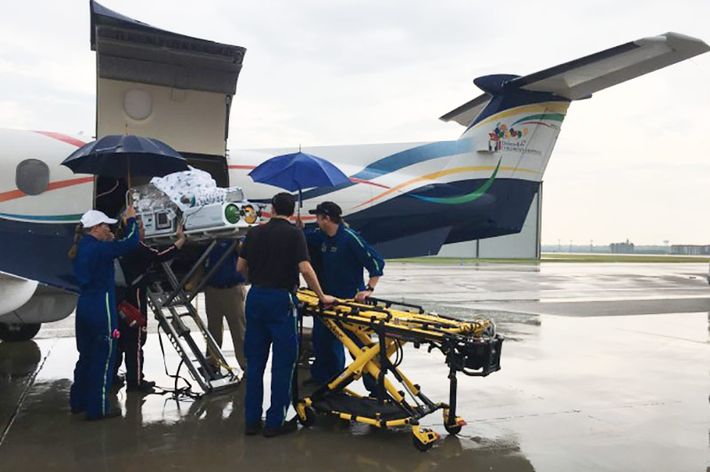 But because of the complex nature of the equipment and the large-yet-necessary medical teams, most of the babies weren't able to be accompanied by their parents on the flight. In fact, only one parent total was able to hitch a ride with the transport team — and that's only because their child was the only one being transported on that particular flight. The other parents, whose own medical conditions Boudreaux couldn't disclose to the Cut, had to make the drive from Corpus Christi to Fort Worth. The drive usually takes around six hours — but because of the hurricane, the parents found themselves in horrible traffic. "One of the nurses who was flying in said you could just see all of the headlights coming toward Fort Worth," Boudreaux said. "That's got to be an eerie feeling."
Boudreaux handled logistics from Cook Children's end in Fort Worth, so instead of assisting the team on the ground, she stayed glued to the phone and closely monitored their flight progress with trepidation as the storm edged closer. "I knew we would not send our team into harm's way. You never know what's going to happen with the weather, but we are very careful in everything we do — safety first. But I just wanted them all back here," she said. When the last plane landed at 5:10 a.m. on Friday, she was filled with relief knowing the babies and her team had made it out safely.
Yet, despite the stress of having to transport critical infants, Boudreaux said that this process was actually much easier than previous hurricane evacuations she's participated in during her 30-year career. "This was controlled chaos. Katrina hit so quickly, and no one had ever really done that before really. That was a quicker pace, and there was not enough time to prepare," she said. "Kudos to Corpus and Driscoll for making that call early so we weren't behind in getting those children out."
The nurse told the Cut that she isn't sure how long the babies will end up staying in Fort Worth. It all depends on the scale of damage and the referral hospital's capacity to care for the infants after the storm is over. "It will be until the hospital is ready to take them back, and when they are, we will be happy to take them back so they can be closer to their families," she said. "But they will need to make sure that everything is safe and secure."