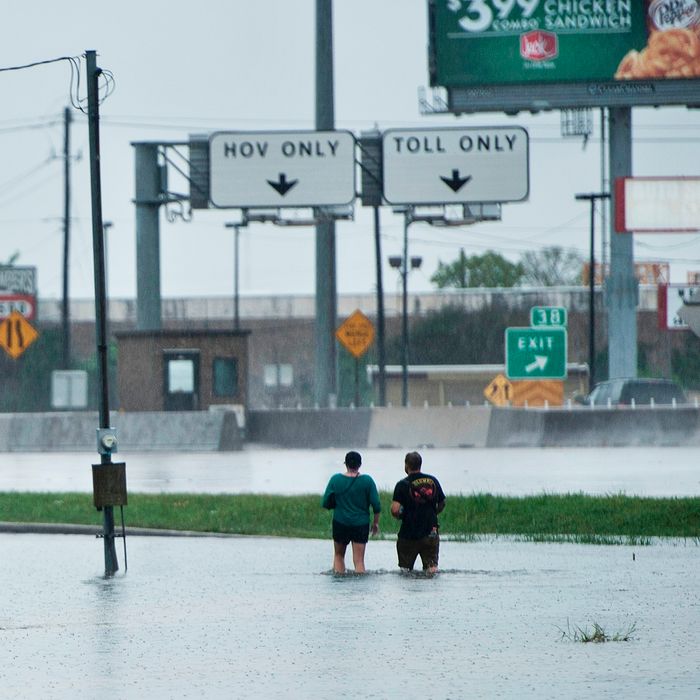 The effects of Hurricane Harvey in Galveston, Texas.
Photo: BRENDAN SMIALOWSKI/AFP/Getty Images
U.S. immigration officials reportedly left 50 women and children stranded at a San Antonio bus station in the path of Hurricane Harvey, according to the Rivard Report, a nonprofit newsroom in San Antonio.
The immigrants from Central and South America were reportedly fleeing violence in their home countries and seeking asylum in the United States. They had passed a preliminary step in the immigration process and were on their way to meet family members and sponsors around the country.
Individuals are typically taken to local bus stations to make the trip. However, as of Friday morning, in anticipation of Hurricane Harvey, Greyhound buses in San Antonio had been canceled. Democratic representative Lloyd Doggett even called ICE officials on Thursday and told them not to leave families at the bus station.
"Knowing that, they just dropped them off," Barbie Hurtado, a community organizer with RAICES, a nonprofit that supports immigrant families, told Buzzfeed. "These are women and children who have been released from family detention with no money, cell phones, and don't speak English."
When local officials learned about the situation, representatives from the City of San Antonio contacted local church groups who provided the asylum seekers with shelter.
One woman, Isabel Gonzalez, originally from Cuba, told the Rivard Report she was relieved to have found a temporary place to stay after being separated from her son, daughter, and husband as she passed through ten countries to arrive at the U.S.-Mexico border.
"We feel great here at the church now," Gonzalez told the Rivard Report. "I'm reunited with my kids and I can watch them play. It's a different ambiance than the detention centers, where we felt incredibly uneasy."
ICE did not comment on the story, but said in a statement Friday: "ICE and CBP also seek to provide for the safety and security of those in our custody and to protect them from bodily harm in the event of a hurricane or a major destructive storm."
Read the full story here.