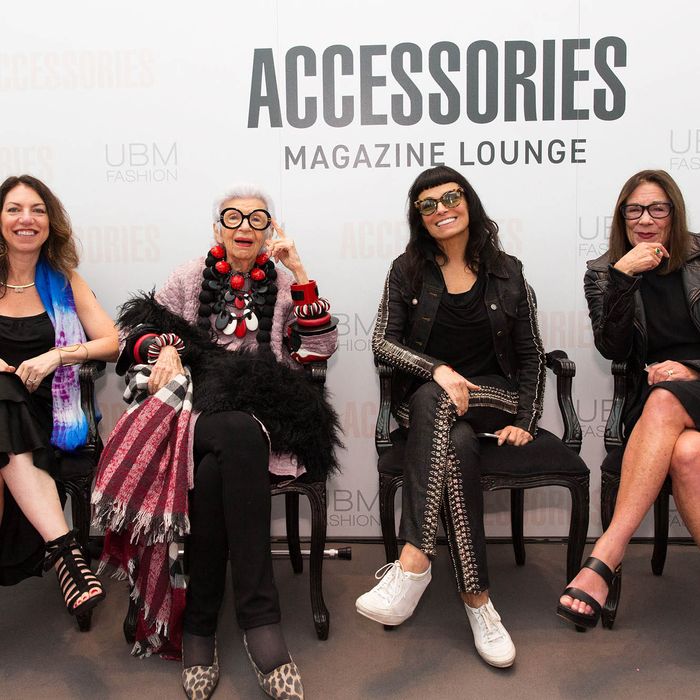 Lauren Parker, Iris Apfel, Norma Kamali, Stephanie Solomon.
Photo: Jenna Bascom/VINTAGE@Intermezzo
This summer, Iris Apfel was shopping for vintage in New York — as she's been doing for the past 95 years — when she came across a "wonderful" vintage Comme des Garcons jacket. She asked the vendor, "From what collection is this?" And to her surprise, he replied, "2016."
"It's cuckoo now," Apfel said with regard to the state of vintage at the Vintage@Intermezzo fair on Monday. She sat on a panel titled the Value of Vintage with designer Norma Kamali, as well as Lord & Taylor's former fashion director, Stephanie Solomon. "Seriously," Apfel continued. "It could be made like a week ago and be vintage."
Social media has certainly changed the way we experience nostalgia, with Facebook's "life events" feature and Instagram allowing us to "throwback" moments we've only just experienced. Today, memories are recycled instantly, and we've seen the ripple effect in fashion: early-2000s trends like Juicy Couture and Von Dutch, for example, are already having a comeback. But what does this mean for vintage shopping? Has nostalgia made vintage more desirable, or are we tossing our wardrobes at a faster rate, never to look back?
According to Norma Kamali, who at the age of 72 looks and works out like a millennial, says she doesn't think millennials have any incentive to be interested in vintage. "Millennials think about tomorrow, not the past," she said following the panel discussion. "But that being said, I do think there are individuals — and individuals exist in every generation — who connect with one-of-a-kind, craft pieces," Kamali continued. "Vintage has a story, and if you are of that spirit, there may be a vintage piece that you connect with."
According to a recent study conducted by LIM College, "Shopping Trends Among 18-35 Year-Olds," 62 percent of millennials consider the uniqueness, or "newness" of a product to be the most compelling reason to buy. But as both Apfel and Kamali said, "newness" doesn't necessarily have to mean right off the rack; it just has to look and feel different.
"Vintage is just an elegant name for 'old clothes,'" Apfel said during the panel. "Maybe there needs to be a new definition. Age in itself doesn't mean anything — I'm a prime example of that — but it's got to have some pizzazz."
Kamali saw this firsthand this year when one of her young staffers found a Norma Kamali bathing suit from the '70s while shopping for vintage herself. She begged Kamali to remake the style, which featured a high-cut, Baywatch-esque waist and was covered in studs. Kamali listened, and sure enough, Kourtney Kardashian was photographed in it this summer.
So it seems millennials' desire for individuality combined with a constant stream of recycled nostalgia should be enough to keep vintage alive for the foreseeable future. But Kamali has a favor to ask.
"Where are all the expressive, gorgeous, individualists on Instagram wearing vintage? Where are you? There aren't enough of you. There are a lot of pretty girls in pretty dresses who look the same, but I'm putting out a call: Where are all of you who can take vintage and make it look fabulous?"
To shop both Norma Kamali and Iris Apfel vintage pieces, visit Vintage@Intermezzo at the Javits Center in New York City August 6 to 8.