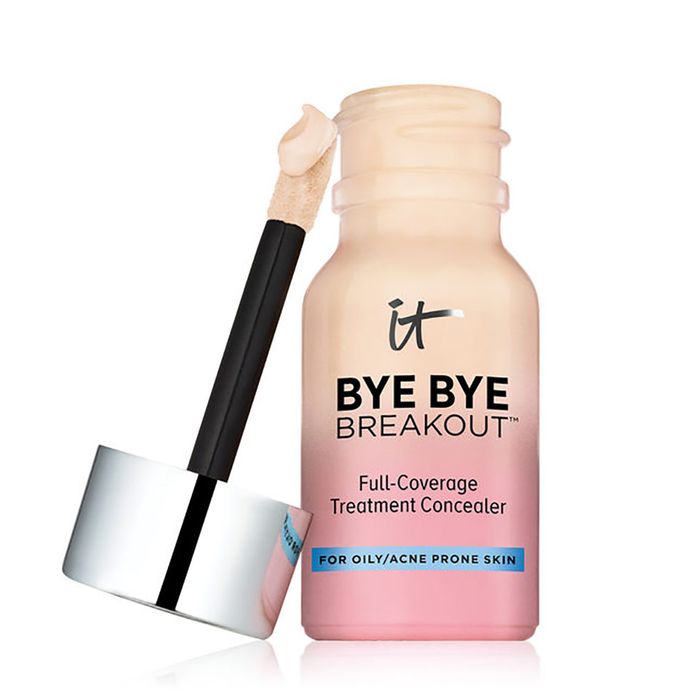 It Cosmetics Bye Bye Breakout.
Photo: f
It was a week after I moved into my first New York City apartment when I lost my mind. You would too if you realized that at some point during the week you'd been bed-sharing with a filthy, germ-basted mouse. My roommate called the exterminator — "We have an emergency, someone needs to come today!" — and after dumping my sheets in the trash, I weaponized every inch of my room's perimeter with traps. I'm not kidding. There was much to be done and this sucker was probably carrying the plague!
I follow a similar approach to zits. I booby-trap my face with all sorts of remedies to send pimples to their grave. A combination of clay masks and salicylic acid usually finishes the job in a few days, but I'm vain and I prefer my dying zits to also remain covered. Well, that's actually tricky. Concealers and foundations tend to flake or pill on top of acne medication. Fortunately, It Cosmetics' newest innovation perfectly fuses makeup and acne medication into one.
You may not have heard of It Cosmetics, but your mom has. The brand is the darling of QVC. After shilling concealers and "confidence" on television for eight years, Jamie Kern — It Cosmetics' founder and CEO — sold the company to L'Oréal for $1.2 billion in September. And now, consumers are finally reaping the benefits of a conglomerate-backed It. The company introduced 21 new products at the end of July, including a concealer laced with acne medication.
The fusion of acne medication and makeup is hardly new, but consider this: Most acne makeup is terrible. They're either drying, or lacking in shade range, or worst of all: Totally ineffective. It Cosmetics' Bye Bye Breakout concealer is remarkably different. For one, it actually helps shrink the size of pimples. That's because the formula folds nearly every pimple-busting ingredient into the fray. This includes: salicylic acid, kaolin (commonly found in clay masks), sulfur, retinyl palmitate (a retinol derivative), and glycolic acid to smooth skin. These serious ingredients are buffered by a roundup of soothing ones, like zinc oxide (a skin protectant typically used in diaper-rash creams), hyaluronic acid (so your skin won't dry out), as well as vitamin E, ceramides, and aloe. The result is a powerful concealer that pulverizes pimples at warp speed.
I wish I didn't have a reason to test Bye Bye Breakout, but I did. Two big, honking zits appeared on prime face real estate: My forehead and my chin. I dabbed both with the concealer and dusted it with powder, to blend. The formula didn't drive my skin to flake or dry up, and it didn't pill. After two days my face-invaders were totally gone. If only all unwanted guests could be driven out so easily.
If you buy something through our links, New York may earn an affiliate commission.