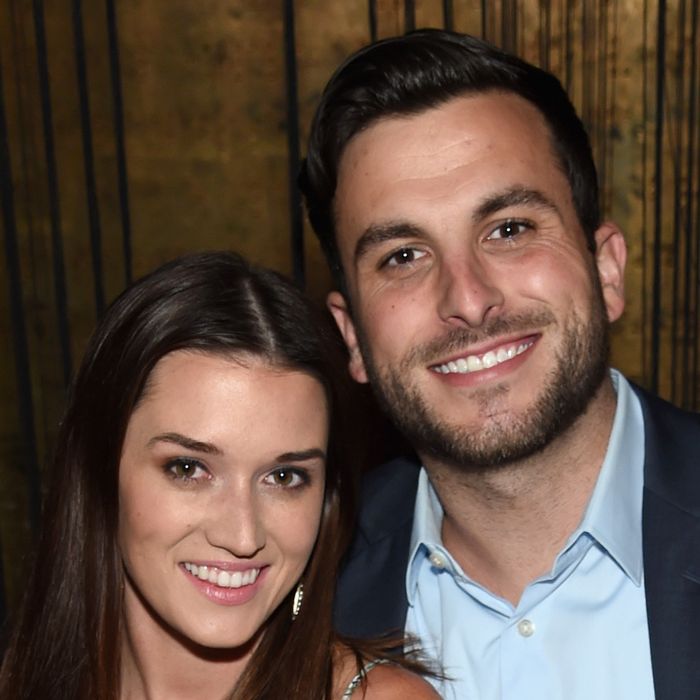 Jade Roper Tolbert and Tanner Tolbert.
Photo: Jamie McCarthy/Getty Images for WE tv
What are life's precious moments if not marketing opportunities? On Thursday, Bachelor in Paradise couple Jade Roper and Tanner Tolbert welcomed a baby girl into the world. In her Instagram post announcing the birth, Jade gushed over her baby, who she said arrived four weeks early, and thanked, in parentheses, a company called AvaWomen.
"Thank you, @avawomen for helping us start our family," she wrote.
AvaWomen makes a cycle-tracker bracelet, which women wear at night "for effortless insight about your cycle, fertility, and your health."
Are Jade and Tanner being paid to promote AvaWomen? It sure seems like it. The company also posted their own Instagram announcement, with the caption:
We are excited to welcome another #Avababy into the world! Congratulations to @jadelizroper and @tanner.tolbert on their perfect baby girl. We are so happy to have been a part of their journey to becoming parents. Jade got pregnant in just two months once she started using the #avabracelet
The miracle of life, brought to you by spon-con.