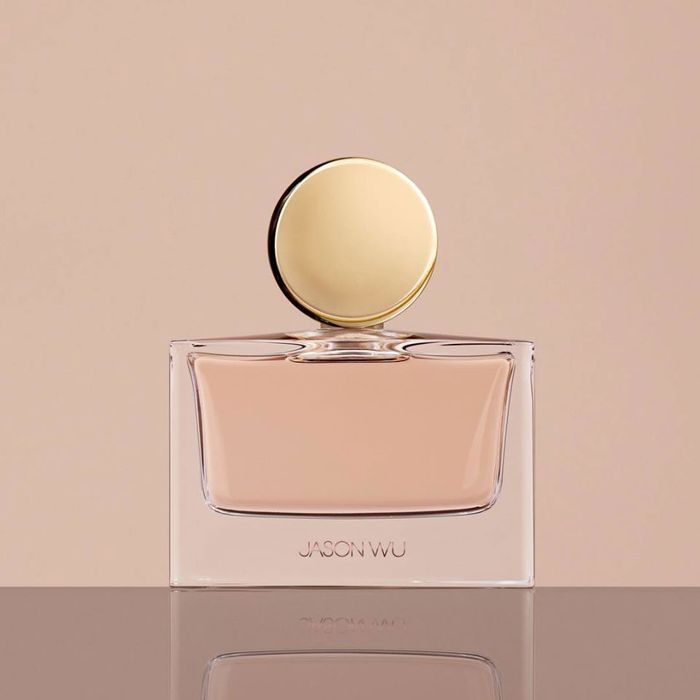 Jason Wu's new perfume.
Photo: Courtesy of Jason Wu
Jason Wu and I grew up with memories of the same motherland: tiny, tropical Taiwan. To get to Taiwan is a process. It's 8,000 miles away from the United States — a 16-hour flight, if you're lucky. And to leave Taiwan, as my parents did and as Wu did as a child to emigrate to Canada, requires uprooting your entire life.
Perhaps that's why, for his first-ever fragrance, Wu was keen to recapture the scent and memory of our mutual homeland. American summers have always smelled to me like a sticky puddle of cherry Popsicles, the stale smell of freezer burn, and plasticky sunscreen. Maybe it's just nostalgia, but Taiwanese summers smell like a much more pleasing mix of sweet baked bread; moist, rising humid air; and a white flower called yulan. To Wu, Taiwan smells like the jasmine growing along a neighbor's wall, which he used to pick as a child.
Perfumer Frank Voelkl interpreted Wu's childhood memory to create a heavily jasmine-focused sambac scent. "It's less fruity than other types of jasmine from the South of France," he explained to me. "It has a fresh, green element to it."
Voelkl described the texture of the fragrance as "transparent" and soft, with musks and woods to create a "creamy, sensual, elegant note" that gives the scent a silky — but not clingy — note. Unlike many of the floral scents on the market, which are cloyingly heavy, Wu's eponymous fragrance smells luscious and a little milky, but fresh. If a typical Parisian floral fragrance your fancy grandma might wear is a grand wool coat, this scent feels like warmed silk on the flesh.
In line with his aesthetic — most famously seen on Michelle Obama — Wu wanted the bottle and the campaign to look both sensual and ladylike, with a sense of purpose. Produced in Parma, Italy, the bottle was designed by Andre Mellone, with an oblong gold diffuser top with smooth curves, giving the juice a dusty-rose color. A nude but warm-looking Lily Aldridge, with mussed tendrils of hair, is the campaign face.
If you buy something through our links, New York may earn an affiliate commission.