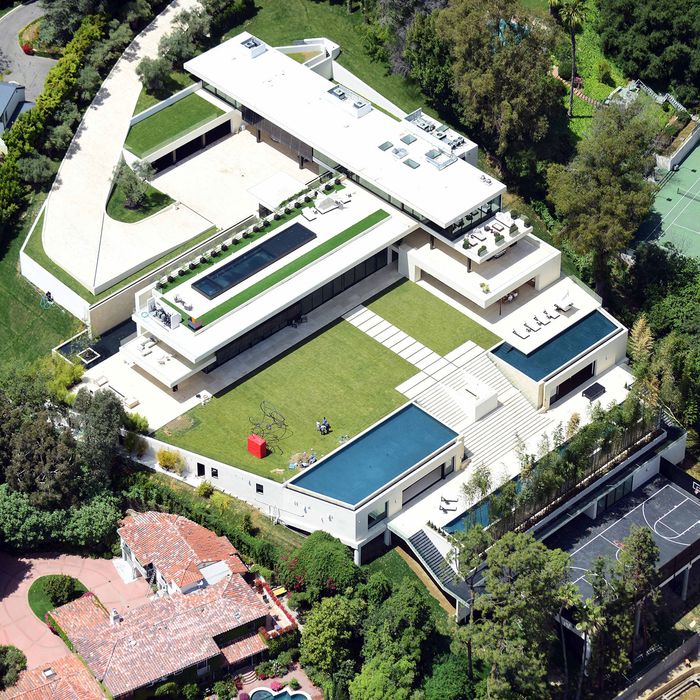 What a beautiful town/home.
Photo: Splash News
New parents of three Jay-Z and Beyoncé have reportedly closed on the sale of what sounds like a really great town, complete with four swimming pools, spa and wellness centers, a basketball court, and 40,000 square feet of space. But of course, it's not actually a town — it's just their new home.
As the Los Angeles Times reports, the superstar couple have finally bought a mansion in Bel-Air after reportedly renting a $400,000-per-month home in Malibu since before the June birth of their twins. The sale has not been put in the public record yet, but the purchase price for the mansion, which was completed this year, is believed to be $90 million.
Like any town, the two-acre compound is composed of six "structures" with 30,000 square feet of interior space, as well as patios and terraces that give it an additional 10,000 square feet of outdoor living space, according to the Times. The property includes bulletproof-glass doors and windows, panoramic views, spa facilities, all of those pools, a garage with space for 15 vehicles, staff quarters, and probably also like, a bank, church, school, post office — you know, normal town staples.
As Beyoncé and Jay-Z are nothing if not overachievers, the sale will end up being the biggest real-estate transaction of the year in Los Angeles, the Times notes. We're looking forward to the housewarming party.