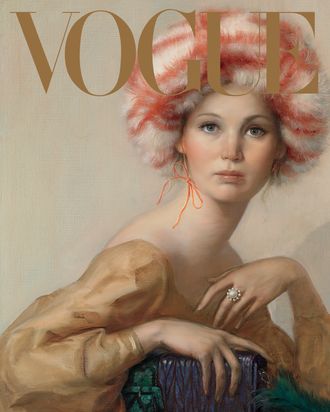 Jennifer Lawrence
Photo: John Currin/Courtesy of Vogue
As Vogue has proven time and time again, there is really nothing you can't do like a French girl. And so it is fitting that for one of the magazine's 125th anniversary September issue covers, which features Jennifer Lawrence, the actress was painted by American artist John Currin "like one of those French girls."
Currin, who is known for his tongue-in-cheek, Renaissance-inspired paintings of contemporary women, had Lawrence sit in a fuzzy Miu Miu hat from the brand's fall 2017 collection.
"Pretty unbelievable," Lawrence told Vogue cover-story writer Jason Gay about the experience of sitting for Currin. "He took photos, and posed me like one of those French girls. I think Pippi [Lawrence's dog] might actually be in some of them."
When asked if she was going to get to keep the finished Currin, Lawrence replied: "Who else would want it?" Well, according to Vogue's Instagram, the answer is the Gagosian gallery.
Beyond French girls, other topics covered in the cover-story interview include a crystal-related accident at Lawrence's new home, a bottle of Old Grand-Dad bourbon, a leaked pole-dancing video, a sensory-deprivation tank, and, of course, how all of the above is just so "relatable."