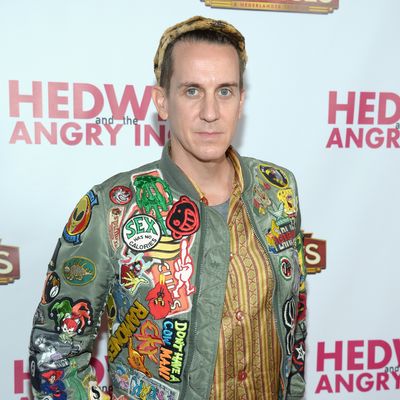 Jeremy Scott.
Photo: Matt Winkelmeyer/Getty Images
On Friday we learned that the man who gave us French-fry phone cases and pill-bottle shoulder bags is — gasp — an "undercover Ugg fan." Not only that, but he's an undercover Ugg fan who is designing a limited edition collection for them.
Moschino designer Jeremy Scott announced that he will make a collection of Uggs for men, women, and children — thus turning the quiet status symbol of surfers and Starbucks drinkers into a wild, bejeweled statement.
Of the eight pieces, one pair will be engulfed in hot rod flames, another will be completely encrusted in crystals, and a third will feature "UGG" and "Life" in Old English typeface. Scott confirmed to Women's Wear Daily that this is an aughts throwback.
"I loved the classic tall boot because it's so recognizable and very indicative of L.A. and Malibu," Scott told WWD. "That was my first impression, of Kate Hudson and Britney Spears wearing them. There's a sense of nostalgia for that era right now."
The collection will debut on September 13 at five North American retailers — Just One Eye, IntermixOnline.com, Serenella, Chuckies, and David Lawrence — and at select global retailers. The shoes range from $90 to $1,195.
Go ahead and buy a pair of Jeremy Scott-designed Ugg boots for your favorite hypebaby.