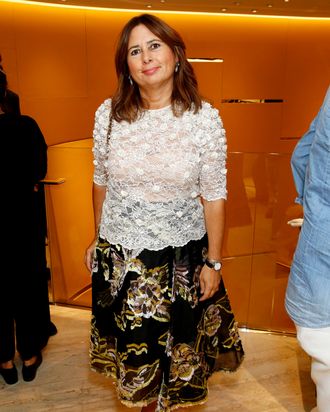 Alexandra Shulman.
Photo: Darren Gerrish/WireImage
On Thursday morning, BBC Radio 4 presenter John Humphrys invited former British Vogue editor-in-chief Alexandra Shulman on the Today programme for a wide-ranging discussion about the progression of fashion, which quickly turned into him "mansplaining" how "cruel" the industry is to women, as many listeners on Twitter noted.
While it goes without saying that fashion has very real issues with diversity and body image, among other things, (Naomi Campbell recently pointed out that British Vogue was particularly behind under Shulman's leadership), Shulman was tasked with responding to more simplistic criticisms, as well as grand notions about what women want and don't want.
On the subject of body image, Humphrys accused Vogue of not featuring enough "reasonably cozy or comfortably shaped" bodies on the cover (really, every woman's ideal silhouette) and suggested that "because an awful lot of young girls want to be like models," women now also "want to be skinny as a rake."
Humphrys then went on to share his sympathies for women who "feel they have to wear very high heels," saying, "They must be excruciating."
In response, Shulman acknowledged that yes, models are thin, but disagreed with pretty much everything else Humphrys said, using Rihanna, Beyoncé, Kim Kardashian, and Adele as examples of feminine icons who aren't "skinny as a rake." She also added that, uh, women not only want other things besides looking like a model, but also actually choose to wear high heels some of the time, when they aren't wearing flats. Which they also do. A lot.
"They want to be fashionable," Humphrys rebutted. "And fashion does dictate, doesn't it?"
Maybe, but it also seems like fashion isn't the only side doing the dictating.