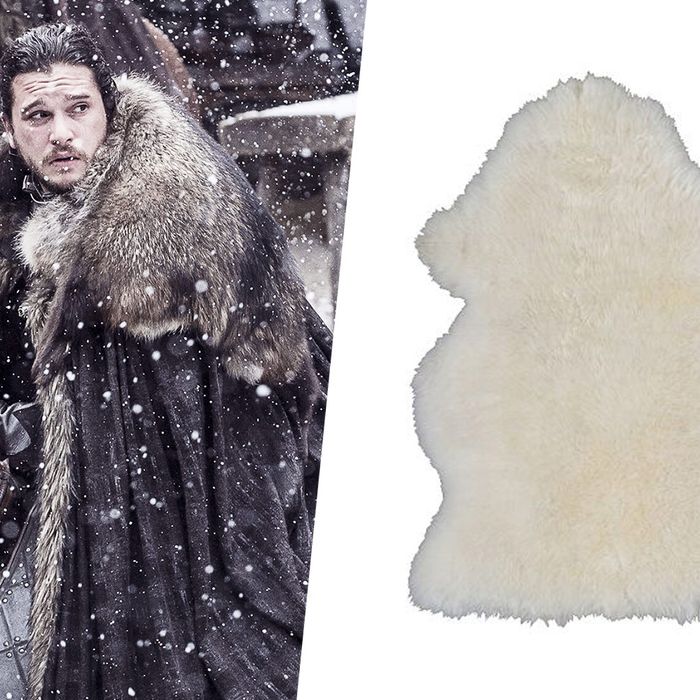 Jon Snow and an IKEA rug.
Photo: Courtesy of HBO; Courtesy of IKEA
I have very little in common with Jon Snow. He's the king of the North, while I'm afraid of the dark, hate being cold, and going north of 14th Street gives me anxiety. But according to a speech from former Game of Thrones costume designer Michele Clapton, recently rediscovered by BuzzFeed, I — and perhaps you as well, not to mention countless inhabitants of college dorms and starter-apartments across the nation — have one notable thing in common with the gruff Lord Commander. That's right: We are all proud owners of an IKEA sheepskin rug.
"The [Night's Watchmens'] capes are actually Ikea rugs," Clapton revealed. "We take anything we can. We cut, and then we shaved them, and then we added strong leather straps, and break down, which is like a religion on Game of Thrones."
Clapton did not specify which rug they used, but people online have speculated that it could be the Tejn (a very reasonable $14.99) or the Rens ($29.99 and made of real sheepskin), which is lying proudly at the foot of my Malm bed frame as we speak.
Can't wait for future GOT costume-hack revelations, such as: Arya's dagger is actually a repurposed Vorda chef knife, Cersei's dragon-killer was hewn out of a deconstructed Nordle bedroom set, and Hot Pie's pies are actually stuffed with frozen Ikea meatballs.