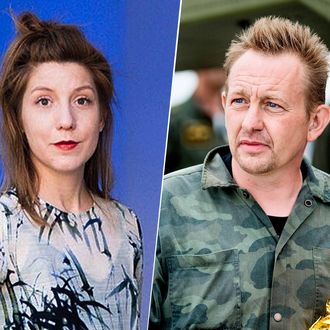 Kim Wall, Peter Madsen.
Photo: Courtesy of Kim-Wall.com; Getty Images
On Thursday night, journalist Kim Wall boarded the UC3 Nautilus submarine in Copenhagen for a story she was writing about its inventor, Peter Madsen. The submarine sank on Friday morning, Wall hasn't been seen since, and Madsen is being held in police custody.
Here's what we know about the case so far.
Who is Kim Wall?
She's a 30-year-old journalist originally from Sweden who's based in both New York and Berlin. Wall has written for outlets like the New York Times, the Guardian, Harper's magazine, The Atlantic, and Vice and describes her beat as "identity, gender, pop-culture, social justice, foreign policy and the undercurrents of rebellion."
Who is Peter Madsen?
He's a 46-year-old Danish inventor, amateur aerospace engineer, and submarine builder known as "Rocket Madsen" in his home country. He built the UC3 Nautilus, said to be one of the world's largest DIY submarines.
When was Wall first reported missing?
Her boyfriend alerted police when she didn't return home from reporting the story on Thursday night. Madsen claims he dropped her back off at the Copenhagen harbor after they spent three hours together.
What happened to the submarine?
Danish Navy went out looking for it following Wall's disappearance and found it sinking on Friday morning. Madsen was in the boat at the time, and was reported to be "absolutely calm" as it was happening, then swam to safety.
Okay, but what really happened to the submarine?
Police believe that Madsen sank it on purpose. Although he attributed the sinking to issues with the ballast tank, according to the Guardian, "police have since said he has given them a different version of events — although they would not say what."
Where's Madsen right now?
He's in police custody, where he can remain for up to 24 days. He was charged with negligent manslaughter "for having killed in an unknown way and in an unknown place Kim Isabell Frerika Wall of Sweden sometime after Thursday 5 p.m." Madsen is denying that he had anything to do with Wall's disappearance, though it sounds like he was the last person who saw her alive. If the case goes to trial and he's found guilty, he's looking at between five years to life in prison.
How's the search for Wall going?
Ole Thiell Sörensen, who works for the Danish Defence Operations Center, called it a "big job," saying, "at the moment we don't know where she is or if she's alive. That means police and rescue workers have to look both on land and at sea."