Julia Garner is aware that she has a type. "There's always something kind of wrong with my characters," she acknowledges. "Whenever I read a script I'm like, "Oh, I want to be that girl. The odd one out."
"Odd" might be an understatement. Unlike Aubrey Plaza's sardonic weirdos or Zooey Deschanel's adorkable quirksters, Garner's characters tend to skew much darker than your average millennial eccentric. Her specialty is young women living on the margins — or sometimes well beyond the margins — of conventional society. Since her breakout role as a cult-member in 2011's indie hit Martha Marcy May Marlene, the 23-year-old has made a career embodying a string of American misfits: religious fundamentalists and cannibals, tough-talking rebels and rough-edged trailer park girls, pregnant high-schoolers and scheming Lolitas. This fall, she's doubling down in her most prominent role to date: as a scrappy criminal mastermind in Netflix's new crime drama Ozark, opposite Jason Bateman and Laura Linney.
"A month before I got the job, I started talking in a Missouri accent," Garner tells me. "I would go to restaurants and order my food in the accent and kind of get used to it. I got so comfortable that it was like second nature to me." Today, in the dark wood-panelled basement of FiDi's Trinity Place bar, Garner bears little trace of the rural tough-girls she plays onscreen. Bubbly and polished, with matching cranberry-red lips and nail-polish, she shows up to our interview in a bejeweled denim skirt and denim blouse with Peter Pan neckline – a Canadian tuxedo by way of Miu Miu (she was one of the faces of their S/S 2016 campaign).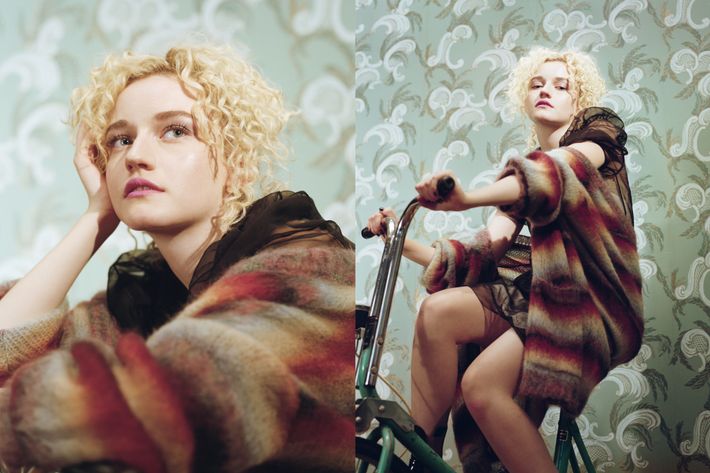 She might be able to sound like a born-and-bred Missourian when she's ordering a plate of fries, but Garner describes herself as a "quintessential" New Yorker. "I don't even have a driver's license," she laughs. Garner was born in Riverdale, New York, to an Israeli therapist mom and an American artist father. She "had a hard time talking" as a kid. "That's why I liked acting," she explains. "Because I could say other people's words." And she was a precocious film buff. "I used to watch Turner Classic Movies all the time. I was obsessed with What Ever Happened to Baby Jane when I was 9 years old — which, normally, a 9-year-old kid should not be watching that movie, but I did. And Rosemary's Baby, I watched that when I was like 10."
Garner's interest in Old Hollywood feels apropos; with her wide-set eyes and porcelain skin, she looks more like she belongs in a silent film than an episode of Pretty Little Liars. (Paul Weitz, who directed her in Grandma, opposite Lily Tomlin, has described her as a cross between Jean Harlow and Marlene Dietrich.) Her hair, in particular, has become something of a calling card. In a Hollywood era where every actress seems to favor the same wavy-silky, fresh-out-of-DryBar 'do (a style so ubiquitous Racked has christened it 'The Hair'), Garner's hair is a halo of bleach-blonde ringlets.
"When I was like 12, suddenly my roots started growing out curly and the ends were straight," she recalls of that fateful time. "It looked like a rat's nest — it was disgusting. I went to the hairdresser to fix it and he had to cut all my hair super short, so that all of my hair could be curly," Garner recalls. "That was one of the weirdest experiences that I've ever had in my life. I went to school the next day and everyone was looking at me like, Who's the new girl? My best friend didn't recognize me."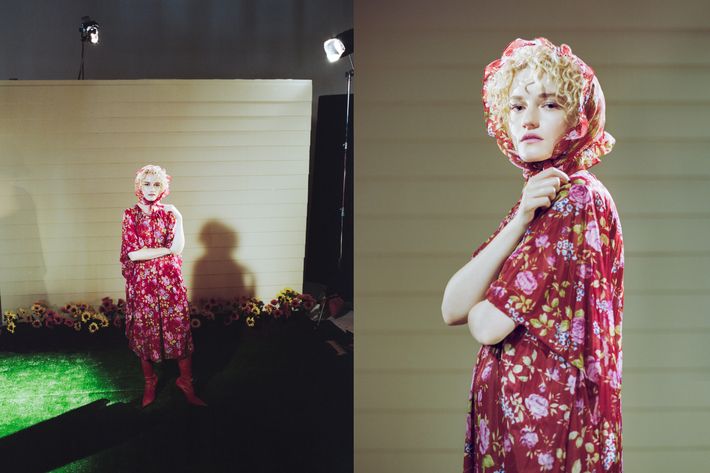 She embraced the dramatic new look. "I also started wearing super red lipstick when I was like, 14. I just feel like a lot of boys were like, 'What're you wearing lipstick for? Are you trying to like, impress us?' And I'm just like, 'No, I'm wearing it for myself.'"
After Martha Marcy May Marlene, Garner took on unconventional roles in a string of buzzy indies — parts that have continued to grow in size and scope as she's made a name for herself. She got her first lead role in 2012's Electrick Children, playing a Mormon fundamentalist who believes she has been impregnated by listening to rock music. Her biggest break came in 2015 on The Americans, where she played Kimberly Breland, the teenaged daughter of a CIA agent who engages in an age-inappropriate romantic tryst with Matthew Rhys's undercover KGB spy. As Kimmy, she harnessed that singular mix of vulnerability and toughness that has become a Garner trademark. It also showcased her ability to hold her own opposite big names, which has also become something of a specialty — first as a teenager seeking an abortion in 2015's Grandma, opposite Lily Tomlin, and now in Ozark, where her intense chemistry with star Jason Bateman makes for some of the show's memorable scenes.
"The reason I like watching Julia's acting so much is her ability to show vulnerability, even when the character is being aggressive," says Bateman. "She seems to have a very clear understanding of how she comes across on camera and therefore an incredible ability to be very accurate with a small look or gesture to bring the audience right where she needs to, when they need to get there."
Ozark, which came out on Netflix this July and was recently renewed for a second season, is a dark character-driven crime drama about a money manager named Marty Byrde (Jason Bateman) forced to relocate his family — and his illicit money-laundering operation — to the Ozarks when he runs afoul of a Mexican drug cartel. Garner plays Ruth Langmore, a scrappy teenage criminal mastermind, who plots against Marty while simultaneously becoming his unlikely ally. Garner describes it as the hardest role she has ever played, and one she immediately gravitated to. "I was obsessed with Ruth when I read the script," she says. "And I was really nervous. Normally I'm very good in letting things go. You know when you're an actor you have to do that. But I remember thinking, If I don't get this I'll be really upset."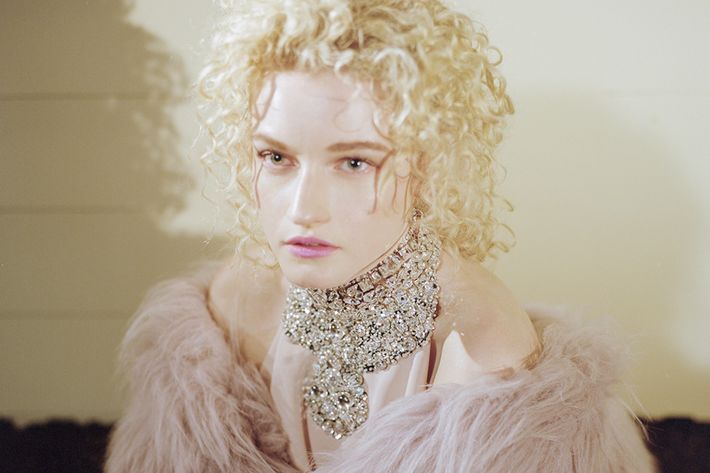 Thankfully, Garner already had a handle on the local dialect (teed up from Tomato Red, another Ozarks-set indie she had shot the year before). But once she did get the part, there were some challenges in assimilating to Ruth's world. "I am so different from this character," she admits. "There was one part where I was shooting the gun to the ground and I screamed because it's so loud and it shakes and it's so heavy. My wrist was hurting by the end. I'm just so weak," she recalls. The worst of all was the day she was tasked with dangling a mouse by its tail, even though she has a terrible fear of rodents. "I can't even watch Ratatouille! It's a cartoon rat, but it's gross. It cooks. That's disgusting." Garner had a panic attack and eventually they ended up using a hand double. "They kept saying: It's not a big deal. It's like a phone charger, like spaghetti." And I'm like, I'm never going to charge my phone again."
While it would have been easy to populate a show like Ozark with rural stereotypes, the series depicts its world with nuance and complexity, consistently upending Marty's expectations of his new neighbors. Ruth, in particular, is a study in contradictions. Despite a hardscrabble upbringing, she's ambitious and knows how to use her intellect to her advantage, refusing to be treated as a pawn or underestimated for her age or looks. "Marty respects her in a weird way," she says. "I think he acknowledges her, and Ruth feels like she never gets acknowledged — and she wants that. She's very power hungry." And yet, in some of the show's most heartbreaking scenes — such as those where she visits her father in prison — we see the vulnerability that lies at her core.
That tension between hardness and softness, maturity and innocence, sensitivity and strength, might be the common thread that connects all of Garner's characters — as well as an innate resilience that allows them to survive hellish situations. "There is a force in women that they can endure and handle a lot of things," she says. "All the women in my life are very strong — my grandma, my mother, my sister. My grandparents are German Jews but they left Berlin because of the war — that's why I have a German passport. There are very strong women in my life. I think it's just important to represent that."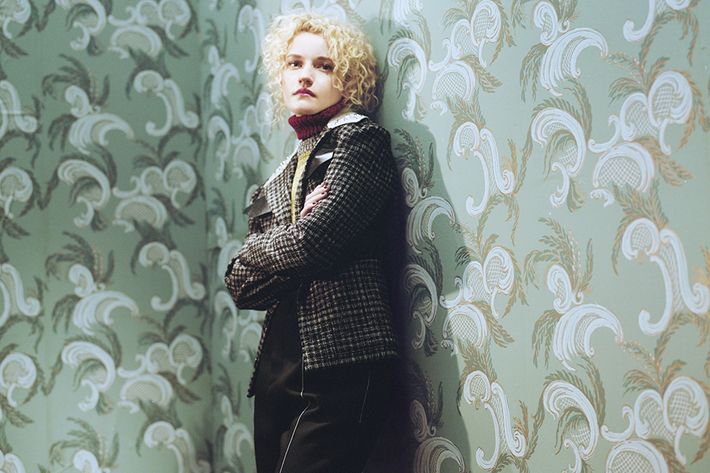 Fresh off her adventures with rodents and rifles, Garner's exploration of dark Americana continues unabated: This fall, she appears as one of cult leader David Koresh's wives in Waco, a mini-series about the fatal 1993 siege of the Branch Davidians' compound in Waco, Texas. "I know, I know," she laughs. "I need to do, like, a rom-com or something. Something different." Would she consider a superhero movie? "Of course!" she says. "I saw Wonder Woman twice in the movie theater. I love Gal Gadot. She's amazing, so beautiful. Like, you're giving me life right now." How about a teen movie? She shakes her head vigorously. "I can't do that. I don't look like a proper teen actress, I feel like. But maybe I could be like the weirdo in the teen movie."
Lead image credits: Louis Vuitton belted jacket, zipped gilet, cropped sleeveless pullover, all price upon request at 1 E. 57th St.; 212-758-8877.
Photos by Mon Mon Dieu, styled by Rebecca Ramsey. Produced by Biel Parklee. Hair by Jillian Halouska at Starworks Artists, makeup by Ralph Siciliano for MAC Cosmetics. Set Design by Hans Mahawaral. Photography Assistant: Edward Daniel. Set Design Assistant: Odin Grina.