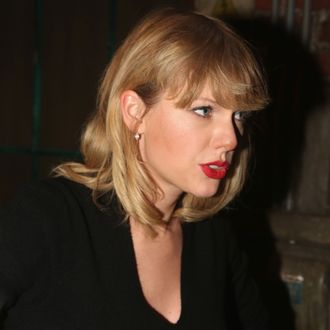 Photo: Bruce Glikas/Bruce Glikas/Getty Images
After about four hours of deliberation, jurors in the Taylor Swift sexual-assault trial in Denver, Colorado, unanimously found former radio host David Mueller guilty of assault and battery during a meet-and-greet event in 2013. Mueller grabbed Swift's butt without her consent during a photo opportunity, and the singer will be awarded the full damages she sought, which are $1. Mueller's lawsuit against Swift, in which he wanted millions of dollars in compensation for his lost job and damaged reputation as a result of the incident, was thrown out at the end of last week. There were similar claims filed against Swift's mom, Andrea, and her radio representative, Frank Bell, and the jury found that neither sufficiently interfered with Mueller's contract to owe him compensation. Swift's sexual-assault claim was a countersuit to the one filed by Mueller in 2015.
Swift will leave Denver with a complete victory, but the singer, who remained stoic through the proceedings, finally started breaking down during closing arguments. Mueller's lawyer, the now-familiar Gabe McFarland, asserted to the jury that Swift couldn't have been sexually assaulted by his client, because she did not look sufficiently distressed in the photo she took with him at the meet-and-greet. "Look at Ms. Swift's face and ask yourself: Is that the face of a person who just had a strange man grab her butt?" Swift cried at being called a liar — or at least told she didn't behave enough like a victim to be credible — and was reportedly comforted by her mom and lawyer, Douglas Baldridge, who were seated next to her. After the verdict was read, Swift and her mother shared an immediate, tearful hug.
Shortly after the trial concluded, Swift issued a statement acknowledging the unique circumstances of this case, thanking her team for their work on her behalf, and pledging to help fund resources for other victims of sexual assault.