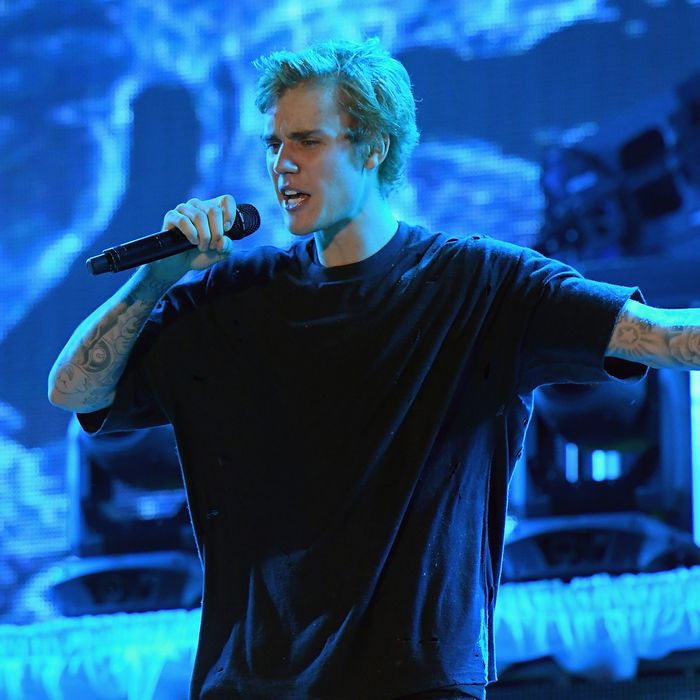 Justin Bieber.
Photo: Gustavo Caballero/Getty Images for Fontainebleau M
After Justin Bieber canceled the remaining 15 shows of his Purpose World Tour at the end of July, fans were left with a lot of questions. Why did he do it? Was it really to ride bikes? Is he super religious now? Who's this hot pastor he's hanging out with? Finally, after all the speculation, some answers from the man himself. In a lengthy Instagram post Tuesday night, the singer apologized to his fans, and clarified his reasons behind canceling the tour. Kind of.
Between strings of exclamation points, Bieber wrote words like:
"I have let my insecurities get the best of me at times, I let my broken relationships dictate the way I acted toward people and the way I treated them!
And other words like:
"I want my career to be sustainable, but I also want my mind heart and soul to be sustainable. So that I can be the man I want to be, the husband I eventually want to be and the father I want to be."
And finally:
"THIS MESSAGE IS IS VERY GRAMMATICALLY INCORRECT BUT ITS FROM THE HEART. BUT I THINK THERES SOMETHING SPECIAL ABOUT IMPERFECTIONS!!"
Does that answer your questions?