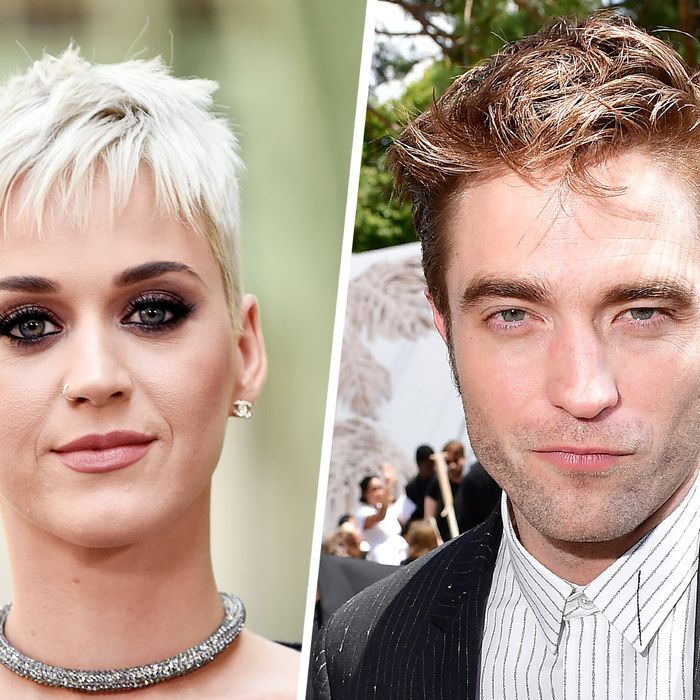 Katy Perry and Robert Pattinson.
Photo: Getty Images
While celebrities break up with each other right and left, rumors of a new power couple sustain us. TMZ reports that Katy Perry and Robert Pattinson "got super cozy" Saturday night at a group dinner at the Sunset Tower Hotel in West Hollywood. The gossip site published photos of the two of them sitting together, and described their relationship as a "possible hookup." Is it?
According to the unshakable tabloid-buster Gossip Cop, no. Pattinson is still engaged to FKA twigs, and Perry is simply an old friend. Still, Perry and Pattinson have long been rumored to have something going on, and TMZ seems to think that this time, the rumors are true.
The last time Perry addressed the Pattinson dating rumors was in 2013, when Pattinson had just broken up with Kristen Stewart. Perry told Elle UK that Pattinson was like a brother to her, and that she had texted Stewart to tell her, "I would never disrespect you."
Pattinson, meanwhile, recently declined to discuss his relationship status. On his show last week, Howard Stern asked Pattinson if he was engaged, and Pattinson responded, "Yeah, kind of." Kind of.
So perhaps Perry and Pattinson are kind of, sort of, a possible hookup. If you know something more definitive, feel free to email me at allie.jones@nymag.com.