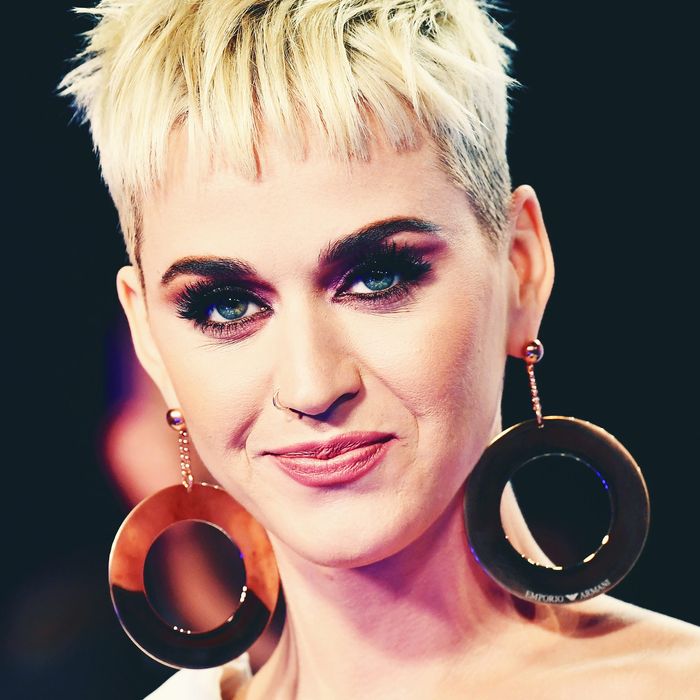 Katy Perry at the VMAs.
Photo: Frazer Harrison/Getty Images
Katy Perry's Sunday hosting gig at the 2017 MTV VMAs kicked off with a series of humiliating jokes stemming from the concept that she's been hanging out in outer space all this time and missed the news. During the five-minute opener, Perry made quips about the world being on fire, pretended to cry while watching Armageddon, had a prolonged bit about The Handmaid's Tale, and made some other awkward jokes that can only be described as "dad-like."
Here are some of the most cringeworthy moments from Perry's VMA video entrance and monologue.
While video chatting with astronaut Buzz Aldrin: "You actually walked on the moon. Does that technically make you the inventor of moonwalking?"
After arriving on stage in a space suit while suspended by wires: "Wow, I'm so happy to be back on planet Earth. You guys look so great, because actually before I left — I took a little break, you know, and I went to space — and when I left it seems like things were kind of screwed up right? But you all look so happy and healthy and peaceful. Feels like since I've been gone, you've figured out all of the problems in the world right now and the world is doing so well, right? Everything is fine, great, maybe not so much?"
On her space suit: "My pee bag is pretty full."
Selecting the costume from The Handmaid's Tale from a rack of clothes onstage: "This one is so beautiful, what is it? Is this Balenciaga for 2017? Very retro pilgrim; it's super cool. 2016 was terrible but it feels like things are getting better, especially in fashion, right?"
Holding up a fake newspaper with the headline, "The World Is on Fire": "The world is on fire. Great, wow. You guys have really been going through it, haven't you?"
While playing with a fidget spinner on stage: "Actually this feels really good. I feel like all of my problems have been solved right now."
On the power of music: "But you know what actually brings us all together and finally unites us is music, right? And tonight the best artists in the world are going to give it their all, because even in the apocalypse, we deserve a great soundtrack."