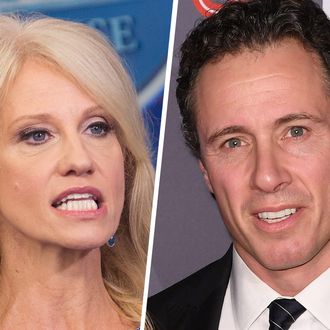 Kellyanne Conway, Chris Cuomo.
Kellyanne Conway went on CNN on Thursday night to ostensibly discuss the Russia probe. What resulted was a lengthy, circular argument between her and Chris Cuomo, CNN anchor and the slightly more genteel Cuomo brother.
Conway repeatedly accused CNN of only focusing on the Russia investigation, and purposefully ignoring other news about the Trump administration. "You don't want to cover the Medal of Honor recipient this week, you don't want to cover the coal miners getting their jobs back," she claimed, while Cuomo continued to insist that it wasn't an "either/or" situation.
Later in the program, Conway even invoked Anthony Bourdain, saying: "There's not going to be a single show on CNN, tonight tomorrow, the next day, unless you count the cooking shows or the whatever, the Parts Unknown shows, that doesn't feature this Russia, Russia, Russia!"
Hey, at least she left the flash cards at home this time.