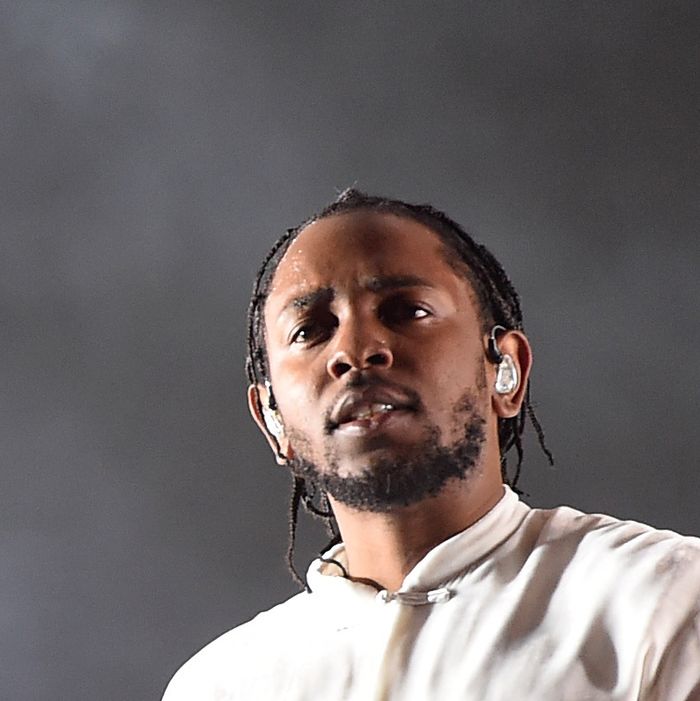 Kendrick Lamar.
Photo: Kevin Winter/Getty Images for Coachella
Until this summer, Kendrick Lamar had no idea he played a role in one of the most significant feuds of the 21st century. In an interview with Rolling Stone published on August 9, the "Humble" rapper revealed he didn't know Taylor Swift's 2014 single "Bad Blood," on which he collaborated, was allegedly about Katy Perry. Via Rolling Stone:
When you did the "Bad Blood" remix with Taylor Swift, were you aware that you were taking sides in a pop beef – since she was apparently addressing Katy Perry?

[Through laughter] No, I wasn't aware of that, bro. That's a great question. No! On the record, no. Which makes it even more funny now, for sure. That's far beyond my concern. I have to stay away from that, for sure. That's some real beef [laughs].
For her part, Katy Perry seems ready to put aside the grade-A beef. In a live-streamed interview with Arianna Huffington in June, the singer revealed:
I'm ready to let it go. Absolutely, 100 percent. I forgive her, and I'm sorry for anything I ever did, and I hope the same from her, and I think it's actually … I think it's time.
Taylor Swift, meanwhile, has moved on to a bigger, better squad, and is dealing with much more significant problems at the moment. On Thursday, she testified in her lawsuit against a Colorado radio DJ accused of groping her butt during a meet-and-greet in 2013.