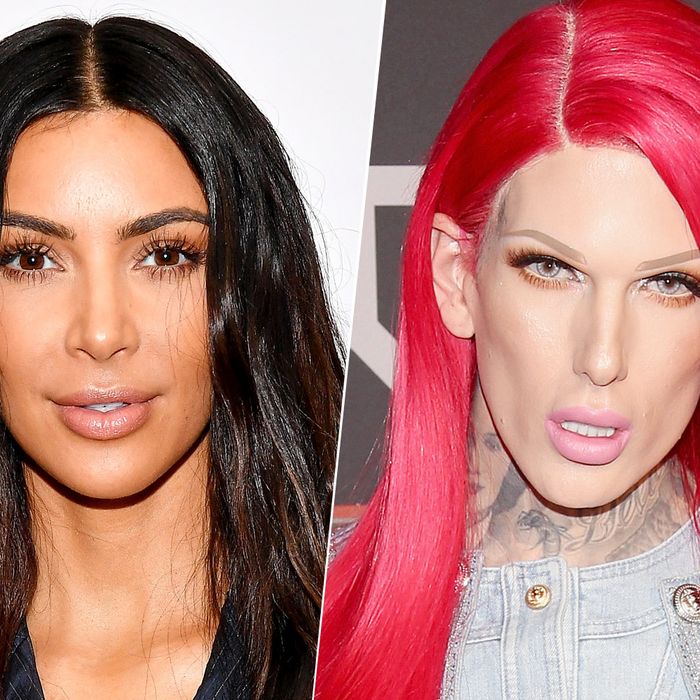 Kim Kardashian West and Jeffree Star
Photo: Getty Images
Makeup artist and vlogger Jeffree Star likes to talk about his multiple business ventures, but not as much as he likes to tweet — and certainly not as much as he likes to spew intolerant rhetoric. Last year his racism was the impetus of an extremely public falling out with longtime friend Kat Von D. Yesterday, he turned his attention towards Kim Kardashian West.
Kardashian West posted swatches of the upcoming powder contour set from her beauty brand on Snapchat. Star immediately took note of the snaps and tweeted his observations:
While some praised his critique, others, particularly Kardashian West supporters, began to flood Star's mentions with tweets alluding to his past racist behavior. In the past, Star has worn Nazi paraphernalia, joked about throwing battery acid on a black woman's face to lighten her complexion, and compared Mexican people to apes. Remarkably, all of those incidents were recorded or posted on social media, making one wonder what kinds of comments didn't make it to the public sphere.
And yet, as soon as Star's Kardashian tweets went viral, he received support from an unlikely source. Kim herself asked her followers on Snapchat to leave him alone, saying:
I see you being so petty, bringing up things in his past where he was, you know, negative, but he's also apologized for those things. And I get it's a serious deal if you say like racial things, but I do believe in people changing and people that apologize, I will give them the benefit of the doubt… I know better than anyone that I hate when people bring up my past or mistakes that I've made in the past. So let him live. So everyone get off his ass, let's not be so negative, we're all in this together.
To Star's credit, he did apologize for his comments last year via Twitter, writing: "I MADE A HUGE MISTAKE. I was a stupid 19 year old who thought it was cool to be 'shocking' BUT: there was no hate in my heart." He followed up with another tweet that read: "I think people forget: I'm a human being. I fucked up big time and I can always admit when I'm wrong."
But even after his apology, he called black beauty blogger Jackie Aina an "irrelevant rat." He also issued a thinly veiled (and now deleted) threat of violence towards Shayla Mitchell, another black beauty blogger with whom he had been sparring. And his Nazi jacket photo still hangs proudly on his Instagram page.
So it comes as no surprise that Kim Kardashian West is getting backlash for her appeal to cut Star a break — especially on the heels of a divisive and hatred-charged weekend.
Update: Kim Kardashian West issued an apology on Snapchat, saying: "I want to apologize for me feeling like I had the right to say "get over it" in a situation that involves racism."