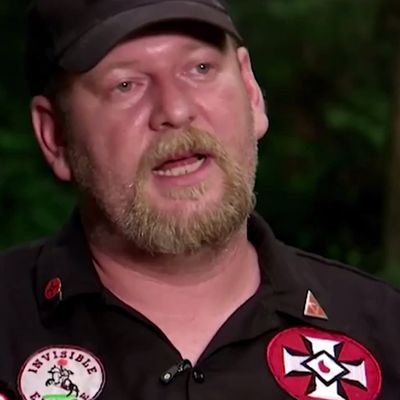 Christopher Barker, Ilia Calderón.
Photo: Univision
The leader of a North Carolina chapter of the Ku Klux Klan, Christopher Barker, threatened to "burn" Miami-based Univision reporter Ilia Calderón during an interview on his property last month, telling her that she was the first black person to set foot on his land in the 20 years he's lived there, the Washington Post reports.
Barker is the "imperial wizard" of the Loyal White Knights of the KKK, one of the groups that participated in the deadly Charlottesville, Virginia, white nationalist rally, according to the Post. Although he and his wife, Amanda, agreed to be interviewed by a Hispanic "woman of color," they assumed the interview would be conducted by a lighter-skinned Hispanic reporter. They were apparently taken aback when they saw Calderón, a U.S. citizen who immigrated from Colombia 16 years ago, was black, the Post notes.
Calderón told the Post that she volunteered to interview Barker and his wife to show her viewers that "these groups are alive." However, Barker quickly made several hostile and derogatory comments toward her, including calling her the N-word and telling her he was going to "burn" her out of the country.
Per the Post:
At one point, she asked him how he would burn out the 11 million unauthorized immigrants in the country. "Don't matter," Barker said. "We killed six million Jews the last time. Eleven million is nothing." "You're telling me you're going to burn me," Calderón also said, to which he responded: "Yeah, you're sitting on my property now."
Calderón told the Post that she feared for her safety during parts of the interview, which was broadcasted in Spanish on Univision's Aqui y Ahora program — but Baker ultimately did not follow through with his threats of violence. "I represent the things that they hate: I am black, I am Hispanic, I am an immigrant," she explained. Both Barker and his wife maintained during the interview that they are "not racist" and that they "do not hate anyone" or condone any violence.
Several weeks after the interview was conducted, 32-year-old Heather Heyer was killed by a white nationalist in Charlottesville. When local news station WBTV asked the Barkers about her death, Amanda Barker said she hates that Heyer died but blamed her for being at the rally in the first place, according to the Post. However, her husband reportedly told WBTV, "I don't hate that she died because she's a Communist … when a couple of them die, it doesn't bother us. They're always attacking and messing with our rallies."