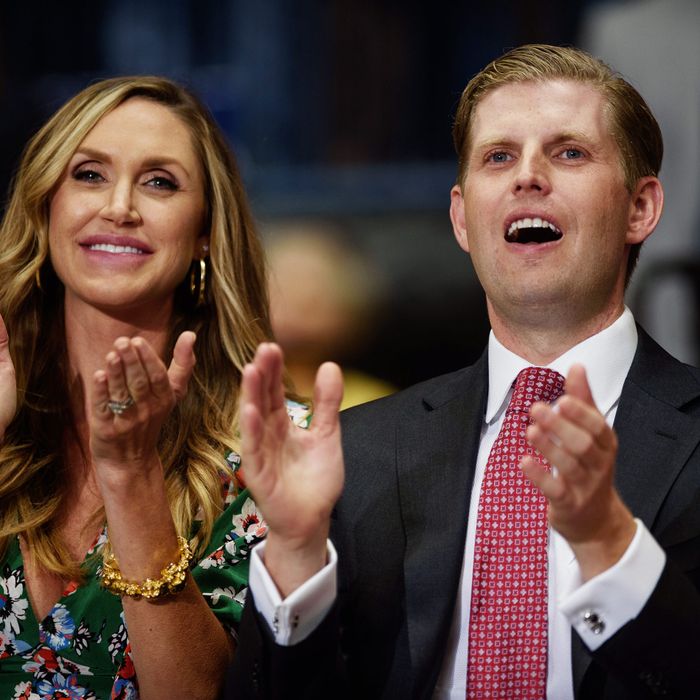 Lara and Eric Trump at a rally for the president in Ohio.
Photo: Justin Merriman/Getty Images
"I'm Lara Trump and that is the real news" is how the president's daughter-in-law ends a two-minute video posted to his Facebook page yesterday. The video has racked up some 2 million views so far, and it's reportedly part of a series that will be produced regularly.
Appearing against a backdrop promoting the president's campaign website, Lara Trump — who's married to Eric Trump and was previously a producer for Inside Edition — begins the broadcast by telling viewers, "I bet you haven't heard about all the accomplishments the president had this week because there is so much fake news out there."
She goes on to detail stories that make the president look good, such as the news that he donated his salary to the Department of Education (while cutting its budget by 13 percent) and that a new Foxconn manufacturing plant will open in Wisconsin.
The origins of the video are still unclear, although the New York Post speculates it was produced by the president's reelection campaign. It's also unclear whether Lara Trump is an official part of the president's communications team, although she's made appearances on his behalf before.
Either way, you can bet future videos will gloss over things like staffing shake-ups and the administration's theoretical ties to Russia. Because who wants to hear about that boring stuff?