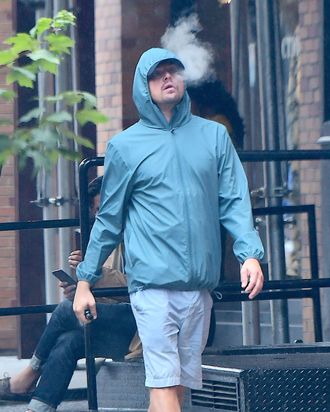 Leo's blue period.
Photo: Splash News
Lately, celebrities have been photographed in New York City wearing all blue, which means they're clearly auditioning for the Blue Man Group. And now, it appears plastic-bag accessorizer Leonardo DiCaprio is going after one of those coveted blue-performing slots, as well.
Like models (his favorite!) Bella and Gigi Hadid before him, DiCaprio was spotted in New York on Tuesday clad completely in blue: blue shorts, blue windbreaker, and blue baseball cap under his blue windbreaker's hood.
But unfortunately, the Pussy Posse leader was also spotted carrying a vape pen that appears to not be completely blue, which could potentially hurt his chances of joining the Blue Man Group. Fingers crossed that they'll overlook this mistake.