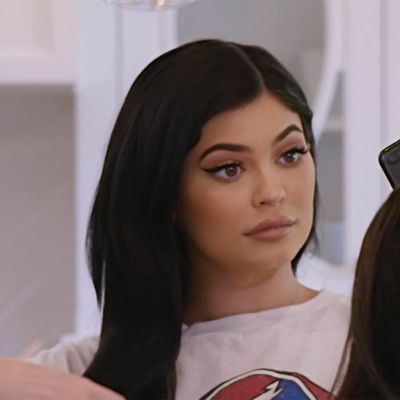 Welcome to Life of Kylie, or The Life of Kylie if you're one of Kylie's famous family members. Basically, welcome to the one television show that leaves you knowing less about the titular celeb. Clocking in at only 30 minutes and breaking the hour-long mold of Kardashian shows, Life of Kylie sets out to show the world more about the Lip Kit swatcher's personal life outside of social media. It's meant to get to the meat of it all, but even with a double feature on premiere night, it massively failed.
So I have a solution to make this process a bit more enjoyable for all of us: I'll take you through the dates each Life of Kylie episode was filmed, and then I'll tell you what would make better television based on what she actually did on that day in history. You already know what time it is. #LEGGO.
Over a series of Kylie Jenner Snapchats, Instagrams, and selfies, the show opens with Kylie Jenner telling the audience that she laughs in the face of those who think she has a "perfect life." Kylie says that she doesn't have a perfect life; she just has nice things. According to Kylie, this is the only difference between her and anyone else. Happiness is not in things, she muses, because things can only make you happy for "two seconds." A drastic statement, seeing as though things have made me happy my entire life, and last I checked I'm more than 2 seconds old. Because she is so blessed to be able to find what will really make her happy, she's created this show to bring us along on her journey. Who knows if she's found it yet; we'll just have to wait and see!
The first happy thing she chooses to share with viewers: telling her best friend Jordyn Woods and her makeup artist Ariel Tejada about skinning her toe like a peeled potato when she tried to shave it that morning. After they laugh, Kylie's voice-over continues. She tells the audience she feels as though she has to keep her fans entertained via Instagram with a performative version of Kylie Jenner. The real Kylie, however, will be revealed on this show.
But before we can get to that, we've got to get to know her friends. We're introduced to Jordyn Woods, Kylie's best friend since middle school, who has been there since before the Kylie Jenner we know today existed (Woods is also a model). Then there's Victoria Villarroel Gamero, Kylie's executive assistant, her makeup artist, Ariel Tejada, and her hair/wig stylist, Tokyo. As the show would have it, these are the only important people in Kylie's life.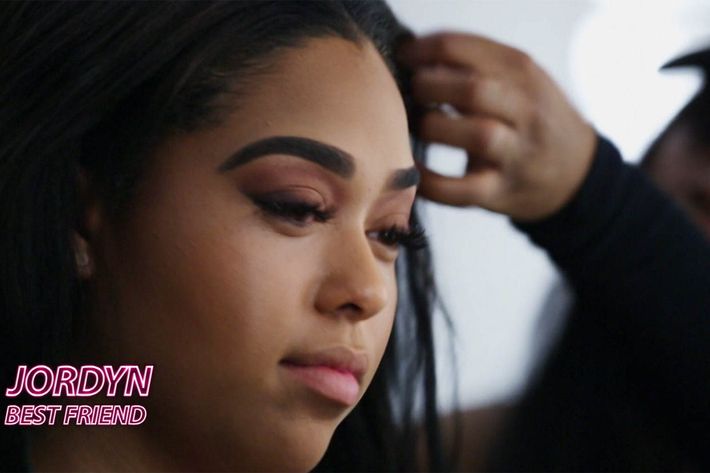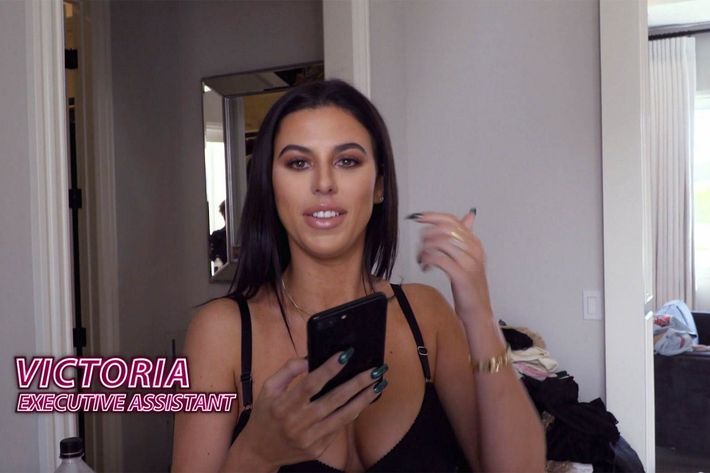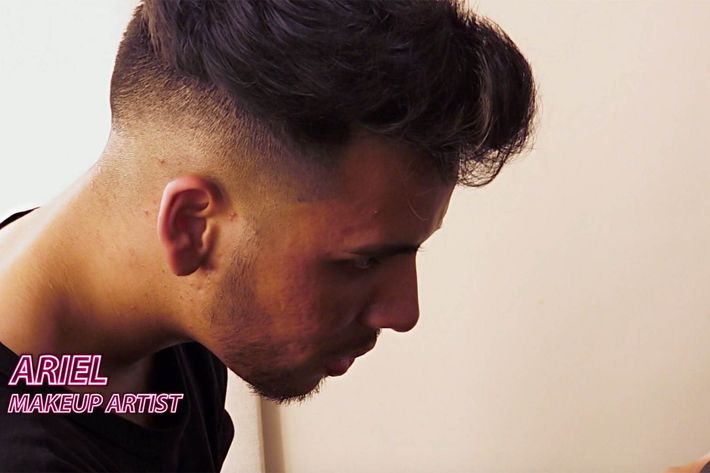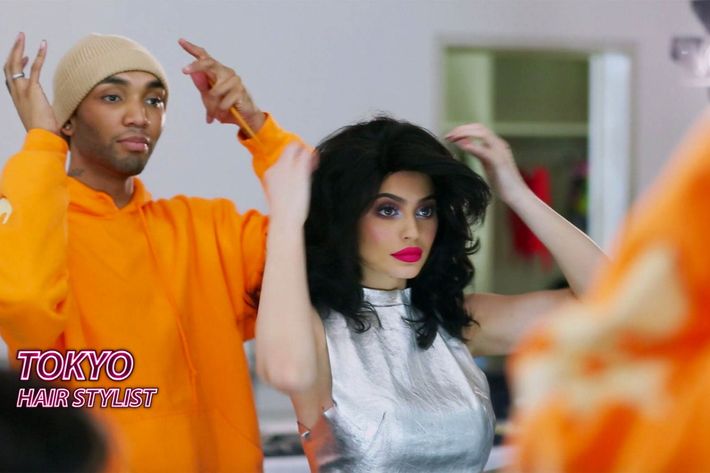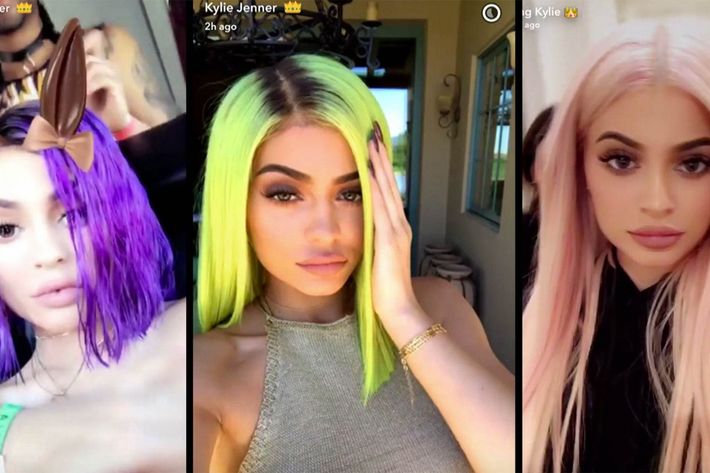 Scene 2:
At her home, our star Kylie Jenner wears an animal-print onesie and slippers while asking Jordyn if her Lamborghini feels upset over not being driven enough. Kylie wants to force herself to take the car out, but she just can't seem to do it. Jordyn thinks the Lambo is fine, and the two decide that the car is definitely a boy, not a girl.
Mercifully, Kylie's rats dogs run out at the exact time this conversation gets to be terribly unbearable. The animals switch Kylie's focus, and as she lets them lick her face and run around her body, she calls out for whoever put collars on her pets (they're "not dogs") to come forward. Kylie explains that while she didn't intend to breed her original pets, Norman and Bambi, they're now the proud parents of her two newest dogs, named Blue and Fawn or Rosie and Harlie, depending on when you asked her. It's possible these names have been changed (or forgotten?) since November; either way, she just calls the two puppies "kids" when introducing them to the television audience. This scene was filmed on April 11, 2017.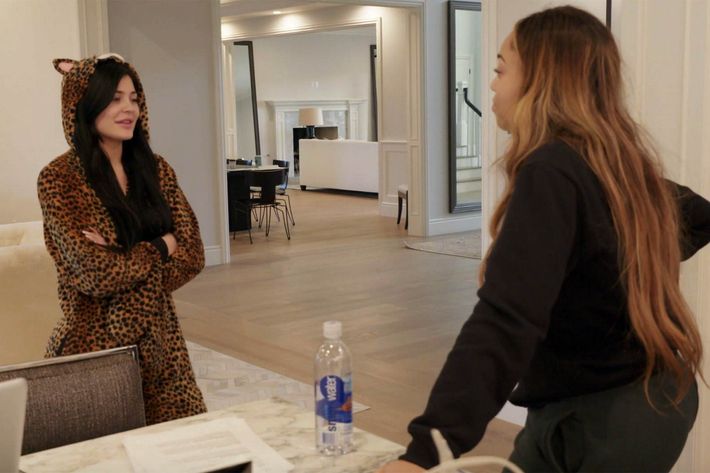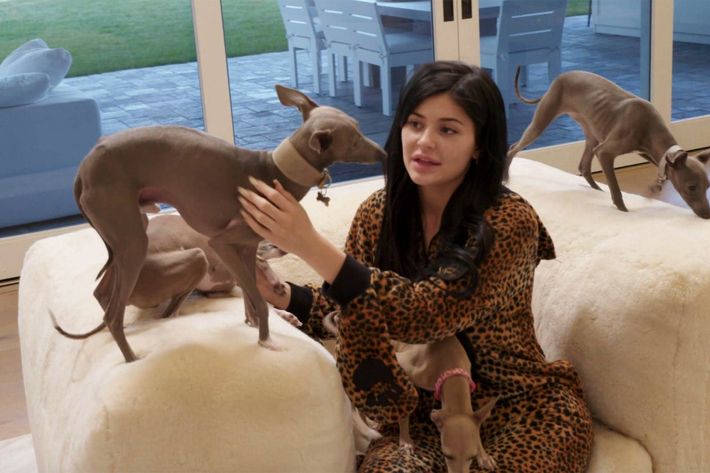 What she should have filmed:
On April 11, Kylie went to a launch party of Pretty Little Thing, a fast-fashion line whose ambassador is one of Kylie's friends, Stassi Karanikolaou. Stassi and Kylie used to be tighter than Kylie and Jordyn, but over the past year or so their online appearances with one another have drastically decreased. A confrontation between the two teens at a public event would have been far more entertaining than the above scene. I would've even been satisfied if Kylie were seen leaving the event in a rush, making Stassi believe the duo's friendship was truly done, when in reality Kylie was still dealing with an upset stomach after eating too many Chick-Fil-A chicken nuggets the night before.
Scene 3:
According to Kylie, her fans reach out to her all the time, with the No. 1 request being pleas to be someone's prom date. Because she gets so many requests, and since she's never been to a school dance, Kylie wants to make her prom dream come true and surprise a fan in the process. As is customary for side characters in the Kardashian universe, Jordyn becomes the mouthpiece for Kylie's production team and tells her about a teenager named Albert who needs a date to prom.
Conveniently, Jordyn has Albert's mom's phone number, so she and Kylie FaceTime her. Albert's mom is so excited to hear from Kylie, even though her son was not one of the masses to reach out to Kylie online about being his date. (In reality, Kylie's production team found out about Albert when news circulated around the Sacramento area that he was turned down by his date just days before the dance.) As Albert's mom tells Kylie Albert's story of being abandoned by his father and feeling like an outcast at school, Kylie coos, "Oh, I love Albert," and says she has a soft spot for the outcast because she once was one. She also points out that most people have a hard time relating to a celebrity like her — this makes her still feel like an outcast, just in a different way. With that, it's settled: She'll head to prom with Albert. This scene was filmed on April 6, 2017.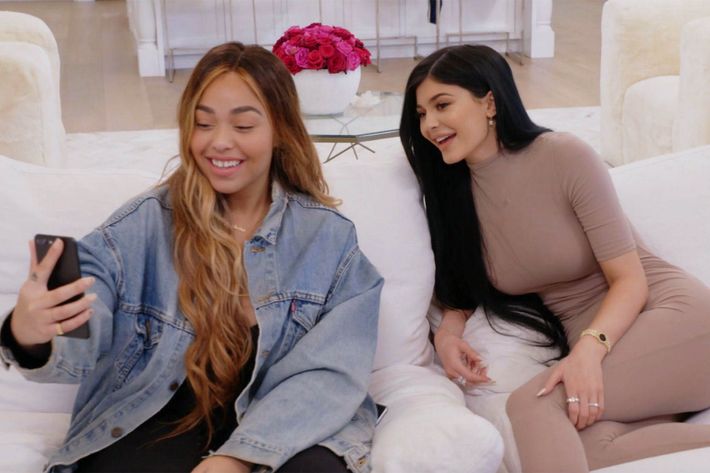 What she should have filmed:
On April 6, news broke that Tyga officially moved out of Kylie's home following their breakup. In an ideal world, we'd have seen Kylie boxing up items Tyga left behind — perhaps some legal summons of his, or the last shred of decency he had left after dating a minor and then mooching off her fame. Then I assume Kylie would cry out to Victoria, commanding her to send the boxes to Tyga's new spot and possibly make fun of him not being able to come up with this month's rent money on his own.
Scene 4:
The beautiful thing about Kylie's platform is the endless well of teachable moments. Before beginning to look for a prom dress, Kylie talks about posting a selfie and how hard it is. She cites the pressures of crafting the perfect image that will yield enough positive comments for her to keep it up and not "delete that shit" immediately.
After delivering her lesson, she heads to try on gowns. It's an exciting moment for the homeschooled Kylie — she says she was so jealous of her normal-school friends and their dances that she unfollowed all of them on social media. (According to Kylie, the constant posts of their normal lives also made her sad.) This scene was filmed on April 7, 2017.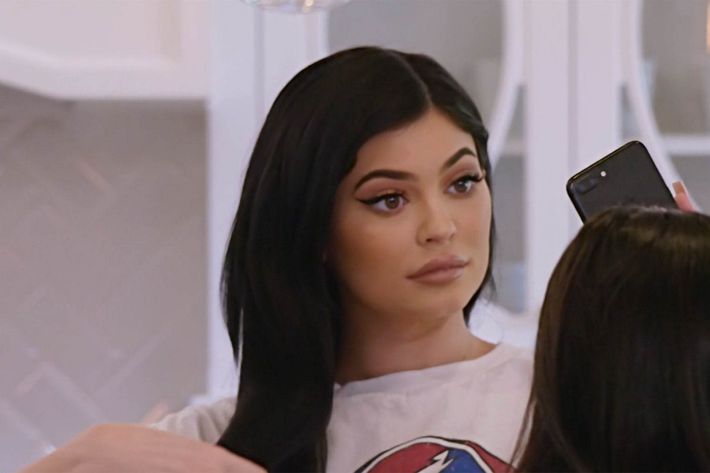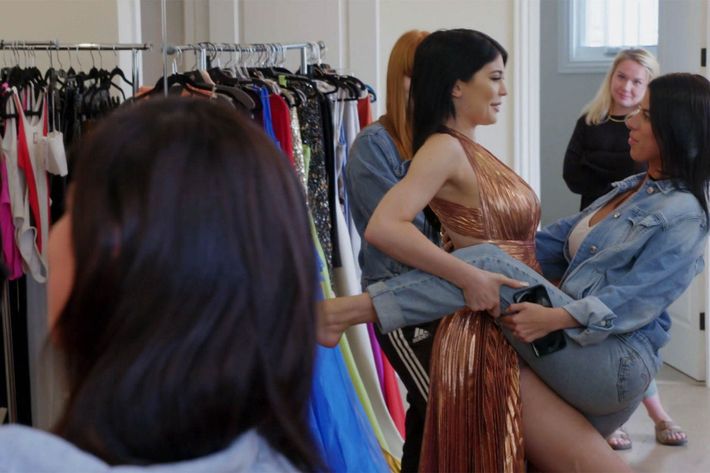 What she should have filmed:
On the 7th of April, 22 Savage and 21 Savage continued their rap battle, with 22 Savage releasing a song called "Kylie's Daddy." A risky move, considering 21 Savage proclaimed his lust for the Lip Kit maven through TMZ. This would have been amazing content to include in the show, especially since Kylie was newly single and looking for love with a new unattractive rapper.
Scene 5:
Around Kylie's kitchen island (which can't hold a candle to Kris Jenner's), Kylie tells Jordyn that she has a friend-of a-friend who wants to go out with her. Jordyn, shocked that Kylie has any friends other than the ones currently in her kitchen, reluctantly agrees. This is partially because Kylie thinks the guy is far cuter than anyone she's ever dated personally. And that my friends, is the first fact of the night.
In a confessional that will surely land her a spot on Famously Single, Jordyn worries that no one likes her for her — that dudes just want to date Kylie Jenner's friend or "be gang." After Jordyn's breakdown of her dating life, Kylie's makeup artist Ariel says that dating doesn't really exist for him, since he's in a relationship once he has sex with someone a few times. This scene was filmed on April 24, 2017.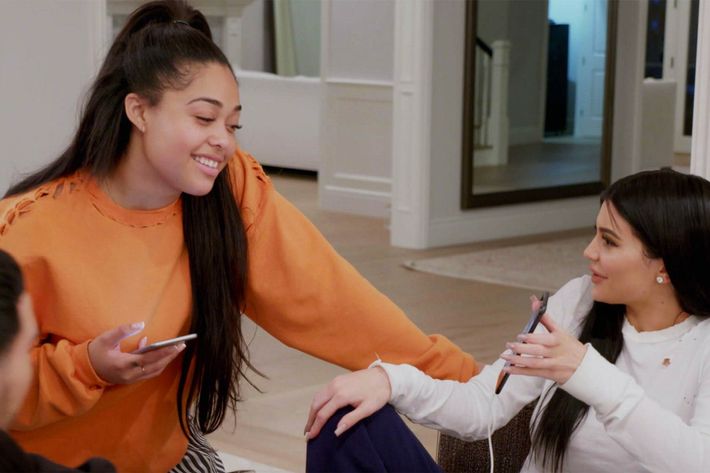 What she should have filmed:
While being gang with her crew in the kitchen, Kylie filmed exclusive footage for Snapchat that was way more engaging. Kylie and Ariel spoke Spanish with one another, then capped off the night by dancing so hard that Kylie's sweats rode halfway down her bottom. Talk about a night with the gang!
Scenes 6–10:
On the day of prom, Kylie and her crew begin their journey to Albert's prom in Sacramento. They run into some troubles when Kylie's first private jet basically breaks down. Kylie's travel agent tells her that the best way to make it to Sacramento and prom on time is to take a commercial flight out of LAX. This is not even an option for Kylie, who says that she's not bougie — she just prefers flying private because the airport is too chaotic. While she dismisses her travel agent's orders, Kylie showers in the waiting facilities of wherever she gets her jets from, and then finally makes her way to a plane awaiting her presence. On the plane, she gets into partial glam while Jordyn puts on her own makeup using an eye-shadow compact as a mirror.
Kylie and her team make it to Sacramento with 30 minutes to spare before the start of the dance. The only issue is that Kylie's not even ready, and Albert has been waiting around in an adjacent room. To get him there, his mom pretended that he won a competition to get a free tux for the dance (though she previously told a Sacramento publication she got him to the hotel by saying there was a family emergency).
When Kylie finally shows herself to Albert, he's the exact opposite of surprised or enthused (as you'll remember, he never asked for this). Kylie chalks up his reaction to being nervous, but I chalk it up to Albert being a card-carrying cutie-patootie (for the younger set!) and unbothered by attention because I'm sure he gets a lot of it. In fact, the idea of two dates — Kylie and Jordyn (who was also on his arm all night) — seems to excite him much more than a celebrity's presence.
At the dance, Kylie is immediately swarmed by high schoolers taking photos of her and calling her "fucking sexy." Honestly, these are the only memories I have of my own prom, so I can safely say she had a 100 percent normal experience. Her own celebrity is weighing on her mind during the dance, though. Within minutes she asks for a private, elevated space above the civilian children, and tells the camera in a confessional that the life of "Kylie Fucking Jenner" is not the life she wants. Unlike her sister Kim, she's not suited for fame. Still, she knows she's at least somewhat compliant — she does maintain the lifestyle and posts Instagrams and Snapchats that make her more famous on the regular.
Albert's prom — which Kylie feels bad for disrupting with her presence — was filmed on April 8, 2017.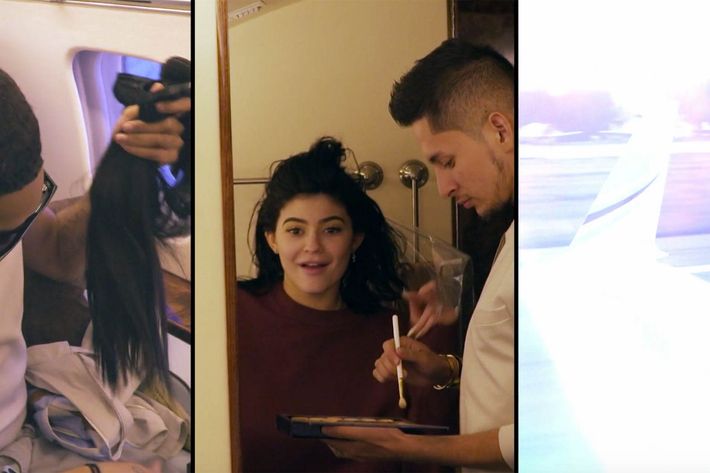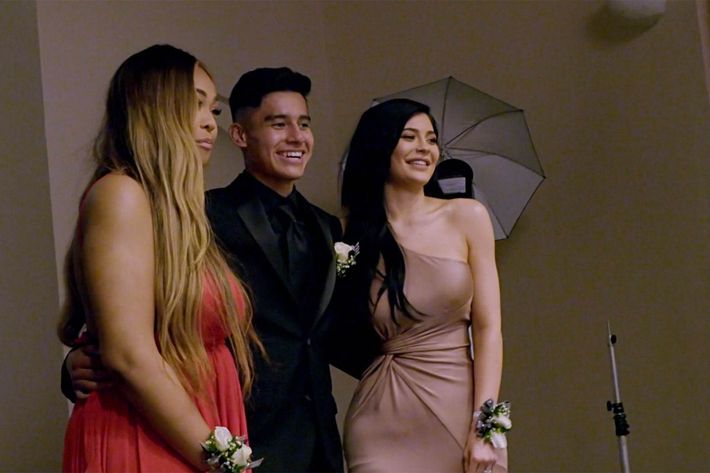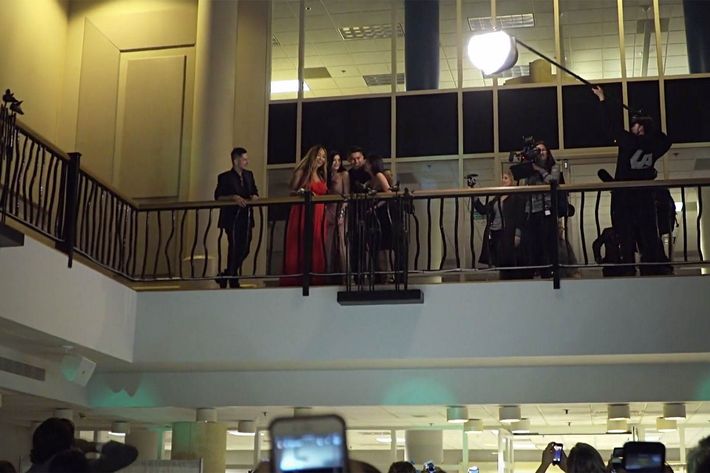 What she should have filmed:
While Kylie was waiting for her plane drama to sort itself out, I'm sure she got a notification from Instagram or a Google Alert letting her know that her ex-boyfriend Tyga liked an Instagram of hers (in which normal 19-year-old Kylie wears a space-cowgirl getup). I wonder what Albert would have thought about that?
Scene 11:
Because she's under contract to do whatever the fuck Kylie Jenner says to do, Jordyn Woods goes on her long-awaited blind date. The only catch is that Kylie will be speaking to Jordyn from her car via a walkie-talkie. I mean, the original concepts have just blown me clean away into the Hudson River!
We don't hear much of Jordyn's date; we just know that she ordered some sort of coffee with a Kylie Jenner design, and that she couldn't bear to correct Kylie when she thought Nicole Murphy was Halle Berry. From the literal looks of it (because there was close to zero audio), Jordyn enjoyed her date, but tells the cameras in her confessional that she and Kylie are in an emotional relationship. This scene and Kylie's microaggression were filmed on May 17, 2017.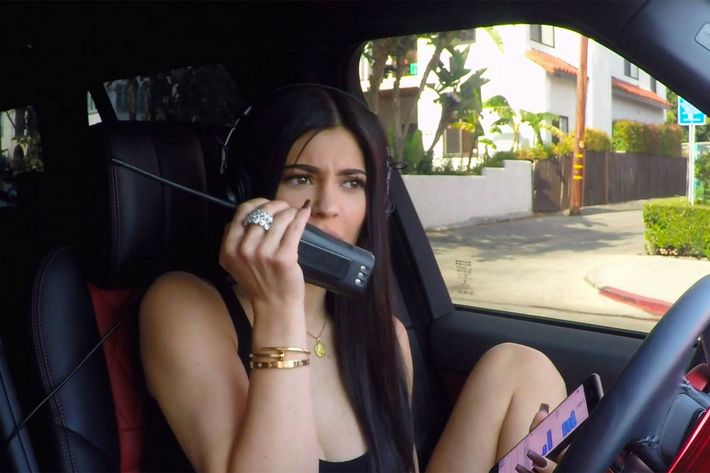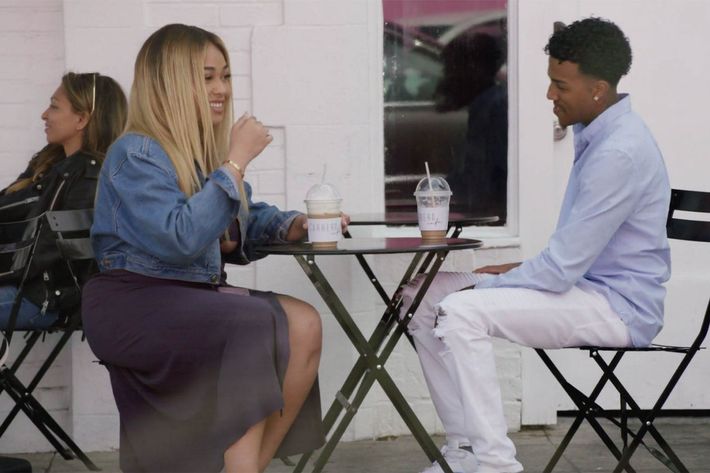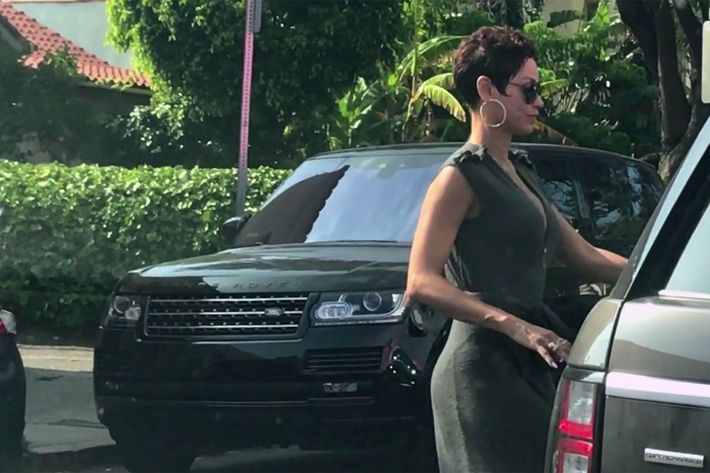 Scene 12:
At the beginning of the episode, Kylie realized that doing confessionals for the past decade has been therapeutic — so she decides to go to her first therapy appointment. Her assistant Victoria and her traveling footstool accompany her. Kylie's therapist refuses to show her face on camera because she wants to protect the client-patient relationship, and yet sounds a lot like a producer asking her to repeat the logline of the show.
Kylie tells her therapist that she wants to find the parts of herself that she's lost over the years. She thinks her humor is gone, wondering aloud if she might be going insane. Like Scene 3, this scene was filmed on April 6.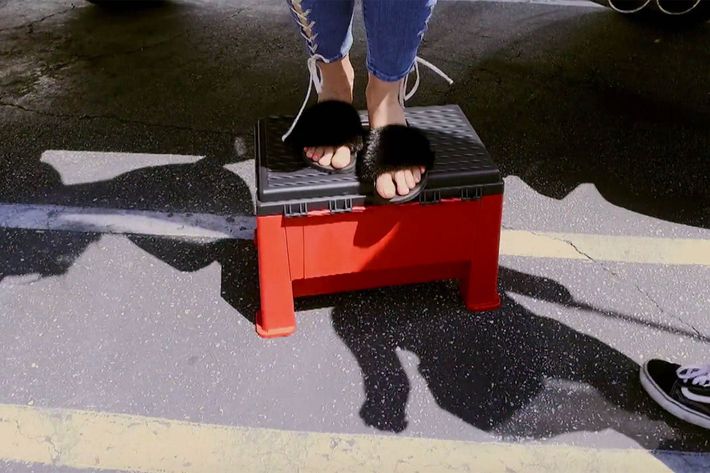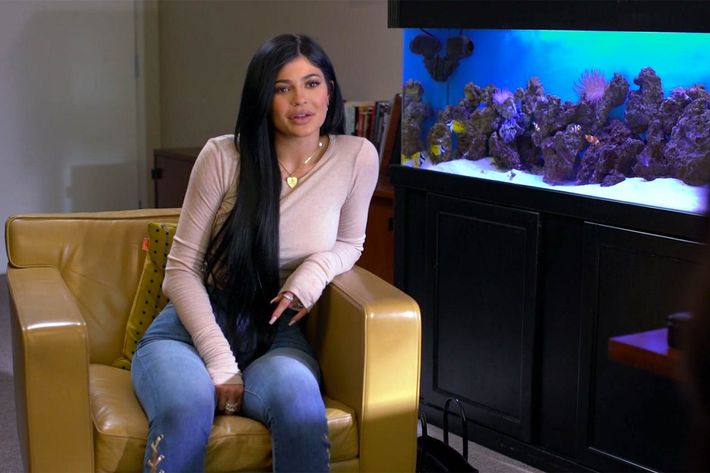 What she should have filmed:
Since Kylie left her house on the day Tyga's moving news broke, it would have been truly iconic for Kylie and her footstool to go house hunting in the Hidden Hills of Calabasas for a bigger and better home than the one she shared with her ex. Or, if she wanted to keep it a little bit simpler, I'd settle for watching her shop for a footstool that's a little more chic.
Scene 13:
In the final scene of the night, Jordyn takes Kylie to the beach. Kylie says she hasn't been to the beach in years (lies), but Jordyn promises Kylie that they're going to be regular teens, even if they have to do it at midnight. While walking, Kylie tells Jordyn that she's getting the "bug" again, where she wants to run away from her life and her fame. This is partially because she knows the fame will end one day, and she's not sure who she's doing it for. Unlike Kendall Jenner, Bella Hadid, and Hailey Baldwin, Kylie doesn't like putting together glam looks every time she leaves her house, and in her heart, she would he happy wearing hoodies and Heelys sneakers every day. The only thing forcing her to look good, she says, is Kylie Cosmetics. Jordyn takes in what her friend says, and the two make a pact to be "rocks" in each other's lives. This scene was filmed on June 1, 2017.
What she should have filmed:
Earlier that day, Kylie was caught out in the streets with her new boyfriend, Travis Scott, grabbing her behind. Had this been featured on the show, maybe Kylie and Jordyn could have spent their beach chat talking about why the two of them looked so downcast during their very intimate moment for the cameras.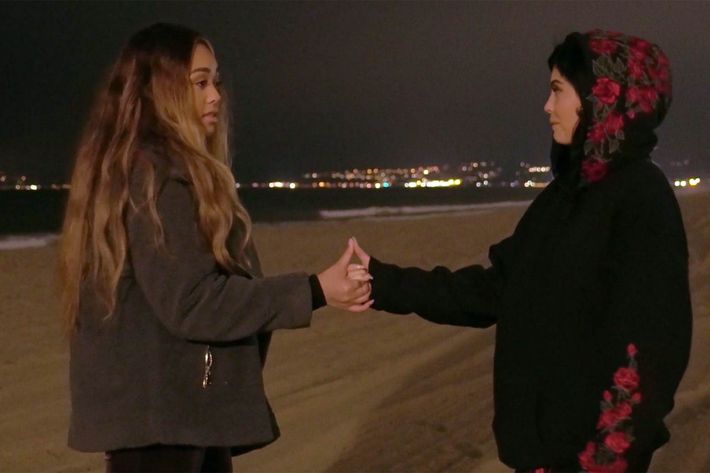 That's all for this week, Lip Kittens, but catch me back next week for another Life of Kylie breakdown. And remember, always be gang.