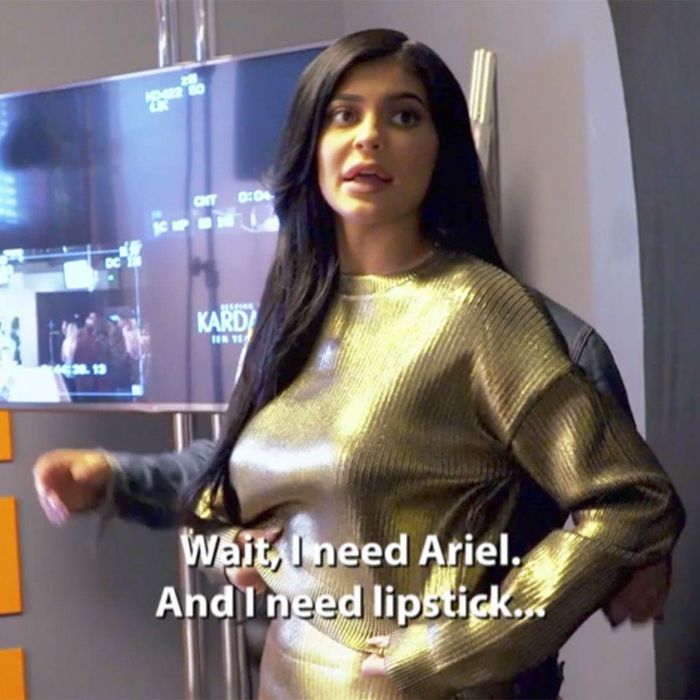 Last night we got another fuzzy look into the made-for-television Life of Kylie. Just like last week, join me while I take you through what happened on the "reality" show, then explain what she should have filmed on the same day. Unlike my ex, I hate dragging things out, so #LEGGO.
Scene 1/Cold Open:
In the opening scene, Kylie Jenner is swarmed by local California teens trying to sneak a peek at the queen of Kylie Cosmetics, who is at the mall to pop into her first Kylie pop-up shop that exclusively sells Kylie goods. In between frenzied fans and a frantic Kris Jenner, Kylie and her best friend Jordyn Woods speak directly to the camera in their confessionals. Jordyn tries to wrap her mind around the fact that her BFF doubles as a CEO, and Kylie jokes that her extensive business experience leaves her feeling like a "little old lady" in a "19-year-old's body." This scene and Kylie's opening were filmed on December 9, 2016.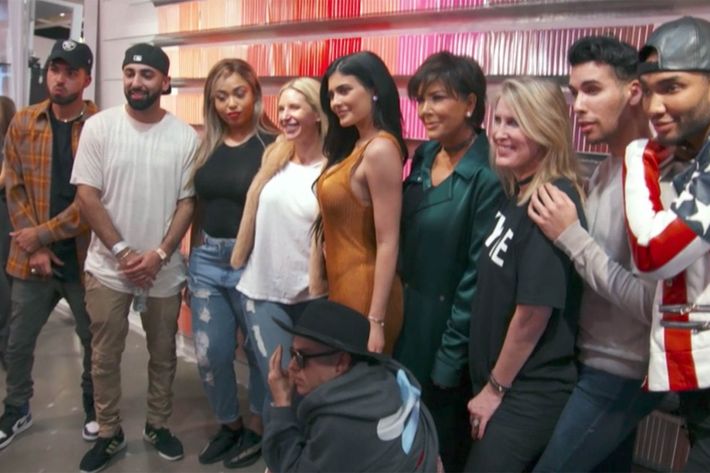 What she should have filmed: As thrilling as it is to watch a teenager open a supersize lemonade stand (selling Lip Kits instead of lemonade), Kylie had so much more going on in her life on this day in Kylie history. Not only did Kylie step out that night in a three-piece red leather ensemble, but she stepped out with a little animal by the name of Tyga on her arm. Presumably he took her out to celebrate her success, but since even my grandmother knows that he's probably the least-rich person (JK, I've been there) to roam the streets of West Hollywood, I'm sure it was Kylie's treat. Considering this was one of their last appearances as a couple, she could have honored her audience with an exclusive look into their crumbling partnership.
Scene 3:
Inspired by the work she did to open a Kylie store, Kylie takes the cameras and Jordyn Woods to the Kylie Cosmetics factory. Kylie's voice-over explains just how Kylie Cosmetics came to life: As a younger teen, Kylie wanted the illusion of larger lips so badly that she went out to buy every shade of lip liner that was close to the color of her own lips. From there, she would overline her lips, which ultimately led to a super-appreciation of lip products. As they say, the rest is history and a little surgical enhancement, and now she's a bona fide CEO. What is interesting is that part of Kylie Cosmetics' success is due to not paying for ad sales — her Instagram and Snapchats are the only advertisements the brand needs. After taking a look around the factory and testing new colors on Jordyn, they sit down with an employee of Kylie's, who tells them about the rise of counterfeit Kylie Cosmetics products. This really pisses Kylie off, since she's been adamant about her fans buying her products straight from her, the source, and not trusting any counterfeit products they find. This inspires Kylie and Jordyn to find the biggest manufacturer of Kylie Cosmetic knockoffs and stop them in their tracks, because that's how every big bad is shut down! Kylie's visit to her factory was filmed on May 25, 2017.
What she should have filmed: Kylie had a pretty low-key day on May 25, which means this planned factory tour was just about the only thing on the young celebrity's docket. Still, what would have been more interesting than seeing her parade around in a stylized hairnet would have been a deeper look into the naming of the new Velvet Lip Kit shades she dropped on that very day. Instead, we got her setting up hijinks that would come later in the episode.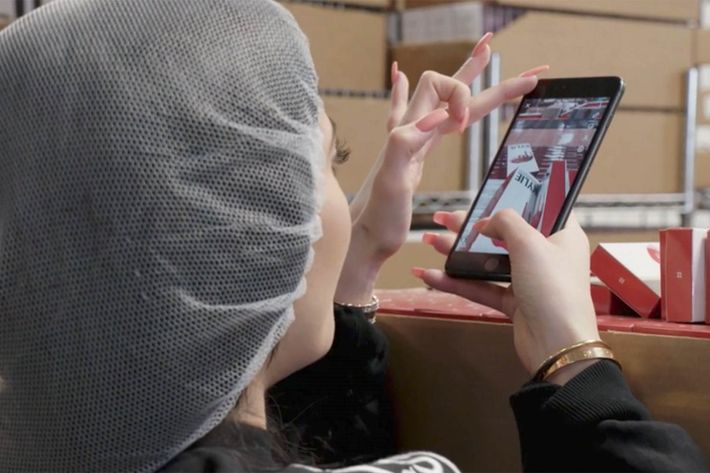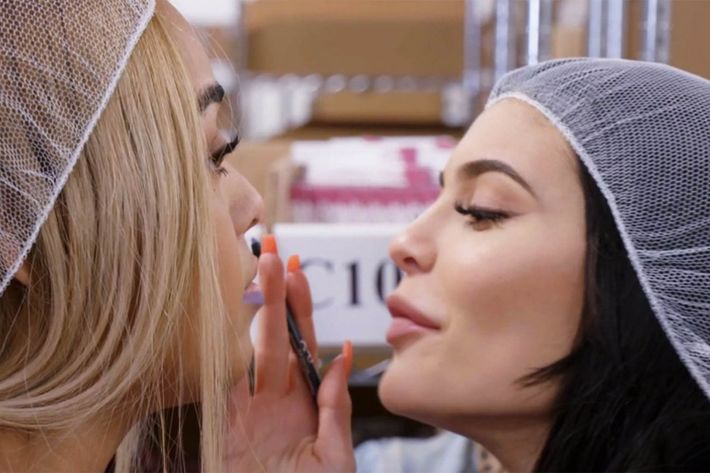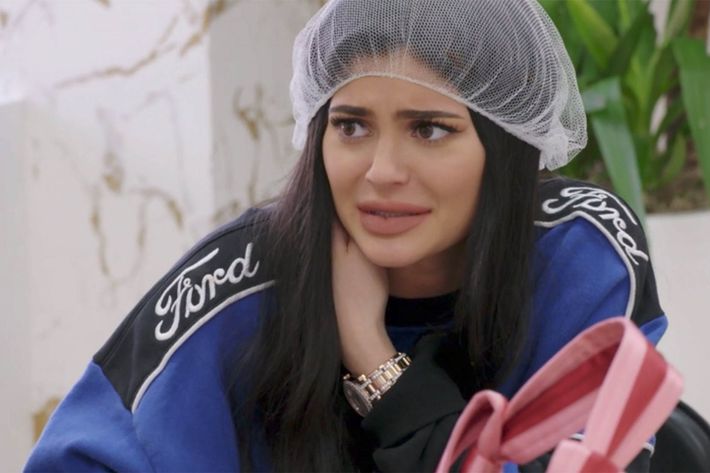 Scene 4:
Kylie, Everybody's-Favorite-Best-Friend-Malika-Knockoff Jordyn Woods, and Kylie's assistant, Victoria, raid Kris Jenner's jackfruit stash while hanging out in her kitchen. Sadly, Jordyn has a minor allergic reaction to the popular fruit and meat substitute, but unfortunately cannot determine the severity of it, because Kris is home and needs to have a word with the girls. Before getting serious, Kris makes some time to make fun of the corset-and-T-shirt combo Kylie's currently wearing.
After visiting a set of Kylie's earlier in the episode, Kris is upset that Kylie is too loose with the people surrounding her, not tightening the straps enough on her glam team and their entourage. Specifically, Kris thinks that Kylie's hairstylist Tokyo doesn't need to travel everywhere with his manager and boyfriend, Chris, and she thinks that Ariel is getting a little too big for his makeup britches by making a stink when he has to fly coach. Kris continues to tell her daughter to set boundaries and keep a "sharp eye" on her people. Kylie listens to her mom, but assures her that she knows what she's doing. She is a CEO after all. This scene was filmed on June 23, 2017.
What she should have filmed: Now, there's almost nothing I love more than Kristen Houghton Kardashian Jenner laying down the law and speaking some truth into her children's ears, but in addition to this scene I would have loved Kylie's hot take on Diddy not knowing the difference between Kendall and Kylie. Just a month and change after Diddy cropped the Jenner sisters out of his Met Ball Instagram, he took and posted a photo with Kendall Jenner on his Instagram, but tagged Kylie. Honestly, unpacking being twice-shaded by a friend of the family makes beautiful TV, don't ya think?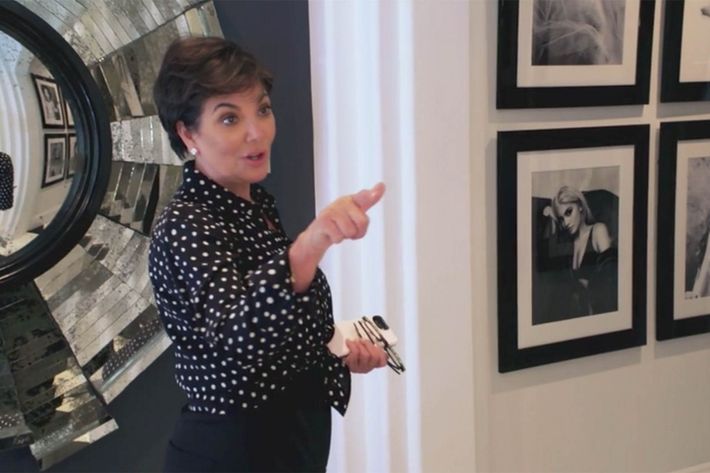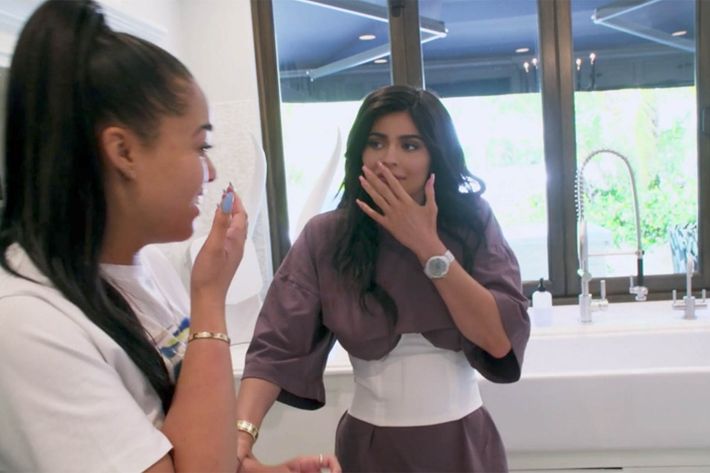 Scene 5:
After talking to her mom about being a stricter boss, Kylie has a minor run-in with makeup artist Ariel, who is too busy dancing around the set to touch up Kylie's makeup. Ariel picked the wrong time to act up and out, because he was surrounded by the entire Kardashian/Jenner family as they filmed a special for ten years of Keeping Up With the Kardashians. Once he finally fixes her face, Kylie runs to complain to Jordyn and Victoria, who are also annoyed with Ariel's behavior. This scene was filmed on April 27, 2016, about two months before Kris urged Kylie to get a better grip on her staff.
What she should have filmed: If Kylie was pressed to be filmed getting upset about something, I think she chose the wrong moment. On the 27th, Tyga was all over the news cycle, as he'd been repeatedly spotted out (legally) wining and dining a Kylie Jenner "look-alike." Even though Kylie had already moved on with Travis Scott, I'm sure the news of her ex-boo with a new boo wasn't the best thing she could have woken up to on that April day. Plus, she was being accused of heavily Photoshopping a body selfie, so I'm assuming things weren't the greatest for our Kylie on that day.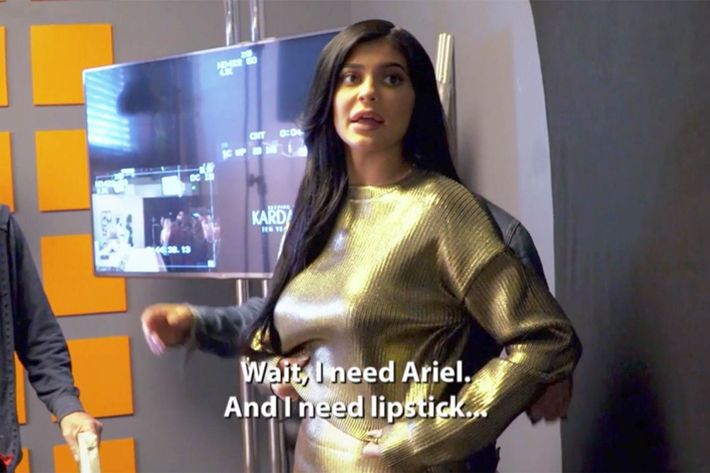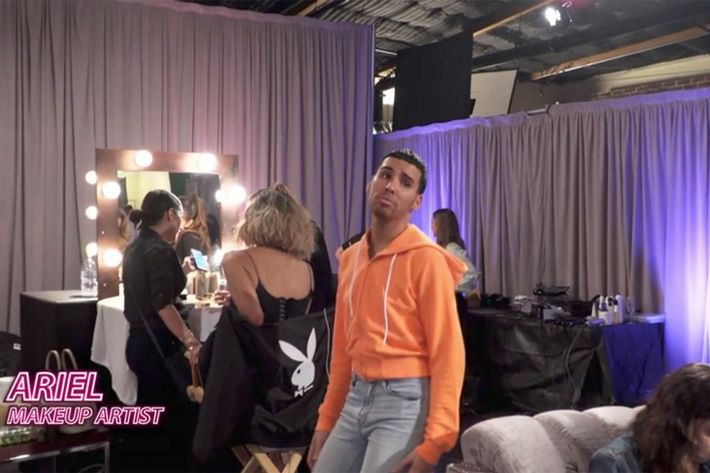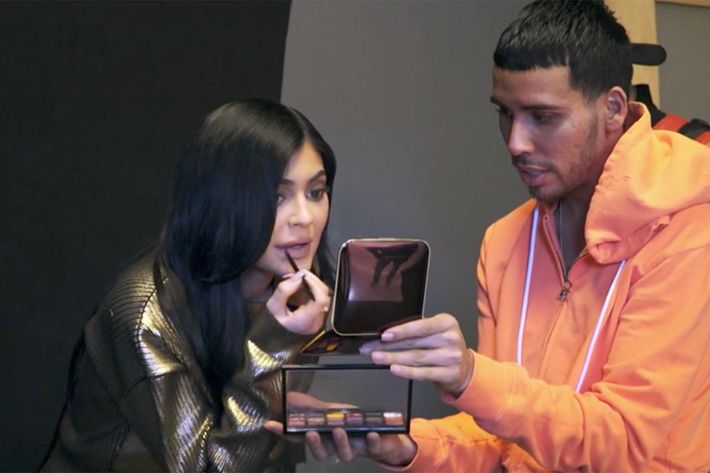 Scene 6:
Executive assistant and friend Victoria runs a tight ship while producing Kylie and Jordyn's glam sessions for a party that night. After Kylie finishes with her, she steps out to take a nap, and Jordyn steps in for her "only window" of makeup time. Hairstylist Tokyo also steps in to ask why his boyfriend has been banished from hanging out while he's working. His blunt questions obviously put Victoria in an awkward position, but she reiterates that Kylie is reevaluating her team size, and wants to keep her crew small. Victoria also says that given Kim's attack and recent incidents with staff members getting too close to the family and taking advantage of them, Kylie's starting to be more cautious. Tokyo understands, but still wishes he could work and kiki with his boo all at the same damn time. This scene was filmed on April 7, 2017.
What she should have filmed: I'd love for Kylie to understand that as much as we love seeing what leads up to Kylie's nights out, what we would love even more is seeing those nights for ourselves! On the 7th, Kylie and Jordyn were getting ready for a space-cowboy birthday party in honor of their friends Simi and Haze. We missed seeing film of Kylie seductively eating tacos and posing for her life in a blonde wig! What led up to those moments!? Why do you have to leave us out like this, Ms. Kylie?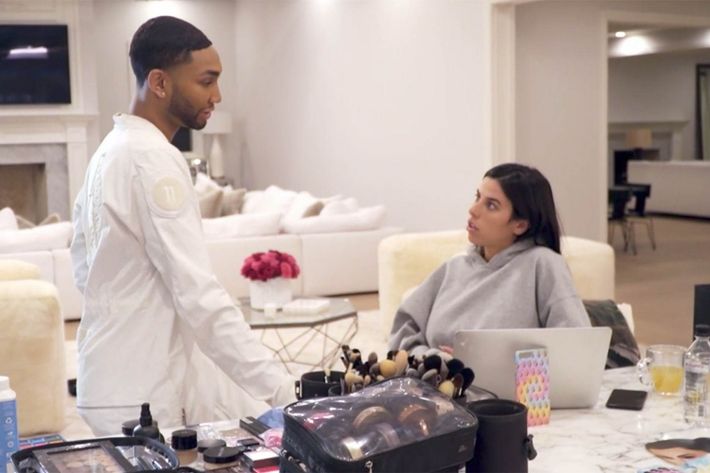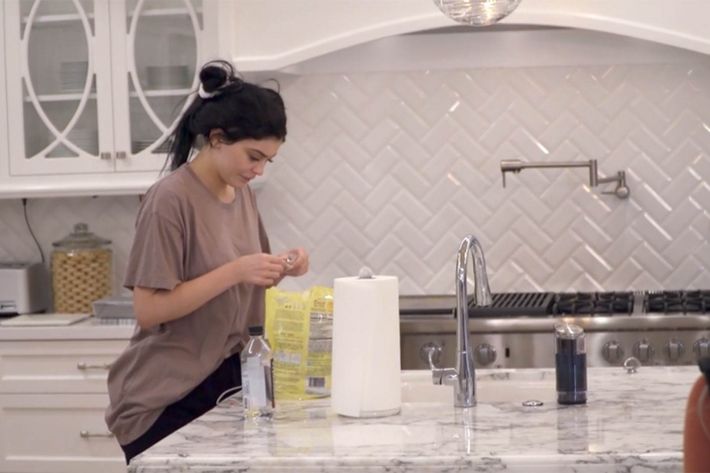 Scene 7:
Following through on their plan to find and eradicate Kylie Cosmetic counterfeits in the Los Angeles area, Kylie and Jordyn trek from Calabasas to to Downtown L.A. On their way downtown, Kylie accepts a call from Kris Jenner, who is not fond of her most valuable daughter risking her life in sketchy DTLA just to find fake Lip Kits. Kris wants Kylie to keep her posted and ideally not go at all, because the people in DTLA might have guns! Trying to get her mom to stop talking about her lack of safety, Kylie asks Kris what she thinks the sex combo will be of Beyoncé's twins. Kris has no idea, but does mention that she saw Tina Knowles the night prior but didn't dig too deep. Kylie doesn't care that her mom doesn't know, and once she gets closer to the Lip Kit black market, she gets off the phone with her mom. As they approach, both Kylie and Jordyn admit to being scared (Jordyn a little bit more than Kylie, since she'll be the one actually hitting the streets to inspect the knockoff products).
Kylie parks her car on a random DTLA street, and while she watches from the car, Jordyn finds a random stand with counterfeit goods and tries to buy them. This method is a far cry from finding the biggest and baddest counterfeit retailer in the country, but you've gotta start somewhere, right? The only thing is, she's surrounded by Kylie's cameras and paparazzi, so the owner of the shop refuses to sell her anything while they're being photographed. Jordyn understands — she just puts a $20 on the table and takes a handful of goods. She rushes to the car to inspect the knockoffs with Kylie, and Kylie is positive that these products are being made in someone's home. To assure Kris of her safety, Kylie calls her mom. Kris promises to handle everything, and will get a lawyer ASAP to finally stop the Kylie Cosmetics counterfeit market. This series' second "sting" operation was filmed on June 17, 2017.
What she should have filmed: As much as I love watching Kylie sit in a car while she watches Jordyn do stuff, I think my time would have been better spent watching Lip Kits dry or watching Kylie hang out with her sisters Kourtney, Kim, and Kendall, whom she saw that day. We've been deprived of seeing Kylie try the counterfeit goods out on her sisters' lips to see just how different they are from her product. We may have even missed Kylie finding out that Kendall has been behind the counterfeit products all along because Victoria's Secret secretly pays shit and she needs to pay her bills! But because Life of Kylie is shaping up to be anti-Kardashian/other Jenner (except Kris) propaganda, we're not getting any of the good stuff!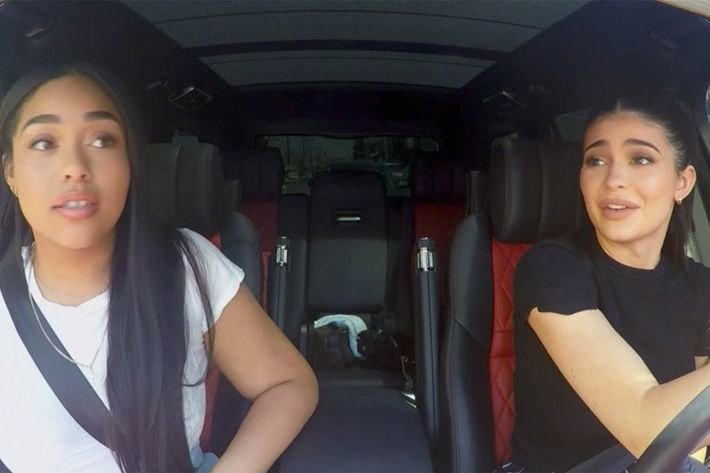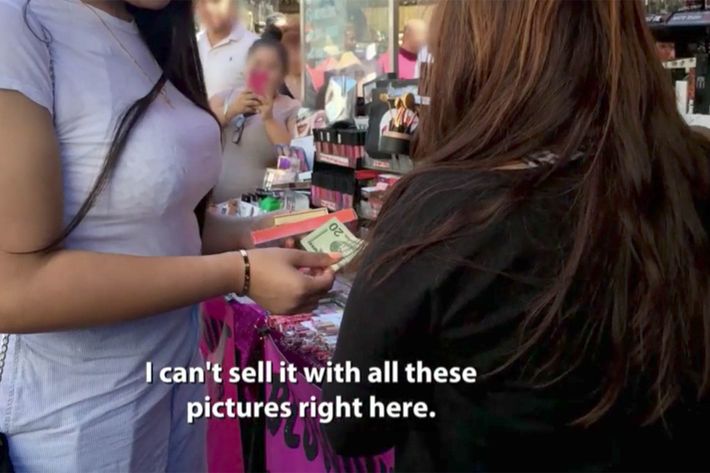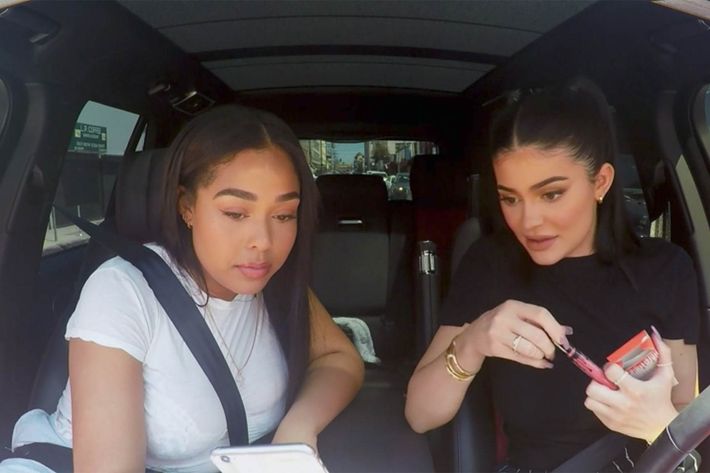 Scene 9:
In the final scene of the night, Kylie rides to a party with Jordyn while she suffers from hiccups and the realization that her makeup artist Ariel can do whatever he wants because he's the only person who "gets" her face. Jordyn agrees, but the two decide they'll never tell Ariel to his face because they don't want to "gas" him up. Plus, both Kylie's staff and fans alike are finally starting to take her seriously as a mini-mogul, and she doesn't want to jeopardize her standing.  This scene was filmed on April 11, 2017.
What she should have filmed: Yet again, another party we see the lead-up to, but not a frame of the actual event. Like Episode 1, I would have loved to see Kylie party alongside her sometimes-friend Stassi who I'm sure would love to get some shine on E!. If not for us, do it for your friends, Kylie.