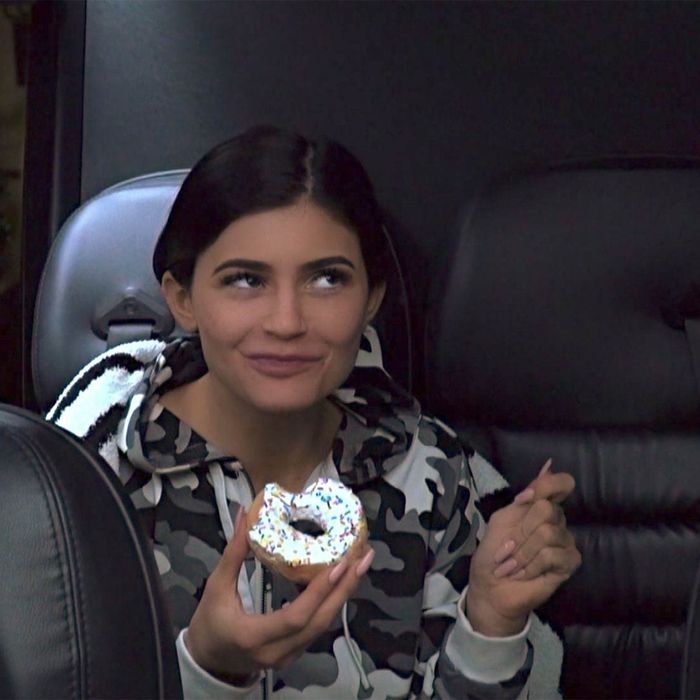 This week on Life of Kylie, Kylie's life was all about the Met Ball, plus her friendship with Jordyn Woods, but mainly the Met Ball! You already know what time it is — #LEGGO!!
Scenes 1 & 2:
At Kylie Jenner's home for wayward rich girls, a team of upper-middle-class women slowly and precisely carries garments upon garments of Versace clothing to racks, showcasing their beauty. In another room, another group of upper-middle-class professionals lay out equally high-end shoes. While these professionals (who all flew into Calabasas from Milan!) arrange these items, we're treated to visions of Kylie's life almost a year ago, when she attended the 2016 Met Gala. This is the event they're preparing for once again. After the women have settled into the space, they each take a position in front of a rack, staring at the wall ahead, unmoving. That is until a Life of Kylie crew member accidentally knocks into a rack and gets treated with a Versace, Versace, Versace side-eye.
Soon after, Kylie enters the room with her executive assistant Victoria in tow. Kylie's commissioned two custom millennial-pink gowns from Versace: The first, a cagey-mermaid look that took 350 hours to make, causes Kylie to trip over the train. The next, a beaded mermaid moment featuring 7,000 crystals, is equally amazing on Kylie, though she requests a change — she wants the corset so tight that she can "barely breathe." This will only be Kylie's second time at the Gala, and she's just as anxious and excited as she was the year before — especially since the Gala is for people with "fashion cred," as a Versace rep tells us. This fitting was filmed on April 27, 2017*.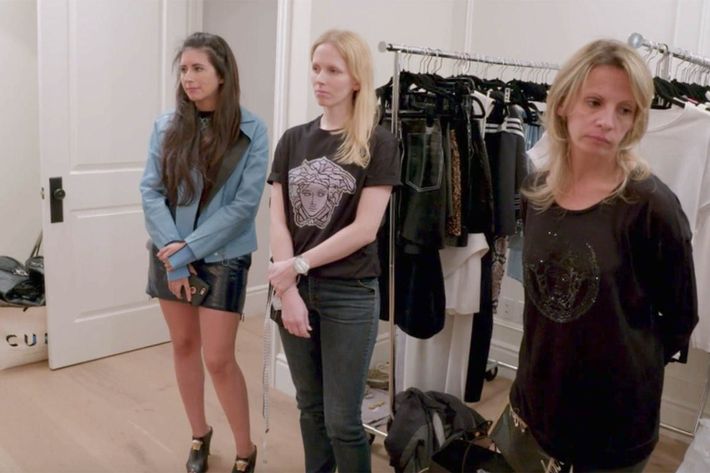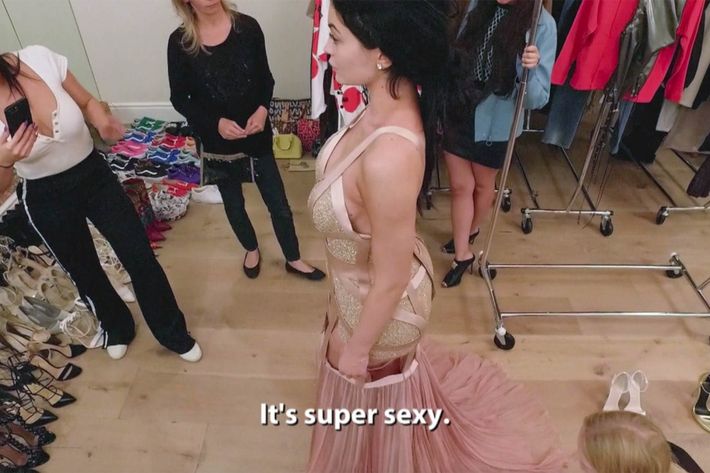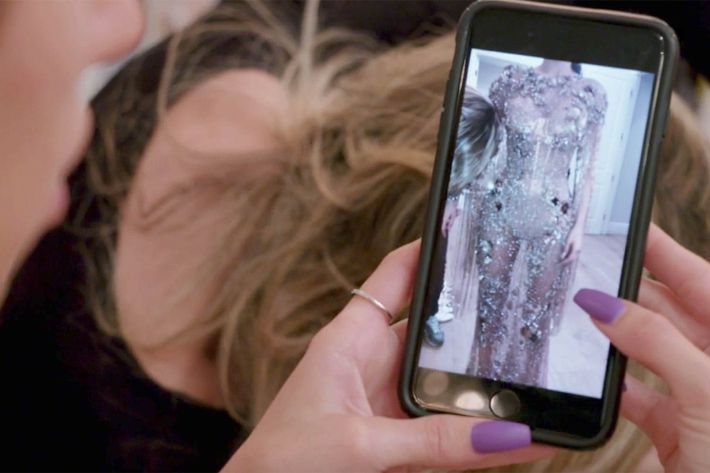 What she should have filmed: Yet again, Kylie should have filmed her daytime fling with boo Travis Scott. Right before flying home to the Los Angeles area, Kylie and Victoria were in Houston watching Travis perform at halftime during a Houston Rockets basketball game. If only Kylie had a working television — she could have saved saved thousands of dollars in airfare and travel time! Such a shame!
Kylie and Jordyn "I Have Nowhere Else to Be" Woods attend a Kylie Shop photo shoot. Jordyn, a model, seems right at home on set. We learn that Jordyn took a couple of months off modeling because of "life," which was her dad being very ill for two months and eventually dying of cancer. Jordyn, who is tremendously strong and put together while talking about this, says going back to work is a good distraction. Posing in Kylie's "thick" and ever-original flame garments must be very distracting, because Jordyn's dad passed the day before this scene was filmed on January 19, 2017.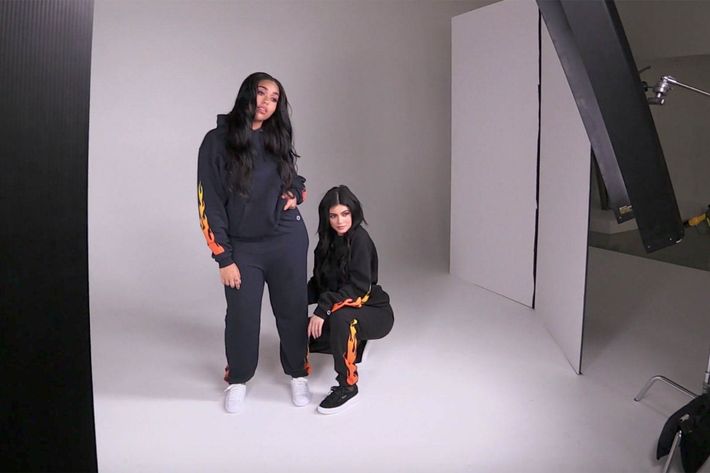 What should have been filmed: Honestly, I would have loved for this scene not to have been filmed at all and for Jordyn to be able to mourn in peace, but we all grieve in different ways. Since they were in production, it would have been nice to see Kylie do something for Jordyn instead of the other way around.
Scene 4:
With only two days until the Metropolitan Gala in New York City, New York, Kylie, Jordyn "Can't Catch a Moment to Myself" Woods, and Kylie's executive Glam Squad head out of L.A. On the plane, the group dances and does each other's makeup. Once they land, Kylie tells the camera that her favorite thing about traveling to New York is Entenmann's sprinkle doughnuts, which you can get from "any local gas station." After eating a doughnut that tastes like cake but with a "doughnut twist," she hops on the phone with someone given the moniker "Friend," who shares details about someone called "he," including his concerts and whereabouts for that evening. Kylie nods, and the scene abruptly ends, with Snapchat memories implying that she went out for a night of fun with her girls, and possibly her new boyfriend Travis Scott. This scene was filmed on April 28, 2017.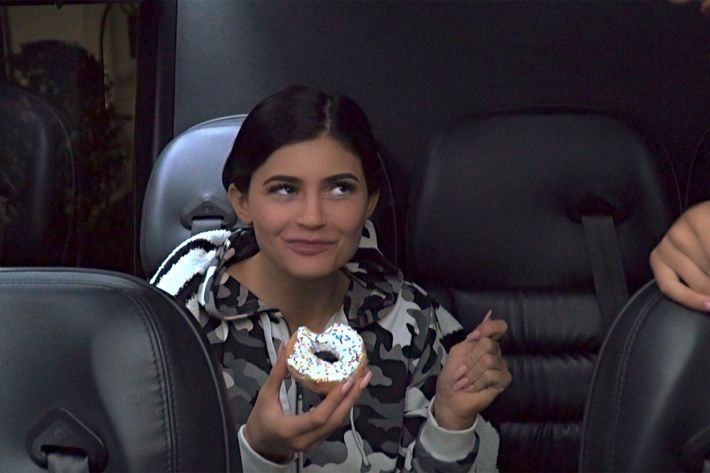 What she should have filmed: Just one day prior, Kylie posted a curious Snapchat selfie that caused the internet to run amok with Photoshop rumors. Something about a crooked curtain and a surgically altered body flattering pose caused speculation that Kylie's Instagram wasn't what it seemed — and instead of letting the rumors fly, Kylie took to her Snapchat to correct the "photoshop police." On the 28th of April she told fans and critics that the curtains behind her Snapchat and selfie mirror was just crooked, end of story! Since this is such an important topic for Kylie, I would have been honored, thrilled, and elated to be let into her process of posing, and even tickled by a closer look at the curtain in question and its crooked ways. Oh, and there's also the news that leaked that she was "terrified" of showing her relationship on her new reality-TV show. Kylie, sweetie, you should be afraid that you come off as a phony by omitting it!
Scene 5:
After a cross-country flight, Entenmann's doughnut, a night out on the New York City town, and weeks of hiding her relationship from her production team, Kylie Jenner woke up grumpy. The scene begins with the executive producer of Life of Kylie banging on a hotel door, looking for Victoria, who will most likely point her in the direction of Kylie. As she knocks, the door flies open, and it's Kylie who snaps that she was "fucking peeing" and rhetorically wonders if they want to follow her into the bathroom, too. The producer asks to be let in so she can do her job, and is shocked to find that Kylie is headed off to Boston for the day with Jordyn. While wearing one of the most revealing long-sleeved garments I've ever seen, Kylie tells the cameras that she and Jordyn are taking advantage of their time on the East Coast to travel to the home of the Boston Tea Party (so they can soak in some rich American history). Getting a kick that only teens can out of blatantly lying to adults, Kylie tells the cameras that there will probably be boys in Boston, but does not specify further.
In her confessional, Kylie and the same producer have a frank-ish conversation about what Kylie's not showing on TV. The producer asks if she realized the crew would be with her for everything, and Kylie says yes. She has been doing this for ten years, after all.  Kylie stares blankly, then finally explains that she wants to keep her relationship sacred. It's a battle of silence in the confessional room, and when we cut back to Kylie preparing for Boston, she and Jordyn shake the camera crew fast as they jet out of town.
The members of Kylie's production team aren't the only ones a little pissed that Kylie switched the script on their New York trip — Jordyn's a bit pissed, too. In confessional, she explains that she and Kylie went to Boston for a concert, drove back to New York for a birthday party, and then went to another concert in the city, all in one night. It's not that she doesn't like having fun, it's just that Jordyn feels like following Kylie's every whim has become a bit of a distraction from her own life. Kylie sneaking out of Manhattan was filmed on April 29, 2017.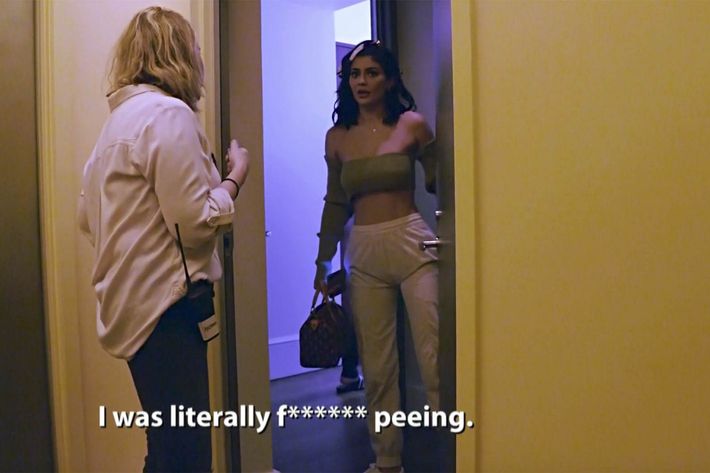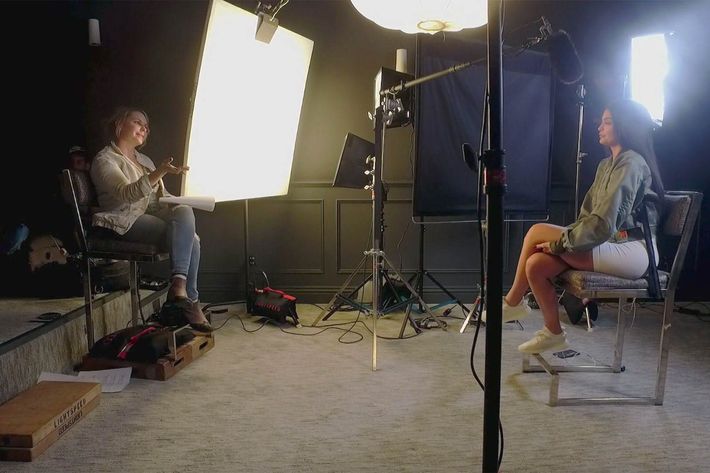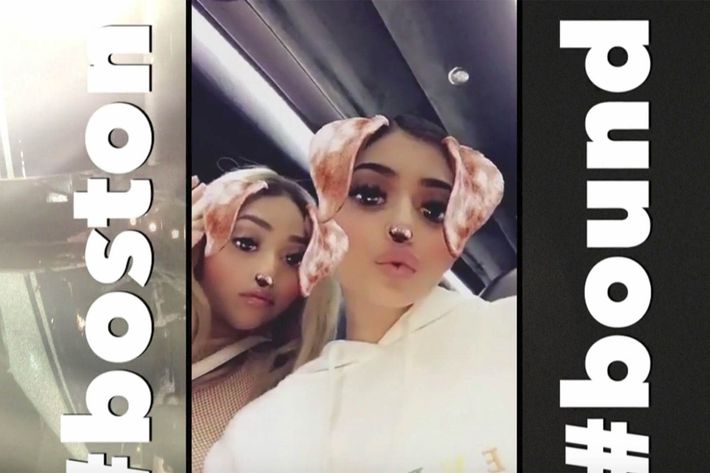 What she should have filmed: When Kylie jetted out to Boston she obviously went to meet up with her boyfriend, Travis Scott, who was performing at a Boston-area nightclub as well as a local college. For some reason, these performances were important enough for Kylie to run away from her actual job. There's also the minor detail that Jordyn made it seem as though she and Kylie did every activity in just one evening, when in reality, they went to the party (for Travis) on April 30. She partied with her older sister Kendall Jenner, Bella Hadid, and the illustrious Anwar Hadid.
Scene 6/Scene 7/Scene 8:
It's the day of the ball, and after a few days of acting out, Kylie arrives late to glam. Still, Kylie's giddy, giggly, and generous with her praise for herself and newfound happiness. Looking at Instagrams from the weekend, Kylie comments on how happy she looks. In her confessionals, Kylie tells producers that she's had more fun the past month than she has in the past three years. Makes sense: During those years she was a minor playing "mom" for another minor by the name of King Cairo. While Kylie gushes about her life, Jordyn sulks on the bed. She perks up briefly when Victoria tells the room that Donatella Versace herself requests that Kylie wear blonde hair to the Gala.
The room squeals in excitement and she swears to do exactly what Donatella asks! As the excitement for the night rises, Kylie is told by a Versace representative that she'll be seated next to Donatella herself, Matt Damon, Blake Lively, and Halle Berry. Kylie's shocked that her table is so A-list, and wonders what they'll talk about. While taking in what's up for the night, Kylie asks if Jordyn is ready to support her. She's surprised to find out Jordyn's not — and isn't the only one. Jordyn's been so busy following Kylie around that she forgot about having a shoot in Canada, which she needs to leave for right away. Kylie's not convinced that Jordyn would really leave just before the Met Ball and yells that she knows she's going to surprise her later by sticking around. Sadly, this is not the case.
On her way to the airport, Jordyn tells a producer that she's not "upset," she's just not feeling like herself. She thinks she's been consumed too much into Kylie's life. Jordyn's confesses that she's been wondering recently about the the possibility of her and Kylie's friendship ending, and when she looks over these past years, her emotional cup is empty because she's poured so much into Kylie's life. Meanwhile, Kylie tells producers that Jordyn's been feeling weird because she doesn't cope with her emotions. Unlike Kylie, Jordyn doesn't like talking about herself all day.
After Jordyn leaves and Kylie is all glammed, she heads out. On the ride over, she's overcome with anxiety. She thinks she's going to arrive too early, so she takes a call from Kendall Jenner, who hasn't even left yet, then calls Kim Kardashian Onassis West, who's just about to leave her apartment. Kim settles Kylie's nerves, telling her that she too will arrive solo, and assures her sister that she won't be too early. Kylie calms down a bit, but just before exiting the van she calls good old Jaden Smith. Jaden's already at the Met, so Kylie plans to meet up with him once she walks the carpet. Because he's Jaden, he tells Kylie that she might not find him because he's not a "real person." These scenes were filmed on May 2, 2017.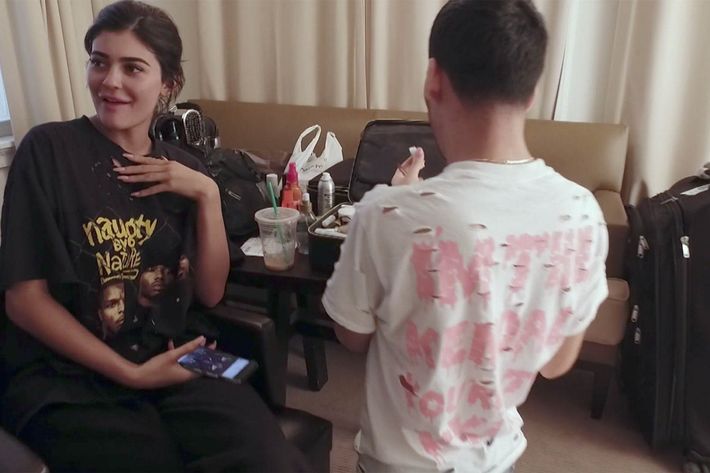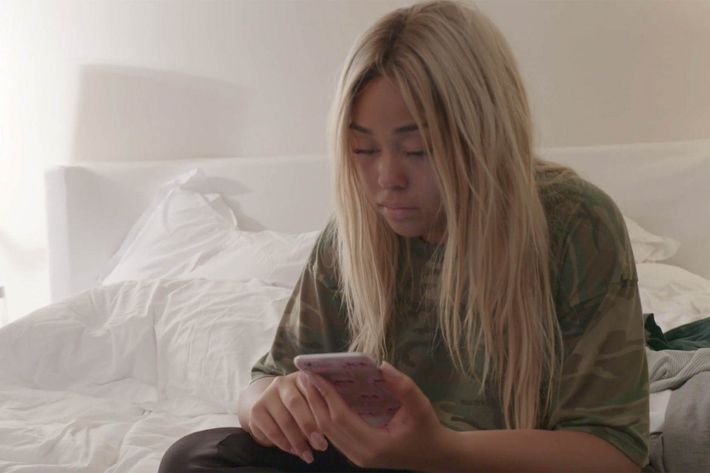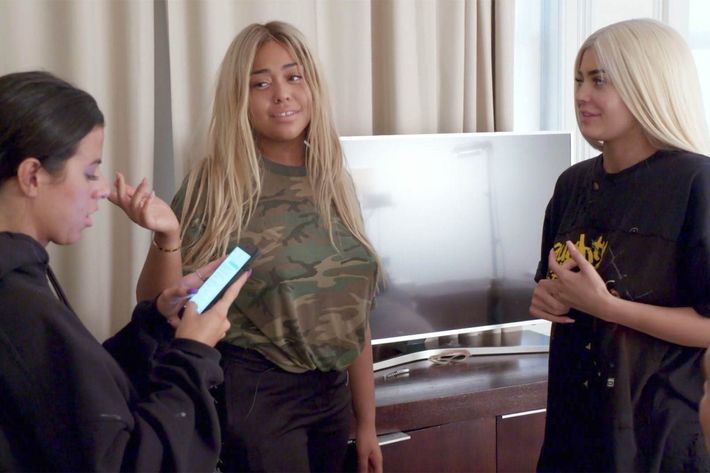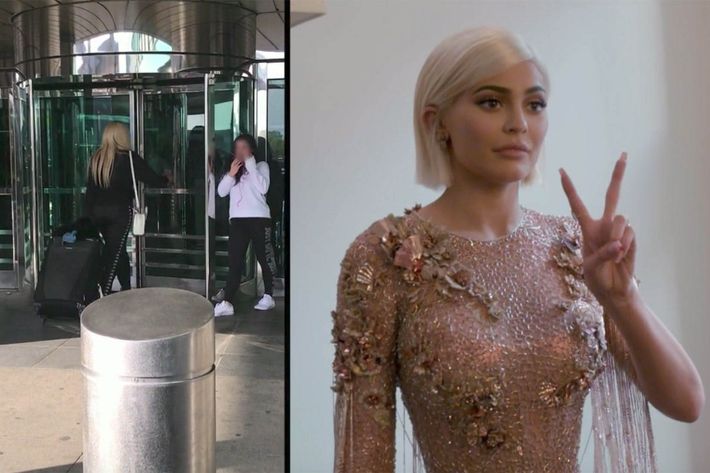 What she should have filmed: First, I want to humbly thank Kylie Jenner and her team for not insulting us loyal viewers by showing something silly like Kylie buying more chickens for her backyard farm when she was actually preparing for the Met Ball. However, there was so much ground to uncover surrounding the evening that I still feel cheated. Most important, since Kylie is so secretive with her own relationship, it would have been a beautiful blessing to see, firsthand, her expose Kendall's. You see, Kylie was responsible for taking two iconic photos at the Met Ball. The first one being the infamous bathroom selfie that had all of your faves fighting for camera time. Then she took an even more intriguing image of Kendall's rumored boyfriend A$AP Rocky grabbing her ass. That's a story.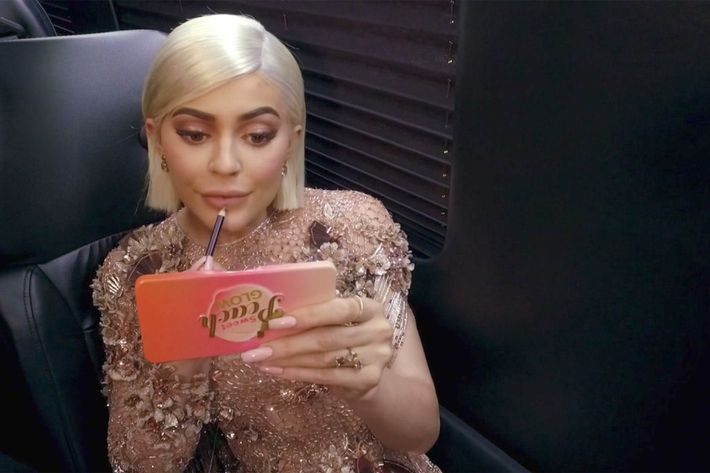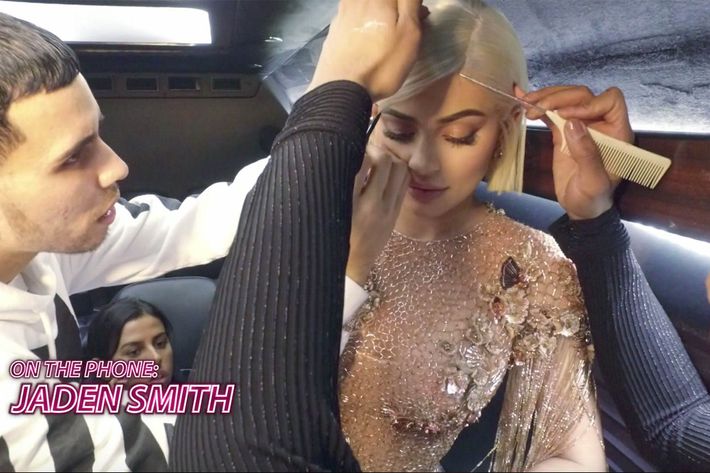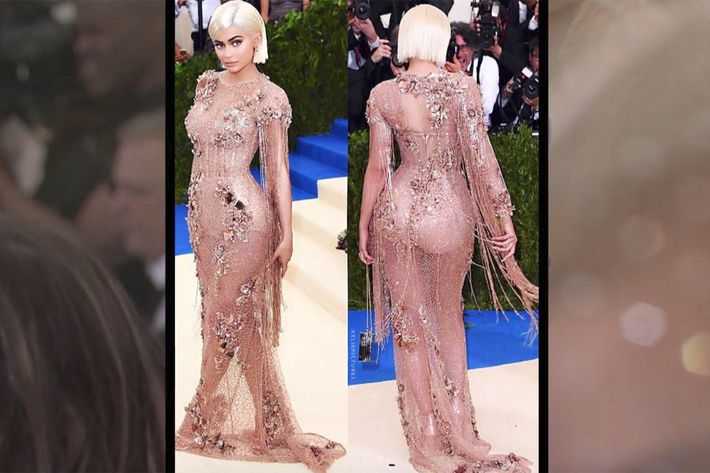 Phew! We made it to the Met Ball alive with our lip-kit lipstick and lack of knowledge about Kylie's life intact. Still, we'll persist — meet me back here next week for another Life of Kylie, Keeper of Jordyn Woods recap! #FREEJORDY
*This has been updated to indicate the correct year scenes one and two were filmed.