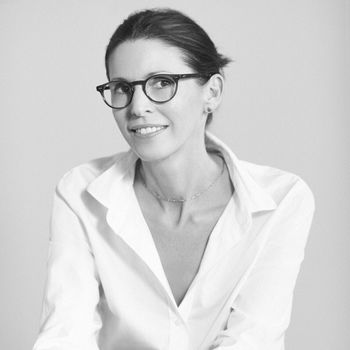 Lindsey Adelman.
Photo: Hans Neumann
"I think my studio was really founded around time," says lighting designer Lindsey Adelman. It makes sense, considering that the in-demand Adelman is best known for her sculptural, blown-glass-and-brass Branching Bubble chandeliers, which take up to 24 weeks to complete. As clients will tell you, they're well worth the wait, and Adelman considers time essential to her process.
"Before I owned my own company, deadlines rushed things so much, it was difficult to have moments of discovery built into the development," she says. She founded her Manhattan studio so that she could have "extra space for experimenting. That way, there is still a chance for surprise."
Speaking of surprise, New York native Adelman originally studied English at Kenyon College but became suddenly enamored of product design while working at the Smithsonian Institution. "I was an editorial assistant at the time, and went for a tour of the fabrication department, where I saw a woman carving a French fry out of foam for an exhibit," she recalls. "I beelined it for her and said, 'What are you?' And she said 'I'm an industrial designer.'"
It was no pun intended — a light-bulb moment. "I was really fascinated that you can get a job where it's like sculpture, and you're using your whole body, not just your brain and sitting at your desk," Adelman says. She went back to school, this time to RISD, to study industrial design, and after ten years working under and with other designers, Adelman decided it was time to strike out on her own, founding her studio in 2006. (She says the English degree has still served her well, by the way. "It's important for the communications part of the business," she asserts.)
To give an idea of Adelman's clientele, she's done chandeliers for Alexander McQueen designer Sarah Burton's London home, among others of her ilk. Her aesthetic has become such a cultural touchstone that it even made an appearance in author Kevin Kwan's third Crazy Rich Asians book, where a character attempts suicide by Adelman chandelier but fails when it breaks.
Most recently, she's especially proud of a piece she did for the now-defunct Chamber Gallery in Chelsea. "It's much more sculptural," Adelman says. "The lighting element is a really minimal part of the piece. It's mostly about counterbalance, and uses found objects like a cinder block and a rusty chain." It's also, Adelman says, kicked off a new direction for her, a mash-up of found objects and heady subjects like quantum physics. Similar work will soon be seen in an exhibition at the Carwan Gallery in Beirut come September.
Adelman currently employs a team of 40, and in 2015, expanded her operations to Los Angeles, where she now has a showroom and fabrication facility in the Arts District downtown. "It's been this great way of loosening up the thinking, and connecting with clients in a different way than we do in New York. There's so much space," Adelman says. She's also excited about fostering up-and-coming talent, and has started manufacturing collections by members of her design team, Mary Wallis and Karl Zahn, which will be showcased at an event at the L.A. space this October, among other articles.
Below, Adelman spoke to the Cut about the car that best captures her personality, why she refuses to binge-watch anything, and her aversion to the word "chic." Read on for the full interview.
How do you thank people for a gift?
I made this pile of gold-plated mussel shells, and I give those to people as gifts. The mussel shells are from Maine and the gold plater is in deep Brooklyn.
Color or no color on your nails?
I love wearing color. Right now I don't have any, but I love wearing nude nail polish, especially Essie Jazz.
Mood lighting or natural light?
Aren't they the same thing? I love both. I hate fluorescent and I hate LEDs, actually. I know I'm supposed to like them. But natural light and mood lighting are not mutually exclusive.
What are five coffee-table books you'd love to display?
I actually look through art books almost every day. I have them out all the time for inspiration. They rotate constantly. My husband got me one called The Art and Life of Louise Bourgeois. It's giant. I look at that a lot. Another one is Sphinx: The Life and Art of Leonor Fini. It's funny that those two titles are almost identical. The next book — oh my god, I'm giving you all women artists — is Francesca Woodman. I love Tony Duquette/Hutton Wilkinson Jewelry, and I have one called Alexander Calder and Fischli/Weiss. I'm going to take these out with me to the beach.
Heels or flats?
I wear flats every day, but I adore heels. I wear heels in the evening. My flats right now are just these Acne sandals. It's black suede. I wear them into the ground. Then I've got this pair of Gucci heels that I love — it's actually a one-inch heel, which looks like this little purple gem. I dress really subtly, but these shoes are jewel tones — red, purple … they still don't look over-the-top.
What would you never wear?
I would never wear a short skirt with nothing on my legs.
What's a trend that you like right now?
Wearing two different earrings, because I have lost so many single earrings, and I can wear my long-lost stragglers with something else. So asymmetrical earrings, I'm going to say, for practical reasons.
What's a favorite song on your playlist right now?
"Dangerous" by the xx.
If you were a car, what kind of car would you be?
A 911 Carrera. That's been my favorite car since the early '80s.
No-makeup makeup, or actually no makeup?
I actually wear no makeup, sadly for my friends. I'm sure they would prefer that I made an effort, but I don't need to look at my face.
Go-to salon?
Eva Scrivo — Stephen does my cut and my colorist is Mira.
Fantasy vacation?
Costa Rica. Santa Teresa. It's completely noncommercial. There's no screens, no televisions anywhere. There's amazing yoga and surfing for all levels. It's all just driftwood, and kids playing, and rope swings. It's relaxing, but it's not really about staring at each other's bodies. It's much more about real life, just hammocks, and reading, and eating fish tacos. You meet really interesting, creative people from all over the world who have moved there, so you feel very inspired to make things and draw. You kind of forget about cities altogether.
What's your guilty pleasure?
I love going to bars that have delicious jalapeño margaritas.
What are your favorite accounts to follow on Instagram?
Just this morning, my friend tipped me off to Cindy Sherman's Instagram. That's my new favorite.
What's the least chic thing in the world?
The word "chic."
What's your favorite pair of jeans?
Built by Wendy–designed jeans for Wrangler. You wouldn't think that they would be cut so well, because they're Wrangler, but they're cut perfectly. They look completely undesigned, and that's what I love about them.
T-shirt?
James Perse. Wearing it right now.
Pajamas?
I have this Calypso slip kind of nightie — it's this shocking pink silk slip probably over ten years old. It's beautifully cut. I hold on to things for a long time, as you can tell.
Flower?
Cosmos.
Chocolate maker?
I'm just going to say Jacques Torres. I like the dark chocolate over ginger.
Fragrance?
There's one by Tocca that I love. Is Tocca still around? I have no idea, but I still have their fragrance. It's out at our beach house in Water Mill.
Linens?
Matta linens — we have pale gray.
Lip balm?
Fresh Sugar Lip. I like that it's fat. Chunky.
If you buy something through our links, New York may earn an affiliate commission.