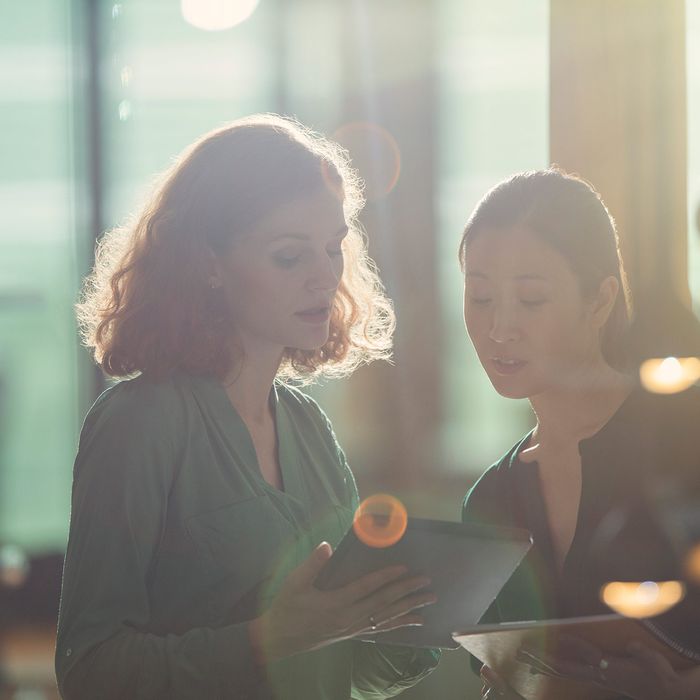 Photo: Tom Merton/Getty Images/Caiaimage
Navigating the process of finding a new job, no matter how many times you've done it, never gets easier. And in these modern times, what with new technology, new rules, and companies publicly flubbing left and right, it hasn't gotten any less murky. Will your new company inevitably turn out to be in a discrimination scandal? Is it worth networking in person? Do you actually need to update your LinkedIn?
Unsurprisingly, according to LinkedIn, you do. At least if you want to take a stab at upending gender inequality at work, that is. In a recent assessment of 141+ million LinkedIn member profiles, the networking site found that gender stereotypes and tendencies are pervasive even in the way women present themselves as job candidates online. Here's what the new study revealed:
-When looking at LinkedIn member data, we found men tend to skew their professional brands to highlight more senior-level experience, often removing junior-level roles altogether.




-Women are more likely to have shorter profile summaries.




-In the U.S., women on average include 11% less skills than men on their LinkedIn profile, even at similar occupations and experience levels.
The research also found that women are more likely than men to apply for jobs in "administrative, marketing, customer service, and human resource functions," which confirms the research that women often go after more "female" jobs, while men continue to reach for jobs in industries with so-called "higher prestige" and thus higher pay. So will LinkedIn help you find a new job? If you're a man who fluffs his profile to make him look better, maybe!