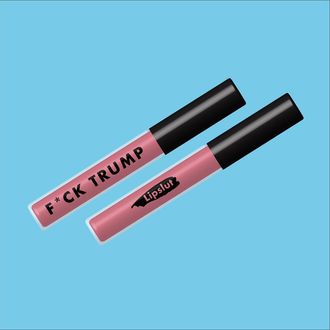 Photo: Courtesy of Lip Slut
In true lip service, three entrepreneurial college students from San Luis Obispo, California, have created a lipstick business that's raised money for Charlottesville victims. The company, Lipslut, sells just one product: a matte liquid lip in the shade "F*ck Trump." The nude-pink shade is everything that Trump has not been described as: balanced, smooth, warm, flattering, and consistent.
Prior to Charlottesville, customers could donate 50 percent of the lip product's proceeds to charity. Following the tragedy, Lipslut added a check-out option that allows customers to donate 100 percent of the proceeds to assist with victims' medical bills, BLM Charlottesville, and the Albemarle-Charlottesville chapter of the NAACP. According to the Hollywood Reporter, sales have been up ten times since they changed their charity structure, with 450 new orders. You can put your money where your mouth is via the company's website.