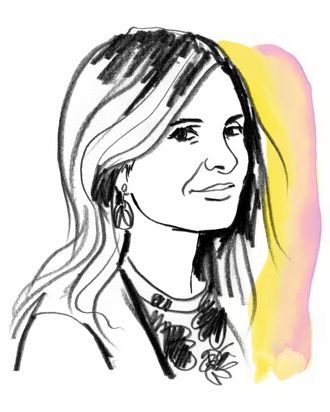 Illustration: Lauren Tamaki
You've seen lawyer Lisa Bloom standing alongside celebrity clients like Blac Chyna or Mischa Barton as they fight their exes to block the release of revenge porn, and she's also represented women like Dr. Wendy Walsh and Kathy Griffin in other high-profile cases. Outside the courtroom, Bloom makes appearances as a legal analyst on CNN, MSNBC, and CBS, and she's the author of three books. Her mother, Gloria Allred, is the famed feminist lawyer, and all three of her children are pursuing legal careers. She lives in Woodland Hills, California, with her husband and youngest son. Here, she shares how she gets it all done.
On productive mornings:
When I wake up, I have a lot of energy. I can get four times as much done in the morning as at night. I usually get up at 5:30 or 6. I read my emails and read the New York Times, Washington Post and L.A. Times while having coffee. That takes an hour. New York wakes up earlier and so I'm playing catch-up with my clients there. I alternate yoga and cardio in the mornings; for cardio it's the elliptical in my home gym, where I can read books and listen to podcasts while I work out. For yoga, it's in my living room while listening to music. If I'm a bad yogi, I'll listen to the news while I pose.
On commuting in Los Angles:
I created my office very close to my home. It's a mile away, eight minutes door to door. That was not an accident. People say, why is your office all the way out there in the suburbs? Out in Woodland Hills? Because commuting is a time suck. If I have to go downtown to court, that takes an hour and a half. I don't plan meetings near rush hour. I'm a very busy person — I run a law firm, I have a husband and three kids, I write books, I make media appearances. There's a lot going on in my life. But there's only 24 hours in a day, and they're not ever going to expand. I have to be very thoughtful about my time, and so a long commute is out of the question. I can't spend time on anything that won't advance my goals.
On her work wardrobe:
I don't have a uniform, but on days when I'm not going to court or anything major, I tend to wear pants, comfortable gray trousers, and a blouse. I usually have a jacket or sweater, or blazers if I'm meeting with a client that day. I don't like my attorneys to look too casual, so I have to set a good example. I don't like jeans in the office. We're lawyers!
On her management style:
I'm pretty hands-on. I have a very clear idea of how I want my 12 lawyers to come across. I want to represent our clients with compassion and excellence. I want them to return client phone calls and emails very quickly. I'm lighting a fire under everybody: Have you tracked down that witness? Have you talked to this client? Have you finished the brief? We're typically going up against these huge firms, so we have to be more nimble, we have to be smarter, we have to have the law on our side. And we do.
On working nights and weekends:
I'd like to say I don't work that much on nights and weekends, but I do. It's not healthy. I struggle with that. I go home at 6 p.m. on average, but then there's a deadline, or someone who's still in the office needs me to review something, or I have a witness who can only talk after work, so we have a call at 8 p.m. Some of what I do is crisis management — take the Blac Chyna case. That was quite an urgent situation, so I went over to her house later that night. A lot of people reach out to us on the weekends, because it's over the weekend that they start really reflecting on their situations. I want to respond to them promptly. I have a paralegal who works weekend hours with me, which is something we started doing around six months ago. So someone is setting up phone calls and helping me with research.
On choosing whom to represent:
We have an elaborate vetting process. A couple of hundred people reach out every week. One of my paralegals takes the calls and responds to the emails. We have to know some things first to know if someone has a good case of not. We need facts, times, how much evidence we have, who are the witnesses. Some people don't like that process, but that's what we need to know before we'll take the case. We often take cases on contingency, so we need to know if we're going to win. We do background checks, at our expense, and we review all of their social media. You can learn a lot about people from their social media.
On being a celebrity lawyer:
I never set out to be a celebrity lawyer. I don't even know what the phrase means. Am I the celebrity? Are my clients celebrities? I am a lawyer who fights for people and wins, who stands up for what's important.
On playing therapist to clients:
People are already in distress when they come to me. No one comes to a lawyer because things are perfect in their lives. I'm a last resort. I try to walk them through the options, and tell them how the case will go, but we never know what the other side is going to do. You have to be steely. But we're not therapists, and I try to gently remind the clients of this from the beginning. I encourage them to have a therapist, and I have a list of therapists to recommend, because they do what I cannot. They have skills I don't have. I'm here to be the lawyer, to tell you what legal options you have. If you need someone to talk to when you're freaking out, you should go to a therapist. Still, yes, I do form close relationships with them. Last night I was at a celebration dinner with a client because we won a case, and they gave me a Wonder Woman cup, which I'm looking at right now. When I was with Mischa Barton last time in New York, we went to see Hello Dolly. Blac Chyna texted me over the weekend, asking how I was feeling. I think my clients know that I admire them. I tell them how impressed I am with their courage. None of them signed up for the situations they're in. They did not volunteer to be sexually assaulted or harassed, and still they've decided to speak.
On choosing law:
When I was in college, I was the national debating champion. Everybody said that meant I should go to law school and I wasn't sure what else I wanted to do, so I applied and got into Yale. It was the best law school in the country, and that was pretty exciting, so I decided to go. I wasn't 100 percent committed and honestly, part of the appeal was going to more school. I could have gone to school for the rest of my life. It doesn't work that way, though. By the time school was over, I did like law a lot.
On taking a break, on vacation time:
My mother's a lawyer, my daughter's a lawyer, my son is a paralegal, my foster son is interning with the firm. We don't just talk about the law, though! We go to Burning Man together every year, my kids and my husband and me. We love to travel. My husband and I were in Gambia and Senegal earlier this year. We love Africa and try to go once a year. I'd love to see Botswana and Madagascar next.
I don't really unplug on vacations. The only way to travel as much as I do is by working for one hour in the morning and one hour at night, and hopefully not during the day. We buy the data plan everywhere we go. If something arises, I give it my attention. I send an email, then I go back to looking at the elephants.