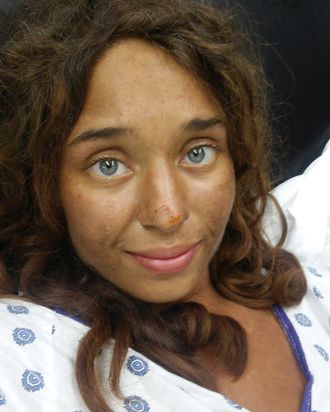 Lisa Theris.
Photo: Courtesy of Facebook/wtheris
On Saturday, Judy Garner was driving down Highway 82 in rural Alabama when she spotted what she initially believed to be a deer — before realizing it was a naked woman. She immediately pulled over, and as it turns out, Garner had found Lisa Theris, a woman who had gone missing in mid-July and had spent over three weeks surviving on berries and muddy water in the wilderness.
"I started shaking. I was crying, I was scared, and I didn't know what to do," Garner told NBC News. "So I went over to her and asked her if she would stay there while I get water out of my van. She stayed, and I called 911 and told them I had found a girl on the road."
As NBC News reports, police are currently working to piece together how exactly Theris, who hails from Louisville, Alabama, ended up on that remote road. Police say Theris was in a car with two men — Manley Davis and Randall Oswald — on July 18 as they drove to rob a hunting camp. The two men told police that when Theris learned what they planned to do, she refused to partake in the robbery and jumped out of the car. The men were arrested almost two weeks after her disappearance, on charges of burglary and theft.
When Theris was found on Saturday, she was covered in bug bites and scratch marks. Her hair was matted, dirt was under her fingernails, and she was extremely lethargic. "She said she ate berries and drank muddy water. I gave her a hug and said, 'You poor thing. You've been through a lot,'" Garner told NBC News. "I don't think she could have made it much longer."
Theris was transported to a nearby hospital, though she has since been released to her family. Bullocks County Sheriff's Department chief Anthony Williams told NBC News that none of her injuries were severe, and that police were waiting to ask Theris further questions. "We're giving her some time to let her body adjust back to normal," Williams said. "And maybe she could give us some insight and fill in the blank spaces."